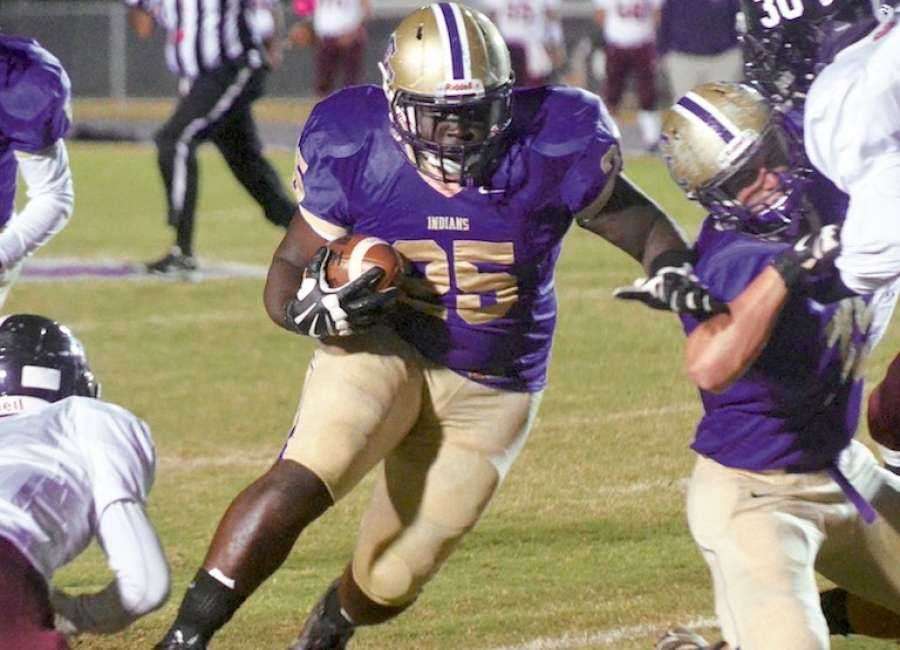 HAMPTON — Lovejoy High senior running back Zion Custis rushed for 233 yards and six touchdowns to lead the Wildcats to a 41-28 win over the East Coweta Indians Friday night at Twelve Oaks Stadium.
Lovejoy's 5-foot-8 dynamic running back was pretty much a one-man wrecking crew for the home team, carrying the ball 34 times Friday. He enjoyed plenty of room to run thanks to the Wildcats' massive offensive line, which opened a lot of holes for him.
"He's a very good running back, probably the best we'll see this year. Hopefully we won't see another back like him this season," said first-year EC head coach John Small.
The Indians (0-1) saw enough of Custis to start the Small era with a loss. It looked like this would be a blowout as Lovejoy (1-0) moved the ball down field often in the first quarter, thanks to runs from Custis and sophomore quarterback Jordan Hunnington. Custis scored TDs from 5 and 15 yards out to give the Wildcats the 14-0 lead with 4:32 left in the first.
EC didn't sulk after that, driving 82 yards in six plays to cut the lead in half. EC junior running back Gerald Green had a 32-yard run on the drive and senior quarterback Christian Reid scampered 15 yards for the touchdown on the next play. Senior kicker Peter Walker's extra point was good and the score was 14-7, Lovejoy.
EC tied the game in the second quarter, after another long drive. Reid completed passes to seniors Juan Calipolitti and Christian Pace and Green capped the drive with a 4-yard TD run to make the score 14-all.
Custis scored his third TD of the game, this time from seven yards out, to put Lovejoy up 21-14 with 1:18 left before halftime. EC was stopped on its next possession and had to punt. The Lovejoy returner muffed the punt, however, and the ball was recovered by EC's Deon Woods at the Lovejoy 20 with four seconds left. Walker tried a 37-yard field goal as time expired but it fell short and EC trailed 21-14 at halftime.
The Indians started the second half with a bang. On the first play of the third quarter, Reid threw a nice pass to Dantarius Chunn, who raced 54 yards and was tackled at the Lovejoy 1-yard line. Green scored from there to tie the game at 21-all just 32 seconds into the period.
EC then made the defensive play of the game. Lovejoy looked to score from the 1-yard line on fourth down, but the Indians held firm and stopped the Wildcats cold to the chagrin of the home crowd. EC was stopped on its next three offensive plays, but Small caught Lovejoy off guard with a fake punt and senior Blake McMahan ran for a first down to keep the drive alive. But the Lovejoy defense held again and forced a punt.
"People probably thought I was crazy for trying the fake punt, but I wanted to keep our momentum going after our goal-line stand," Small said. "Plus, I believe in our kids to execute a play like that."
Custis made EC pay again, scoring from 1-yard out late in the third. The two-point conversion was good and Lovejoy took the lead for good at 29-21. Custis scored his fifth TD early in the fourth quarter, a 9-yard run, to put the Wildcats up 35-21 and it looked like the game was over.
EC battled back. Green had eight straight carries to put the Indians deep in Lovejoy territory and Reid threw a bullet pass to Calipolitti for an 8-yard TD. The point-after was good and EC only trailed 35-28 with 5:09 left in the game.
That was the last score for the Indians. The Wildcats drove down the field and chewed the clock. Custis then scored his sixth TD of the game, an 8-yard run. The two-point conversion failed and Lovejoy led 41-28 with 2:07 remaining. EC tried to score, but Reid was sacked and then threw three straight incompletions to give the ball back to Lovejoy with seconds remaining. The Wildcats ran out the clock and won the game.
Lovejoy outgained EC 482-338 in total yards and Hunnington was 6 of 9 passing for 144 yards and 79 yards rushing. Reid was 10 of 17 for 160 yards and a TD pass while rushing for 32 yards and a score for EC. Green finished with 127 yards on 20 carries and two TDs. EC's young defense missed a few tackles Friday, but they made the huge goal-line stand and Chunn, DeVante Ford and Taylor Mcawley made several defensive plays.
"Hats off to Lovejoy for the win. My guys fought extremely hard and they showed some guts to keep getting back in this game," Small said. "We're going to bounce right back and right the ship. We've got a lot of youngsters on defense, so we have to get better there. We were just baptised by fire tonight."
EC is off this week before getting back into action against Jackson-Atlanta on Sept. 1 at Garland Shoemake Memorial Stadium.