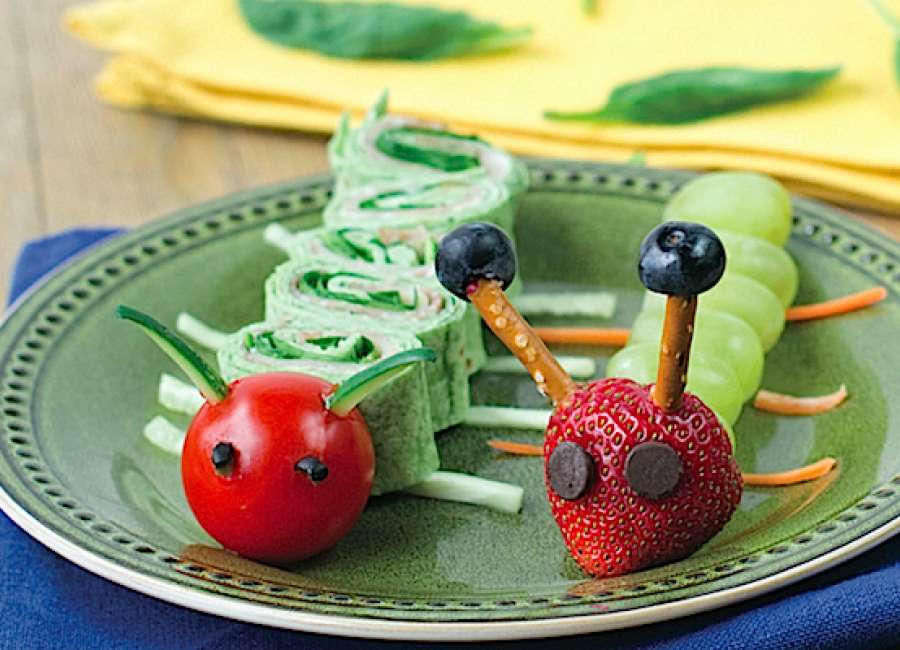 – Family Features/Produce for Kids (www.produceforkids.com)
If getting your kids to embrace healthy eating habits feels like a constant uphill battle, take heart in knowing you're not alone. However, modeling smart choices in the kitchen and at the grocery store may be just the nudge your kids need.
One of the biggest hurdles many families face when it comes to healthier eating is getting started. These tips show how subtle changes can make it simple to introduce healthier choices the whole family can enjoy.
Mornings are a busy time for families, and it can be difficult to make a nutritious breakfast and get out the door. Even so, skip the packaged breakfast foods that are loaded with sodium and calories. Instead, make and freeze your own healthy breakfast foods ahead of time. These breakfast burritos are easy for reheating and eating on the go.

When kids are empowered to choose what they eat, they're more likely to enjoy it. Kids will get a kick out of these fruit & veggies caterpillar snacks that are perfect for a hands-on snack or a fun lunchbox idea.

A common misperception is that eating healthfully takes too long. Set a good example for kids to follow by preparing healthy dinners at home. This one-pot turkey skillet is ready in less than 25 minutes to make dinner and cleanup a breeze.
Make-Ahead Freezable Breakfast Burritos
Recipe courtesy of Produce for Kids
2 teaspoons olive oil, divided
16 ounces lean turkey breakfast sausage
1 medium red bell pepper, finely chopped
1 small Vidalia onion, finely chopped
1 large tomato, finely chopped
12 large eggs
1/2 teaspoon pepper
1 cup low-fat shredded cheddar cheese
14 whole-wheat tortillas (8 inches each)
In nonstick skillet over medium heat, heat 1 teaspoon oil. Add sausage and cook 5-8 minutes, or until cooked through. Transfer to plate and set aside.
In same skillet, add remaining oil, bell peppers, onions and tomatoes, and cook 3-5 minutes, or until softened. Add tomatoes and cook 2 minutes.
In large bowl, scramble eggs and pepper. Add to pan and cook, stirring regularly, 3-4 minutes, or until eggs are set. Remove from heat and mix in sausage and cheese. Let cool.
Fill tortillas with 1/2 cup egg mixture, roll into burrito and lay seam-side down on parchment-lined baking sheet. Freeze 1 hour. Transfer to freezer-safe resealable bag and return to freezer.
To reheat burritos, remove from freezer, wrap in paper towel and microwave on high 1-2 minutes.
One-Pot Healthy Turkey Skillet
Recipe courtesy of Produce for Kids
1 tablespoon extra-virgin olive oil
1 pound ground turkey
1 medium green bell pepper
1 medium sweet onion
3 Roma tomatoes
8 ounces whole-wheat elbow macaroni, cooked according to package directions
1 can (15 1/2 ounces) kidney beans, rinsed and drained
2 teaspoons cumin
2 tablespoons chili powder
1/4 teaspoon salt
In nonstick skillet over medium-high heat, heat oil. Add turkey and cook 10 minutes, or until no longer pink.
In food processor, pulse bell pepper, onion and tomatoes until chunky.
Add vegetable mixture, noodles, beans, cumin, chili powder and salt to skillet and let simmer 15 minutes.
The Very Healthy Caterpillar
Recipe courtesy of Produce for Kids
6 grapes
2 chocolate chips
1 strawberry, leaves hulled
2 pretzel sticks
2 blueberries
6 matchstick carrots
1 tablespoon lowfat mayonnaise
1 10-inch spinach wrap
2 slices of salami
1 slice reduced-fat swiss cheese
⅓ cup baby spinach
1 cucumber, cut into thin strips, divided
1 small tomato
2 olive slices
2 6-inch skewer sticks
Slide grapes onto skewer to form caterpillar body. Add strawberry for a head.
Press chocolate chips into strawberry for eyes. Top pretzels with blueberries. Press into top of strawberry for antennae.
Lay carrots near each grape to represent legs.
Spread mayonnaise on wrap. Add salami, cheese, salad and half of cucumbers. Roll up and trim off ends. Cut wrap into 5 pieces.
Slide pieces and tomato on to skewer. Cut slits in tomato and insert black olives for eyes and cucumbers for antennae.
Use remaining cucumber to represent legs.