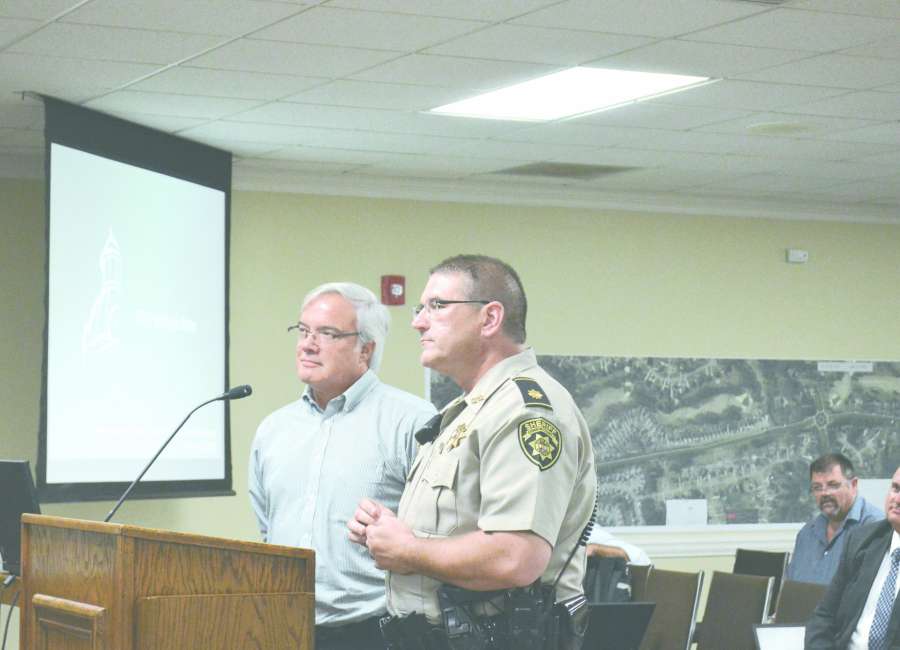 A public hearing on Coweta County's proposed property tax increase lasted over an hour, and there were several speakers – but none spoke against the tax hike.
Two more hearings are scheduled for Aug. 22. One will be at 7:30 a.m. and the final hearing will be at 6 p.m., during the regularly-scheduled county commission meeting. The commissioners are set to adopt the millage rate at that meeting. 
The county is proposing a property tax millage rate that is an 8.6 percent increase over the rollback millage rate for properties in the unincorporated areas of the county and a 6.7 percent increase for the cities and towns.
The 2016 rate was 6.27 mills for unincorporated areas and 7.47 for incorporated. The proposed 2017 rate is 6.63 mills for unincorporated and 7.63 for incorporated.
The proposed millage rate will mean an increase over last year's property taxes of approximately $36.68 on a $200,000 home with a homestead exemption in the unincorporated areas, and $33.74 on a home in the cities and towns.
A "mill" is $1 of tax on every $1,000 of assessed value. In Georgia, real estate is assessed at 40 percent of the fair market value.
Some Coweta properties have been reassessed because of rising property values. The new, higher values mean that even keeping the millage rate the same as last year would bring in more revenue and would, technically, be a tax increase. Each year, taxing authorities must calculate a "rollback rate" that would bring in the same amount of revenue that the previous year's tax rate would if there were no reassessments.
The 2017 rollback rate is 6.106 for unincorporated and 7.148 for incorporated.
The proposed new millage rate will support a county budget that includes funding for 44 new public safety positions, "longevity raises" for county personnel, two new ambulances, a revised matching schedule for the "defined contribution" retirement plan, and debt service to build a new auto and heavy equipment maintenance shop and a facility for a new Coweta Department of Transportation. The Coweta Transportation Department would combine the road department and the transportation and engineering departments into one and would move the road department out from behind the guard line at the Coweta County Prison.
The budget will also fund capital expenditures out of the general fund budget instead of from the county's "fund balance" reserve.
Over the past few years, the county has used the fund balance to cover capital projects and other expenses. But the fund balance has been drawn down to $14.7 million, which will only fund three to four months of county operations.
Coweta has spent between $1.5 million and $2 million on capital projects over the past few years, said Assistant County Administrator Kelly Mickle. Those are things such as roof replacements and new ventilation systems for county buildings. Because the fund balance has gotten so low, "We are proposing to not dip into the fund balance anymore but to try to fund those expenses out of our current year revenue," Mickle said.
One speaker said he felt the tax increase is fair and the additional public safety positions are a need. "This is a meager tax increase," he said. He'd like to see even more new positions at the Coweta County Sheriff's Office.
Coweta Superior Court Judge Emory Palmer spoke in favor of the increase, saying that the sheriff's office needs the people. "I think it's going to relieve some pressure on the sheriff's office at the jail and on the road. It will relieve some pressure on what we do at the courthouse," he said.
Coweta County is a desirable place to live and things like public safety and roads are a cornerstone of that desirability, he said. "I don't want Coweta to be the cheapest place to live. I want it to be the best place to live," Palmer said.
Mindy Friesen said she wants the commissioners to consider how many more public safety positions will be needed to serve the coming growth. "Please look and make sure that with this millage rate increase – are we looking ahead?" she said.
Bob Briggs said he is in favor of the new sheriff's office positions but is concerned about the fire department handling emergency medical services. Briggs is retired from the fire department.
"I think we have a good man in Chief (Pat) Wilson … but EMS is killing the fire department, y'all," Briggs said. He doesn't think there is a need for more ambulances.
"Why are you adding new positions when you can't staff the ones you've got?" he asked. "You've got a terrible turnover rate. Whether you recognize it or not, you've got a sickout, also." Being a firefighter and running an ambulance are two different skill sets, Briggs said, and many firefighters don't like having to be on an ambulance all the time.
Coweta County Fire Chief Pat Wilson spoke at the request of the commissioners, as did Chief Deputy Jimmy Yarbrough and Major Mark Fenninger of the Coweta County Sheriff's Office.
The patrol division has the same amount of deputies that it had in 2008, but call volume has doubled, said Fenninger. And most of the force has been on the job 10 years or less.
"We want to make sure you realize how thankful we are for your support," Fenninger said.