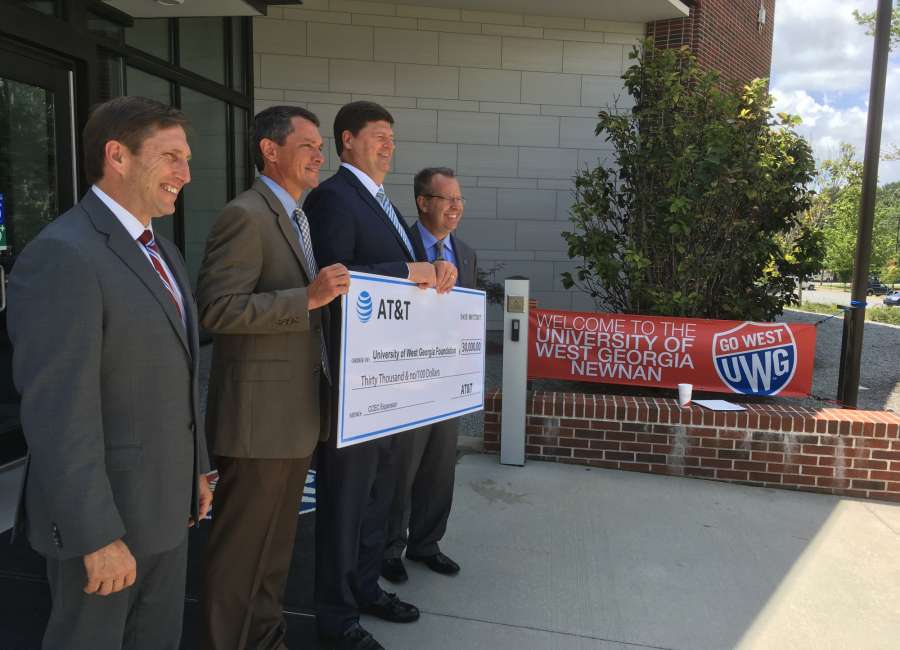 Fall enrollment at the Newnan campus of the University of West Georgia soared by nearly one-third over last year, according to figures administrators released last week.
The 979 students signed up for the 83 classes at the campus is 31.5 percent higher than the 744 in place last fall. The number is edging toward the school's 1,000 interim goal.
"I'm so excited about the growth," said Provost Michael Crafton. "The rate is fantastic."
The most popular majors are early childhood development, community health and sport management. The community health courses are new to Newnan and already well-attended, he told members of the university's local advisory board Thursday.
Nursing is also a popular major, with 159 students in the program and another 140 pre-nursing students taking core courses.
Crafton said administrators are planning new programs to offer in Newnan, including a bachelor of interdisciplinary studies next fall that is flexible enough to quickly adjust to local employers' changing demands for workers. University officials believe the ability to rapidly match economic conditions will give Coweta County an advantage is recruiting both students and industries.
Another major being considered for Newnan is in organizational leadership, which is mostly offered online. Crafton is weighing an introductory course teaching how to succeed in online studies.
As an experiment, he is teaching an English course this semester in Carrollton that is broadcast to a handful of students in a Newnan classroom.
"Needless to say, there are some quirks," he said, adding that one camera malfunctioned during one class session and another was almost disrupted by the theft of microphones and other equipment from the Carrollton campus. "It works. The students get the class. How well, we'll know at the end of the semester."
President Kyle Marrero crowed about the expanding enrollment in Newnan and the university overall. This year's freshman class has the highest high-school grade-point average in the university's history.
"Growth is important, but what about student success?" he asked.
The graduation rate rose 6 percent in the last year to a UWG record.
A major focus of the administration is to raise private funds to complete the renovation of the former hospital complex that houses the Newnan campus. There is 24,000 square feet of unused space requiring finishing and furnishings.
The sale of the former Newnan classroom building in the Shenandoah industrial park brought $875,000 that will be available to complete the former hospital basement and top floor and the unused portion of a one-time nurses' dormitory. Marrero introduced a newly hired fundraising staffer who will be responsible for finding the donations for the local project.
He also announced two major donations to the university's foundation that funds, among other things, collaboration with high schools and technical colleges to prepare graduates for employment. AT&T Georgia donated $30,000, and Piedmont Newnan Hospital committed over the next three years to give $75,000.
Hospital CEO Michael Robertson noted that he'd recently hired 35 nurses and that he considered UWG critical to his nursing "pipeline."
"This gift is a way to help our county. We have benefitted many, many ways with this partnership," he said.
Don Barbour, AT&T's Georgia head, echoed those sentiments.
"We are very concerned about student success and achievement and, of course, (job) readiness," he said. "These are your goals. These are our goals."