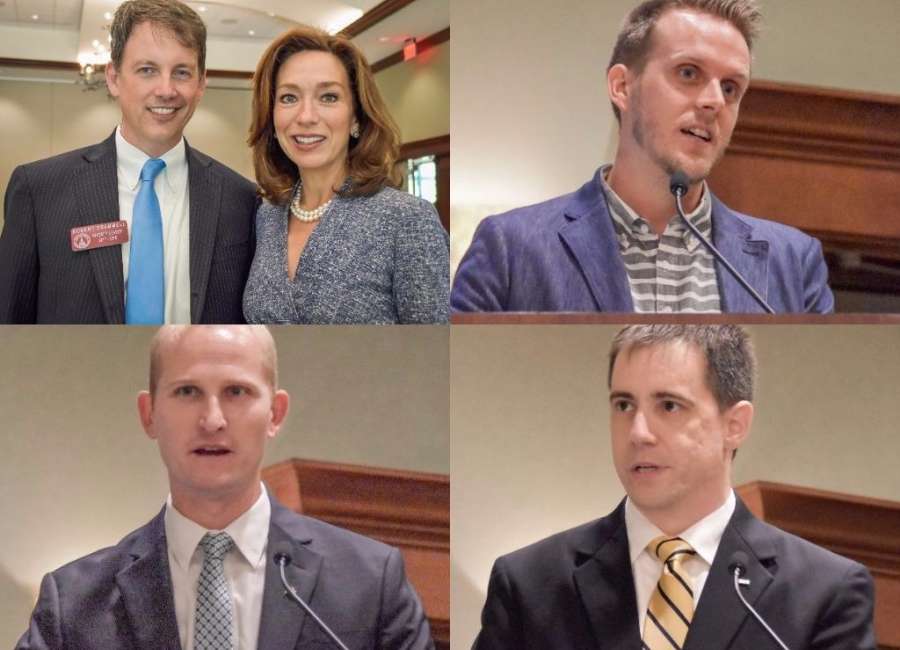 As the political pendulum shifted decisively to the right following the 2016 election, local Democrats have wasted little time in preparation for the inevitable shift back.
Friday night, members of the local Democratic Party reaffirmed their identity, heard testimonies of ideals in action and saw the unveiling of political prospects for the future during the annual Atkinson-Arnall Tribute Dinner held at The Newnan Centre.
The event is the annual fundraiser for the Coweta County Democratic Party and named for the two men from Coweta County who became governor of Georgia – William Yates Atkinson and Ellis Gibbs Arnall.
Two Coweta residents and former veterans of Afghanistan and Iraq, Chuck Enderlin and Bryce Remkes both announced their candidacies for 2018 – seeking the offices of Georgia's 3rd Congressional District and Georgia State House District 71 respectively.
Enderlin, a graduate of the Naval Academy and member of the Marine Corps Reserves, is a resident of Newnan and a pilot with Delta Air Lines.
In his announcement, Enderlin emphasized core democratic principles such as affordable health coverage, a strong public education system and the beliefs veterans fight for.
"The sacrifices made by our vets won't go unnoticed, and we'll be safer by the strength of our national character, not through bombast and bluster," Enderlin said. "We stand up and fight even when the situation is grim, and I can think of no more worthy cause than the principles on which this country was founded. Sharing the same rights and ideals is something I have pledged my life to and continue to fight for to this day."
Remkes, an Air Force Academy graduate, also served as a pilot during the War on Terror and now resides in north Coweta County. Like Enderlin, Remkes also used the "common sense approach" of the military to get things accomplished on a local level.
"When you're in combat, you don't have time to quibble and bicker," Remkes said. "You come up with solutions and get the job done. The military does that better than anyone else."
Seeking the seat currently held by David Stover, Remkes said the district deserves better.
"We don't need the type of representative that demonizes and squabbles with his own party and is unresponsive to his own constituents," Remkes said. "We need someone who stands up for values we hold dear like quality education, treating our veterans well, and getting along because that's what local politics are all about."
Mayor Ted Terry of Clarkston, Georgia, refers to his town as "the most ethnically diverse square mile in America," and "the Ellis Island of the South."
At just 33 years of age, Ted Terry is the youngest mayor in Clarkston's history and second youngest in the state. During his tenure, the city has implemented a $15-per-hour minimum wage for municipal employees and the strictest indoor smoking ban in the state, made election day a holiday and decriminalized simple marijuana possession.
One of his first acts was signing a resolution declaring Clarkston as a compassionate community for all residents and visitors, including refugees and immigrants.
"You have people from 40 different nationalities, speaking 60 languages, and 4 major religions and after 35 years, you think there would be conflicts, but it's never occurred," Terry said. "When you provide economic opportunities, rights and liberties, all the conflicts that are fought about in other countries go away. They want to feel safe, secure and want their children's lives to have more opportunities and more peace than theirs."
Terry said the immigration story of the last 100 years in America is still being played out in his city.
"Globalization shouldn't be feared, but confronted with compassion and welcoming," he said. "Once we recognized the humanity we all share, we can get down to the fun stuff. Commerce, art, music and food."
Surprisingly, the name of "Donald Trump" came up very little during the course of the evening. Despite the setbacks of the 2016 election and a recent campaign to reshape the identity of Democratic Party, Columbus Mayor Teresa Tomlinson maintained the Democratic brand is strong.
"We've had a strong brand for decades. Good government sells all day long, and we cannot be afraid or ashamed of our values. They are good government principles that work and we need to be proud of them," she said. "Our county and state has never needed Democrats more than they do now."
In her remarks, Tomlinson ran down half a dozen basic principles that continued to define the Democratic party, such as understanding the purpose of government and how it works, providing affordable health care for all, building a strong middle class, providing quality public education, a belief that diversity makes the country stronger, and a belief in the future and facts.
"As Democrats, we understand government so we know how to run it," she said. "You can't hate government and expect to run it."
Tomlinson said Democrats see government as a tool –  not a weapon.
She called religious freedom legislation "the use of government to allow people to marginalize and demean another group of people for political self-aggrandizement."
"If you use government as a weapon, you will abuse power," Tomlinson said.
Since 2012, Georgia Gov. Nathan Deal and the Georgia General Assembly have refused to expand the state's Medicaid program, leaving more than 600,000 low-income Georgians in the Obamacare "coverage gap."
"We left these people behind for political sport, just to stick it in the eye of former president Barack Obama," she said. "Democrats don't deal in fear, we deal in hope. Every day hangs in the balance. Leadership matters, knowing how to lead matters and what we stand for as Democrats matter. It's not a game of Dungeons and Dragons."
Last month, State Rep. Bob Trammell of Luthersville was elected as House Minority Leader to replace Rep. Stacey Abrams, who is running for governor.  As the 2018 legislative session looms on the horizon, Trammell emphasized that health care remains a primary issue and addressed Georgia's refusal to expand the state's Medicaid program.
"Half a million Georgians go to bed without health insurance while Georgia turned its back on billions of dollars available for people to go the doctor," he said. "There are people trying to decide if they can afford a trip to the doctor or surgery, and we can't ignore that any longer. It's past time, but the time is always right to do the right thing."
Cynthia Bennett, the local party chairwoman, said the annual event is a great reminder of the hope and opportunities available in Coweta County. The Georgia Republican Assembly held its state convention Saturday, the day after the Democratic Dinner, and Bennett feels grateful to live in a community where healthy political discourse is readily available.
"One of the greatest things about our democratic republic is the freedom we have to express our opinions in a positive manner and continue to grow our nation and community," she said.

"The fact that the Newnan is place where Democrats can come together to discuss our ideas and Republicans can come together within a 24-hour period speaks volumes about the opportunities in Coweta County."
****
Clay Neely: clay@newnan.com, @clayneely