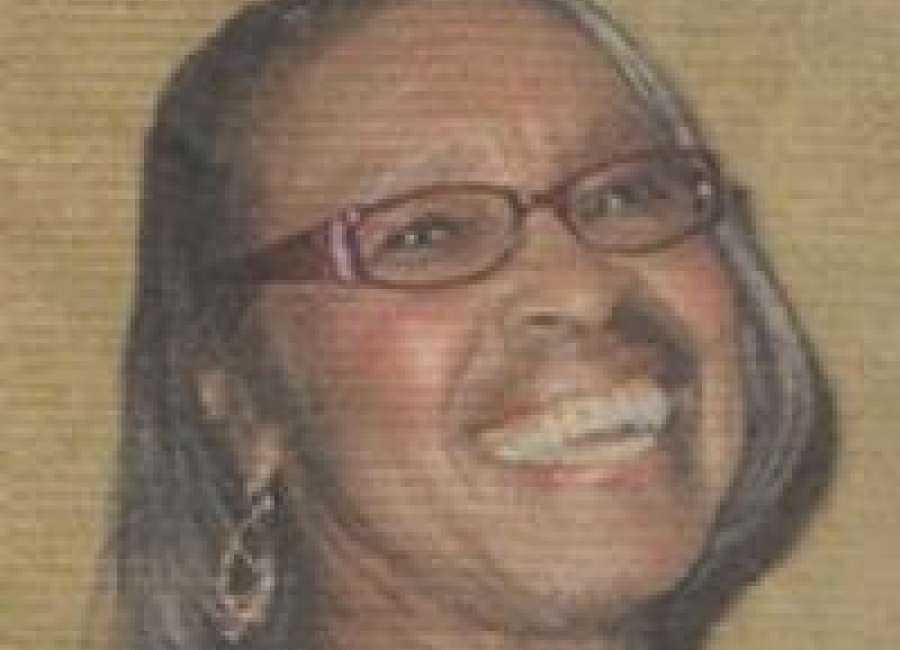 It has been almost 40 years ago since I first met Minnie Robinson.
I was an intern at The Newnan Times-Herald. I was white, barely grown and decidedly middle class. I had never been hungry – or worried about keeping the lights or heat on. Nor had I ever really thought about people for whom just getting by was a challenge.
Minnie changed all that. Minnie was something of a rite of passage for young journalists in Newnan in that era. With her ebony skin, dancing eyes and a dazzling smile that included a tooth with a gold sleeve, Minnie was unforgettable.
And then there was her way of talking. She would explain a program to help the needy with food or utilities patiently and in detail, punctuating her sentences with "doll" and "sugar" and "baby." When you were able to repeat it back to her correctly, she would point with one of her fingers and affirm, "There you go," with the emphasis on "there."
Minnie Robinson died Aug. 11 at 79. "My time is winding down now," she had said a couple of years ago.
I will surely miss her. Visitation is Saturday from 5-7 p.m. at Roscoe Jenkins Funeral Home. I plan to be at her funeral at 1 p.m. on Sunday at Mt. Sinai Missionary Baptist Church on Lovelace Street.
Minnie was born in Coweta County but left the Jim Crow South to finish school in Detroit. She married another Cowetan, Willie Robinson, and they spent several years in Detroit before returning home in the 1960s, as the Civil Rights era was changing life in Newnan and everywhere else.
Minnie and another woman were the first black employees at Hi-Brand Foods, a frozen food company in Peachtree City. She had earlier worked as a school crossing guard and at a store in downtown Newnan.
Legislation in 1966 created the Office of Economic Opportunity. OEO began establishing multi-purpose centers "to fight the war on poverty" in many communities. Willie P. Mitchell, a community activist, encouraged Minnie to apply for a position at the center.
Though Minnie had not been to college or worked in social services, she got the job – and proved to be a natural. Initially, the program offered sewing classes to help women get jobs in the then-vibrant local textile industry.
"I was what you call an outreach worker," she later recalled. Over the years, her duties grew and she became field coordinator and then center director.
The service center helped open doors for the first black employees at Woolworth's and the discount retailer Gibson's – as well as Newnan's first black telephone operator. A bit later, the focus shifted to youth programs.
"I was a person who was willing and wanted to succeed. I began to figure out that if people trusted me and wanted me to take on the program, I had to show them what I could do. I felt like I had to prove it," she told me once.
Agency name changes took place, and for most of her career, Minnie worked for Community Action for Improvement.
She led CAFI's move to the former black library on Savannah Street, and made Community Action for Improvement a part of Coweta County's social safety net. Minnie understood how social programs wax and wane, and she adjusted as the accordion of programs expanded and contracted.
Minnie always had her eye on the elderly. She often said that if older adults could have enough to eat and stay warm, they could stay at home instead of having to move into a nursing home.
As Coweta County changed, Minnie's outlook took a turn, too. Back in the late 1970s and early 1980s, some Cowetans still lived in houses – not much more than shanties really – with no running water and sometimes no electricity. You could see the floor through the cracks between the boards.
Urban renewal and time eventually took care of that problem, but there still were needy people. Sometime in the early 1990s, I remember Minnie telling me, "Winston, we used to know the places where needy people lived. Now they live next door to us, and we don't realize it."
Minnie was sensitive to people who were seeking help for the first time, often people who had never thought they would ever need help. She also was a master at coordinating resources – getting a club to build a handicapped ramp, a Sunday school class to buy some groceries and then making the CAFI grant funds go as far as they would.
Minnie was a person of faith – and practicality. She took courses over the years to improve her skills, but credited God with helping her know how to help people move ahead. "It's not how much education you have. It's how much wisdom and understanding the Lord gives you," she said.
Over the years, we became real friends. The long illness of her daughter, Karen, and the deaths of Karen and Willie were times for us to pray and to share.
Minnie Robinson was honored for her work. CAFI recognized her several times on anniversaries of service, and she was the grand marshal for a Newnan parade and a nominee for Citizen of the Year. Two years ago, the 5th District of the Georgia Funeral Service Practitioners Association presented her with its Community Service Award.
Minnie's real prize, however, is the many lives she touched.
"I'm a people person. It's not about race. It's about helping all our people," she once said. "I was concerned about people. It didn't matter who they were."