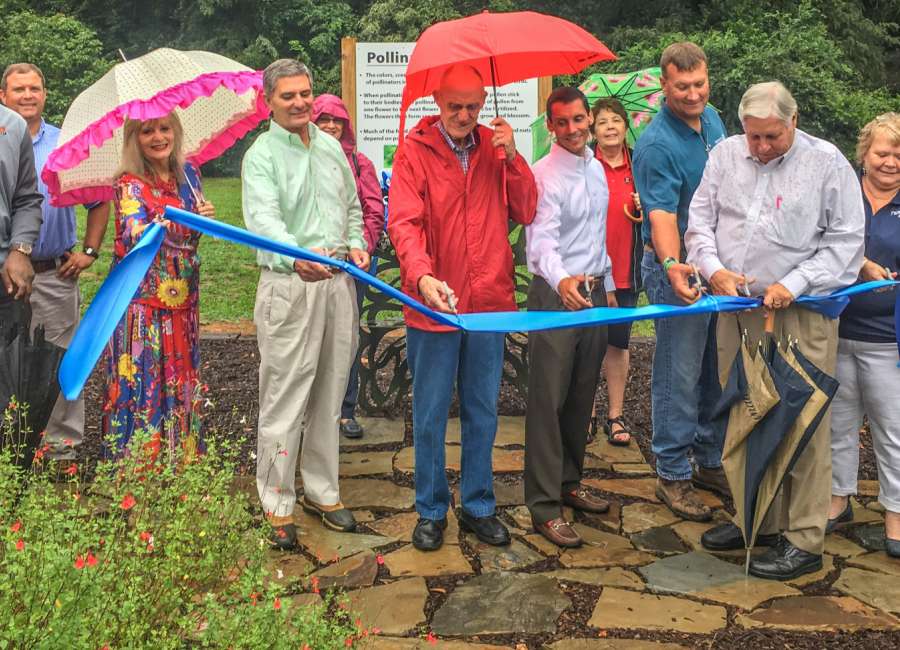 By EMILY KIMBELL
news@newnan.com
Keep Newnan Beautiful is doing its part to encourage bees and other pollinators to do their jobs.
On Tuesday, Keep Newnan Beautiful held the ribbon cutting ceremony for its pollinator garden, located  at 14 Carmichael St. The event marks nearly a year since KNB first began work in September 2016 on transforming an empty lot located behind the University of West Georgia's Newnan campus into a landscape intended to promote and sustain natural wildlife.
Recently, pollinator gardens have seen a growth in popularity because of the downturn in bee, butterfly, bird, and bat population. According to the National Pollinator Garden Network, these animals, known as pollinators, "are responsible for one out of three bites of food we take each day, and yet pollinators are at a critical point in their own survival."
The populations drop has spurred the Million Pollinator Garden Challenge, "a campaign to register one million public and private gardens and landscapes to support pollinators."
With all of Newnan's recent developments and growth, Keep Newnan Beautiful Director Page Beckwith saw a pollinator garden as a fun way to contribute to this massive movement.
"Natural habitats are getting reduced, especially in Newnan with new construction happening," she said. Beckwith said the garden is a chance to "take something ugly and make it look pretty, to let people watch these plants and butterflies and bees and wasps, and give them (the pollinators) a place to land, get food and go on."
Newnan's garden, registered with Pollinator Partnership, is now one of the million pollinator gardens in the United States. The pollinator garden has also recently joined the Rosalynn Carter Butterfly Trail, a group of public, private and school gardens that promote the conservation of butterflies and their habitats.
Beckwith promises there is "more to come" for both the pollinator garden on Carmichael Street and other gardens around the city. "Just like a plant, it takes a little time to get everything going, growing, and moving forward," she said.
In the future, KNB wants to work with other organizations like the ChildrenConnect museum and local schools to build installations in the garden and develop programs for children to learn more about pollinators and their role in nature. Beckwith also hopes others will be inspired and want to start a pollinator garden of their own.
Newnan Utilities and Niagara Bottling served as sponsors for the original KNB pollinator garden, but Keep Newnan Beautiful is looking for more locations and sponsors to develop additional gardens in the city and contribute to the Million Pollinator Garden Challenge.
For now, Beckwith and KNB encourage community members to visit the garden. The garden features new slate and mulch, and the most recent addition was the July installation of butterfly benches created by Lauren Koch of the Newnan Art Rez program.
The garden is buzzing with excitement, and visitors to the pollinator garden will be able to witness a lot of activity from butterflies and other pollinators during the remaining summer days.
Beckwith is appreciative of the encouragement from both the community and Newnan city government.
"Though the garden is intended to be more natural, volunteers with an interest in gardening or a green thumb are needed to weed, trim and water the garden," Beckwith said. For more information or to volunteer, contact the Keep Newnan Beautiful office at knb@cityofnewnan.org or 770-253-8283, ext. 2.