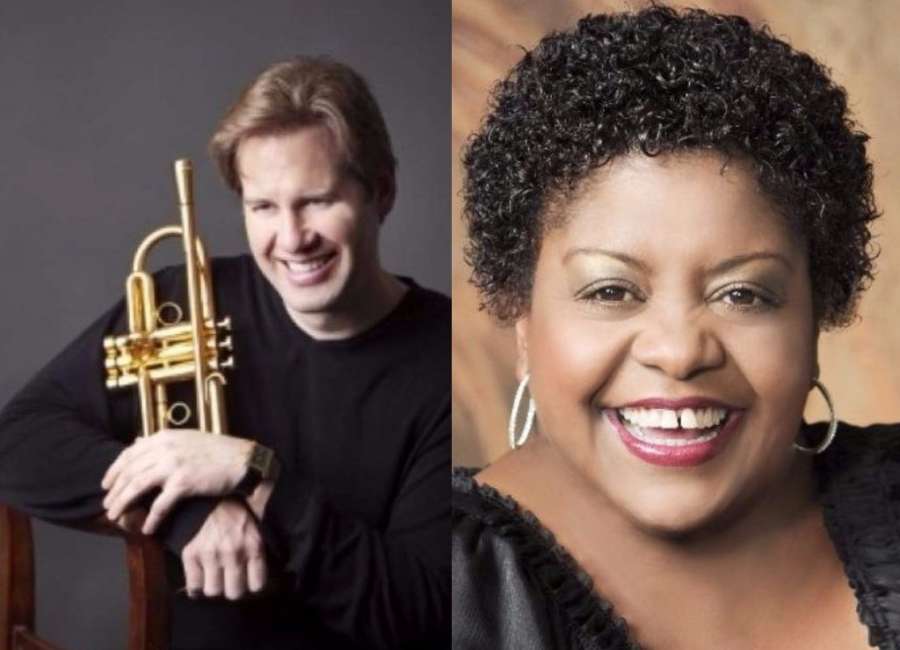 By MADELINE SCHINDLER

madeline@newnan.com
Joe Gransden and His Big Band will be returning to The Nixon Centre for the Arts with guest singer Carmen Bradford on Saturday.
Gransden, a trumpeter and singer, founded The Big Band, and it will be performing in honor of Ella Fitzgerald's 100th birthday.
"The Nixon Centre is one of our favorite venues," he said. "The crowd is just great. Last time we performed there we had a sold-out show, and we look forward to being back."
Originally from Yonkers, New York, Gransden grew up surrounded by music. His father, Robert Gransden, is a professional jazz pianist, and his grandfather, William Ashton Gransden, was a professional trumpet player who performed with Glenn Miller, Harry James, and Joe Venuti in New York City.
Gransden said it was his grandfather who inspired him to play trumpet.
"I fell in love with the sound of the trumpet," he said. "When it was time for me to pick an instrument, I knew I wanted to play trumpet."
When Gransden was a teenager, he accompanied his father to the local jazz clubs to hear him play. The trumpeter says it was this exposure to the music scene that influenced him to pursue jazz.
After 9/11, Gransden moved to Atlanta to continue his studies and start his career. Gransden graduated from Georgia State University with a bachelor's degree in music.
At the age of 25, Gransden formed a jazz trio and began performing at local clubs in Atlanta. The musician recalls his vocal career began when a club owner approached him about having a singer. Gransden fulfilled the proposition himself, preparing several songs to perform at the band's next gig.
Since beginning his career, Gransden has released 16 records under his name and has been featured on 60 other recording projects.
A typical year may include 300 or more performances, according to Gransden. An annual performance at the legendary Blue Note jazz club in New York and a meeting with iconic actor and filmmaker Clint Eastwood top Grandsen's list of most memorable performances.
Since their initial meeting, Gransden and Eastwood have maintained a friendship, with Eastwood even dropping by to listen to a rehearsal in Atlanta.
The jazz enthusiasts bond over the music and discuss famous jazz musicians like Dean Martin and Frank Sinatra, both of whom were friends of Eastwood.
"He's a cool guy and great to be around," Gransden said. "We have a really cool friendship."
Since moving to Atlanta, Gransden has performed with some of the best musicians in the business. After several collaborations and recording projects, he decided it was time to form a big band of his own.
In 2009, the musician founded Joe Gransden and His Big Band, a 16 piece jazz ensemble that performs all over the country.
The upcoming performance at The Nixon Centre is one of the many jazz tributes the band has performed.
"This [performance] will be a tribute to Ella, a way to say 'Happy Birthday.'"
Gransden said he feels honored to have Carmen Bradford from The Count Basie Orchestra sing with the band. "To have her with us is incredible. It's a real treat."
Gransden and the band have plenty to do following their show here in Newnan. The group will wrap up a Kickstarter for a new recording project and release a record sometime in November.
The big band will continue to make regular shows at Cafe 290 in Sandy Springs. Joe Gransden and His Big Band will be featured the first and third Monday each month.
For more information about Joe Gransden and His Big Band, visit www.joegransden.com.