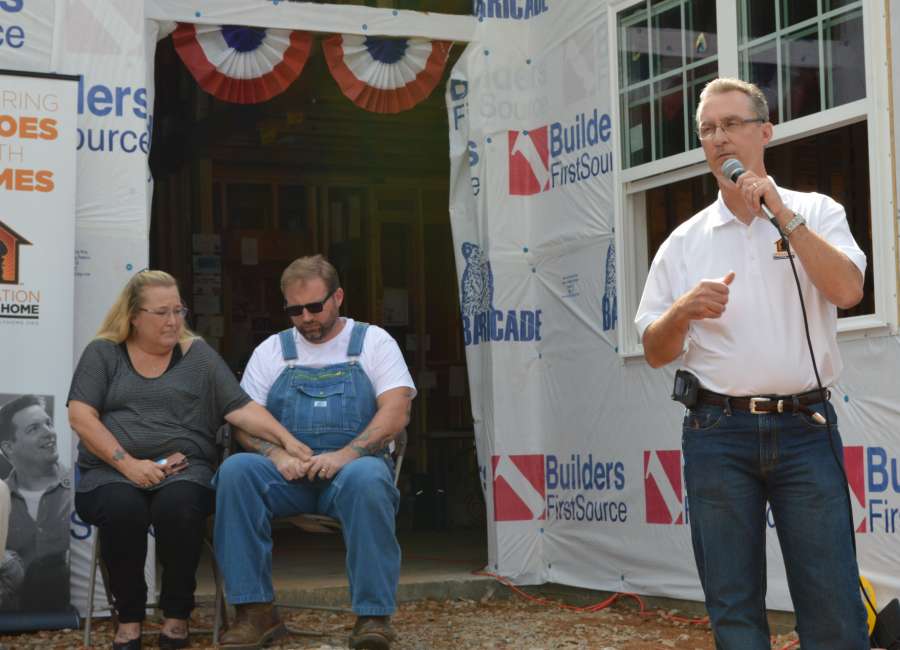 Donald Davenport enlisted in the Army in 2009 – at the age of 34. During deployments to Afghanistan, he encountered multiple improvised explosive devices, which caused traumatic brain injury and post traumatic stress disorder.
Friday, Davenport and his wife, Michaela thought they were traveling to Newnan for another interview with Operation Finally Home, which provides mortgage-free houses to military veterans who have been injured or wounded, and the spouses and families of fallen soldiers. They had applied for the program, but thought their application was still in the early stages.
As they left a Newnan restaurant where they had met Operation Finally Home Executive Director Rusty Carroll, Michaela Davenport said she thought they were approaching a funeral procession. But it was a different kind of procession – a line of Patriot Guard Riders on motorcycles and Newnan Police and Coweta Sheriff's Office vehicles to lead the Davenports to their new home.
Waiting for them was a large crowd waving American flags.
The home isn't quite ready yet – studs are in, but drywall hasn't been put up yet. When they stepped into their future home, the Davenports were met with dozens of messages of love – handwritten messages in permanent marker on the studs, and drawings and letters from local school children nailed to the 2-by-4s. The letters will remain in the home forever, behind the drywall.
The builder and subcontractors donated their time to build the home, and various suppliers donated materials.
"Well, I guess we passed the interview," Don Davenport said at Friday's ceremony.
Before entering the Army, Davenport worked in construction. "I know how hard it is to to do this work," he said. "I appreciate every minute, every hour, every second, every thought, everything that you have have done for me and my wife, what you continue to do. It is not taken lightly."
Davenport said he's not an emotional person anymore but "if you could reach into my heart and open it up, you'd see how much this means to me and my wife."
"The pride that I have right now is the pride I had when I served my country and I had my uniform on. And I still have it today," he said.
"You can physically see the weight that has already been lifted off their shoulders," said Carroll. "It is a joy to be a part of this and to see this weight lifted."
Davenport said that while he appreciates the new home and everything that has been done for his family, he'd give it all up if the Army said he could go back to active duty.
"It was my job. I love it, because I'm an American, a soldier. It's the way I'm programmed," he said. "There is nothing I'd rather do than defend this country. Nothing. I love my wife but she'd have to understand that."
The three bedroom/two bath house is designed to be handicapped accessible with wide doors, flat thresholds and a walk-in shower, said builder Mac McKinney. Mrs. Davenport was glad to see there are no stairs in their new home.
McKinney said that he learned about Operation Finally Home about three years ago at a convention. During the convention, a couple that had received a free home was introduced. McKinney knew as soon as he heard about the program that he wanted to be a part of it, he said.
"We're proud to be able to do it," said McKinney, who gave a lot of the credit to his son Austin and daughter Evan.
McKinney said the Davenports will be moved into their new home by Christmas.