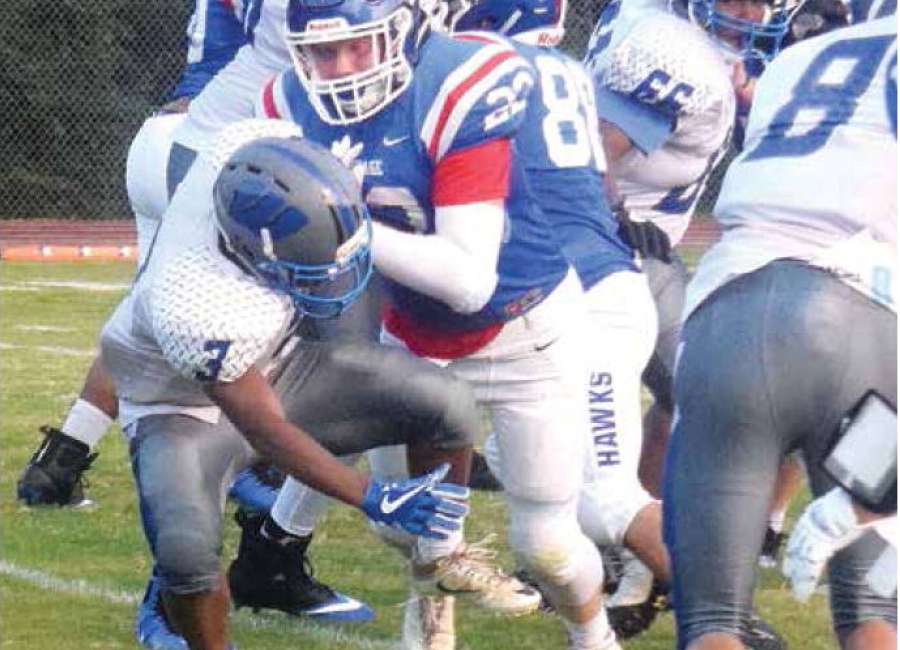 The Heritage Hawks football team ushered in the Micah Alba era with a bang, soundly defeating the depleted Windsor Academy Knights 42-0 Friday evening in non-region action in the season and home opener at The Heritage School.
"It's nice to get that first win, my first win here at Heritage," Alba said. "The first half was close to what I wanted to see from the guys. We moved the ball well offensively, and we made plays on defense. We made some mistakes, but the guys did a great job of giving us execution and effort."
Did they ever. Heritage (1-0) led 14-0 at the end of the first quarter and scored 28 points in the second to take the commanding halftime lead of 42-0. The Hawks were just too much for the Knights, who had some players hurt and only suited up 15 players Friday.
Heritage senior Anthony Williams had a career-high three rushing touchdowns Friday, rolling through gaping holes made by the Hawks' offensive line.
"I have to give the O-line credit for my game tonight. They made the holes available for me to run through," Williams said. "It feels great to start the year with a win, and we need to keep it going. Our goal is to always win the last game."
Andrew Rich scored two rushing touchdowns, and Hunt Thomas scored a rush TD from 13 yards out to complete the scoring for Heritage. Other superlatives Friday for Heritage included kicker Zach Robinson going a perfect 7 of 7 point-after attempts and Henry Arnall, Hays Burns and Patrick Griffies all collected interceptions.
Heritage travels to play Flint River Academy at 7:30 p.m. Friday.
****
Deerfield-Windsor 26, Trinity Christian 16 (Friday): Levi Robinson and Luke Vermilya scored touchdowns, but it wasn't enough for the Trinity Christian Lions football team as they fell 26-16 to the Deerfield-Windsor Knights at Trinity Friday night.
"We may have lost the game, but we played much better than we did in our scrimmage. We left a lot of points out there," said first-year Lions head coach Kenny Dallas. "We had two TDs called back due to penalties, and we missed a field goal, among other things. But we definitely played better in front of another jam-packed crowd."
Trinity (0-1) looks to right the ship at Bulloch Academy at 7:30 p.m. Friday.