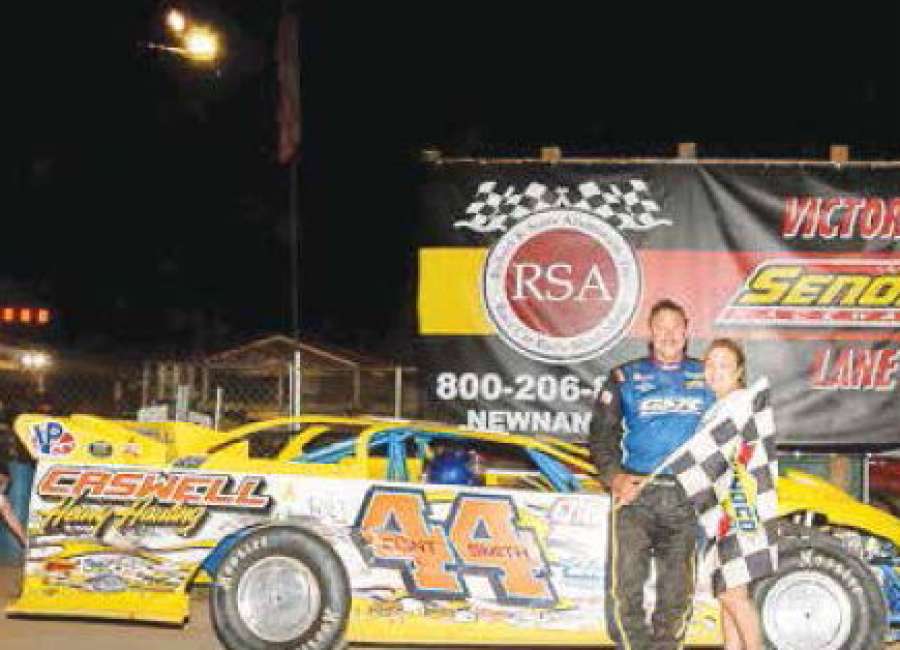 Derek Hagar has won many races during his career in a 360 winged outlaw sprint car. But he had been shut out at Senoia Raceway for the past several years.
Hagar changed that and placed his name in the record books Saturday night, winning the Senoia Summer Nationals VIII USCS Sprint Cars main event.
The Arkansas champion dominated the night, beating three-time Senoia Summer Nationals title winner Terry Gray and defending winner Morgan Turpen.
Other winners at the event included Senoia's Clint "Cat Daddy" Smith in the Limited Late Models; Douglasville's "Racin'" Mason Massey in the Crate Late Models; Newnan's Bobby "Wild Child" Arnold in the Late Model Sportsman and Michael Courtney of Powell, Tenn., in the Mini Stock.
Hagar piloted his sprinter to a flag-to-flag victory, but it was not an easy task.
The former USCS Tour champion darted in and out of lapped traffic, keeping Gray and Turpen a safe distance behind until lap 24 when he narrowly escaped a four-car pileup in turn three.
Charging down the backstretch at nearly 100 miles per hour, Hagar found a small opening between two spinning cars to avoid the wreck that would have surely ended his quest.
On the restart with nothing but clean air ahead, Hagar powered out to a several-car-length victory over Gray and Turpen.
Lapped traffic was some of the story in the Limited Late Model race as well.
Whitesburg's Austin Horton, Cass Fowler of Acworth and Clint Smith were working lapped cars during the midway point of their 20-lap feature when Smith darted low on Fowler while passing a slower car.
The two touched briefly, upsetting Fowler's car and allowing Smith to move to second.
A few laps later, with Horton struggling to get past another lapped car, Smith squeezed between Horton and the lapped car making a three-wide, middle-lane pass in tight confines of the third turn. Smith then kept pace over the field to win his third Limited Late Model feature of the season. Fowler came home second, with Horton in third. Hamilton's Thomas Lewis came home fourth after a strong run through the field and Newnan's Oliver Gentry enjoyed one of his best showings at Senoia with a top-five finish.
Mason Massey took home a popular win as the Douglasville youngster finally won a race at the track his family took over the operation of three seasons ago.
Bobby Arnold waited until the final 400 feet to move into the first place position and claim his fourth Late Model Sportsman win of the season.
Out-of-town drivers were on hand to try and knock out the Senoia Raceway Mini Stock guru, "Mad Dog" Mark Newton, from victory lane.
The Hampton driver had won seven straight in Senoia Mini Stock competition. Newton had not lost a points race since the end of April.
Carnesville's Shannon Etheridge and Michael Courtney would start the feature ahead of Newton, but the two tangled in turn four of the first lap, which almost resulted in the duo crashing into the outside concrete. Both recovered and then battled for the lead throughout, with Newton just a breath away from taking advantage of any mistakes.
Etheridge came across the scales light and was disqualified which handed the victory to Courtney. All others, including Newton, moved up one spot in the final finishing order.
Brandon Taylor took advantage of a mistake by Florida's Gregg Jones in the USCS Mini Sprint main event. Jones was nearly unstoppable until he lost control of this car exiting turn four and slammed the front stretch wall. Taylor stole the lead away from Mississippi's Bobby Zaointz before the final checkers flew to claim the victory.