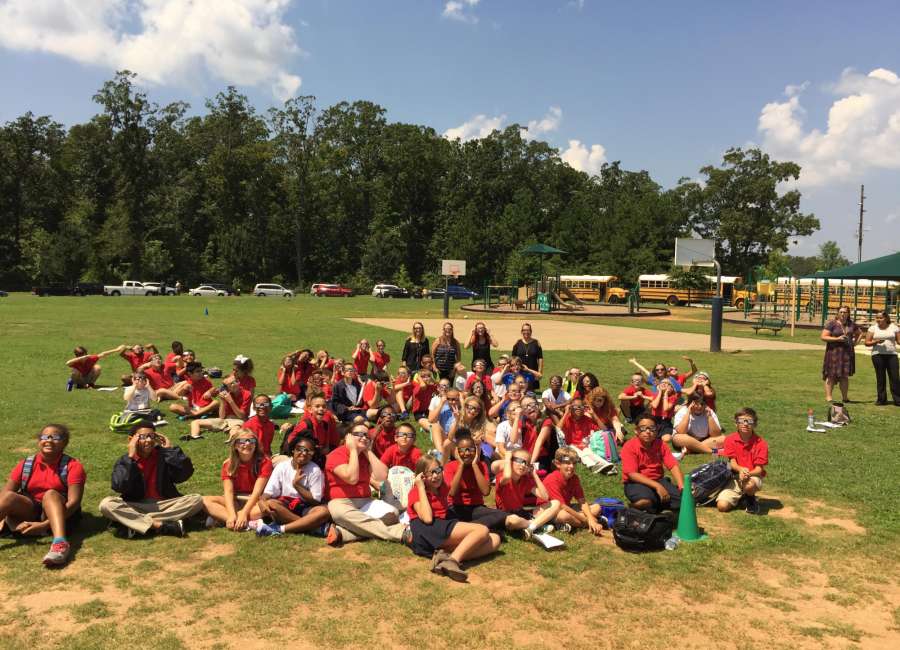 Many Coweta County students got to see the Great American Eclipse on Monday, and the rare event in the heavens offered a learning experience not to be forgotten.
An Amazon recall of eclipse glasses meant the glasses purchased for the Coweta County School System could not be used. Some local schools did have glasses, including Elm Street Elementary School and Lee Middle School.
Other schools did various lessons to help students gain insights into the eclipse, which takes place when the moon covers the sun's disc.
Coweta Charter Academy students went outdoors to view the eclipse. A group from Odyssey Charter School got to see the eclipse in the zone of totality – where the moon completely covered the sun – at Clemson University in South Carolina.
Eighth-grade students at Odyssey were challenged to write an essay titled "The Effects of a Total Solar Eclipse." Ten winners were selected to attend Mission Dark Sun, a scientific expedition to Clemson.
Clemson hosted astrophysicists from all over world. A group of engineering students from the University of Maine, who were working with the NASA-Great American Eclipse project, launched two weather balloons that collected data and streamed live video coverage of the eclipse on the internet.
The Odyssey students were amazed at the Clemson crowd gathered for the eclipse. College students, scientists, astrophysicists, weather reporters and international news crews joined a host of eclipse chasers from many places.
Guest lecturers spoke on electromagnetic lines of force and then led the crowd of hundreds in a group Moon-Walk, Michael Jackson-style. College students collected light meter readings, and numerous teachers were broadcasting live via the internet to their classrooms in states all over the country.
Odyssey students were interviewed and discussed their reflections of the events on numerous live broadcasts to classrooms in the United States as well as other countries.
"This was truly a once-in-a-lifetime event, and our scholars had a front-row seat to all the activity," said Scot Hooper, principal at Odyssey.