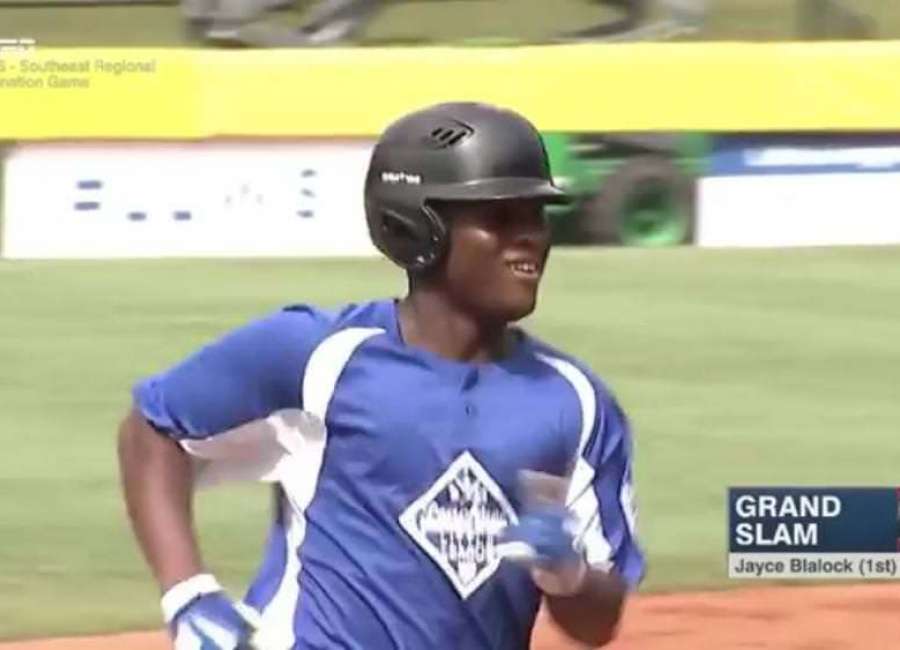 Grantville native Jayce Blalock, a 13-year-old eighth-grader at Trinity Christian School, is your typical teenage kid.
After football practice, he can been seen hanging and talking with his teammates and classmates – talking about everything from TV shows to girls to sports. The only difference between Blalock and his buddies is he has this propensity to hit long home runs in baseball.
The fact that Blalock is bigger than your average 13-year-old helps — he's a solid 5-foot-8 and 177 pounds and he can bench press 205 pounds and squat 250, which is outstanding for his age.
The world focused on Coweta County earlier this month, thanks to Blalock's power. During his stint on the Peachtree City National Little League baseball team, he hit a 375-foot grand slam against the South Carolina LL team on Aug. 6 in the Little League Baseball Southeast Regional Tournament in Warner Robins. Blalock's homer was picked up by ESPN and other sports and national news outlets across the country, and everyone was stunned to see a kid his age hit the ball that far.
Everyone except his best friend and Peachtree City National teammate Aaron Gates. Gates, a 12-year-old seventh-grader at Trinity, knew the ball was long gone as soon as it left Blalock's bat.
"As soon as he hit it, I said to myself, 'There goes another one!'" said Gates, who was on first base during the grand slam. "Hitting home runs is what Jayce does. I've seen him hit a homerun in the lights during travel ball."
Blalock, an outfielder and third baseman, said he knew the ball was gone as soon as he swung the bat.
"I thought it would be my longest homer so far. When I participated in the travel ball home run derby at Starr's Mill High, I hit a ball 380 feet," Blalock said. "What was crazy about my grand slam was that it had over two million views on all of social media."
Blalock, who lists baseball and football as his two favorite sports, said he remembers hitting his first home run at age eight. And while he likes hitting home runs, he said he doesn't go up to the plate looking to blast every pitch out of the park. In fact, before he hit the grand slam, Blalock said his mindset wasn't on hitting a homer.
"All I wanted to do was just make contact with the ball and hope for the best. I wasn't nervous or anything like that," he said. "Despite the fact the game was on ESPN, it felt like a normal game."
While the national attention was on Blalock for that home run, Blalock said he is more than just a slugger; he always makes sure his team is front and center above his own accomplishments.
"I want to be known as a good teammate instead of just being a home run hitter," said Blalock.
Gates can attest to that – he said he's been playing both football and baseball with Blalock all his life and said the best thing about him is his attitude.
"Jayce is a cool teammate. He's the first one to pick you up when you strike out or make a bad play," Gates said. "He's always there to support me and our other teammates.
He'll say that we can get the next one if we have a rough at-bat."
Blalock shared his insights about their camaraderie.
"If Aaron gets mad over striking out, he won't be good for his next at-bats. So I try to be positive and tell him to let it go and move on to the next play," Blalock said. "Aaron sometimes tends to hold onto mistakes. It's my job to tell him to let it go."
Letting it go is something the laid-back Blalock does very well for a player his age, according to his father Previn. He said that attribute is one of the more impressive things about his son.
"Believe it or not, Jayce was in a two-week slump before the grand slam and his attitude stayed the same. We had to make a minor adjustment on his swing," Previn said.
"Facing the caliber of competition he was facing, great timing is important to get hits off these pitchers. Jayce's timing was off because he was standing with his leg back. Once we moved his leg up, that's when the hitting started, beginning with the grand slam."
Another one of Blalock's Peachtree City National teammates, Sharpsburg native Bryce Alewine, also said that his now-famous teammate is fun to be around.
"Jayce has a great attitude toward the game of baseball and he is a great teammate," said Alewine, a seventh-grader at Lee Middle School. "He is definitely a leader on the team."
Previn said what makes his son special is how he handles the attention he's received throughout their Little League Baseball run, which ended in the Southeast Regional title game against North Carolina – one stop away from Williamsport, Pa. and the actual Little League World Series.
"Jayce has handled the good attention – and the bad attention – very well. He doesn't let anything negative bother him, and he takes the praise in stride," Previn said. "I learned a lot about how to deal with everything from him."
Blalock said it was a "cool journey" playing Little League Baseball on a national stage.
"I had a lot of fun, hanging out with my teammates and eating in nice restaurants and seeing cool museums," Blalock said.
Both Blalock and Gates said people have treated them the same and things have remained the same since they both returned to Trinity this fall – with one exception.
"People joke around and say things like, 'Wow, I'm sitting next to Jayce Blalock, superstar,' and things like that," Gates said.
"Our teachers have told us they were watching the regional tournament, even during class time, and they were rooting for us to do well. That was cool," said Blalock.
Blalock said for now, he wants to keep focusing on playing football and baseball. It all might change as he gets older.
"I will most likely concentrate on baseball in high school and hopefully play in the major leagues one day," he said. "If I go to college, I would love to go to Auburn. My cousin, Markell Boston, played football there and I love the campus."
Antonio Gates – Aaron's father and best friend of Previn – said he was happy their sons got the national exposure playing for Little League Baseball.
"I'm proud to see Jayce get the recognition for his homer. It's nothing new for me; I've seen him hit two homers in a game and 10 in a weekend," said Antonio Gates, who grew up with Previn. "It was fun for him and Aaron to get the opportunity to play and the entire country got to see what Jayce can do."
"The good thing is I took Jayce to see baseball instructor Robert Ambrose and he really trained Jayce on how to play baseball," Previn said. "When he gets to high school, his coaches are going to realize he's trained in the game more so than he's ever been coached in the game."
Bryan Alewine, a coach for Peachtree City National and father of Bryce, agreed with Previn.
"Jayce has one of the strongest swings I've seen from a 13-year-old," coach Alewine said. "He generates a lot of power, enough to hit balls out of a lot of fields."