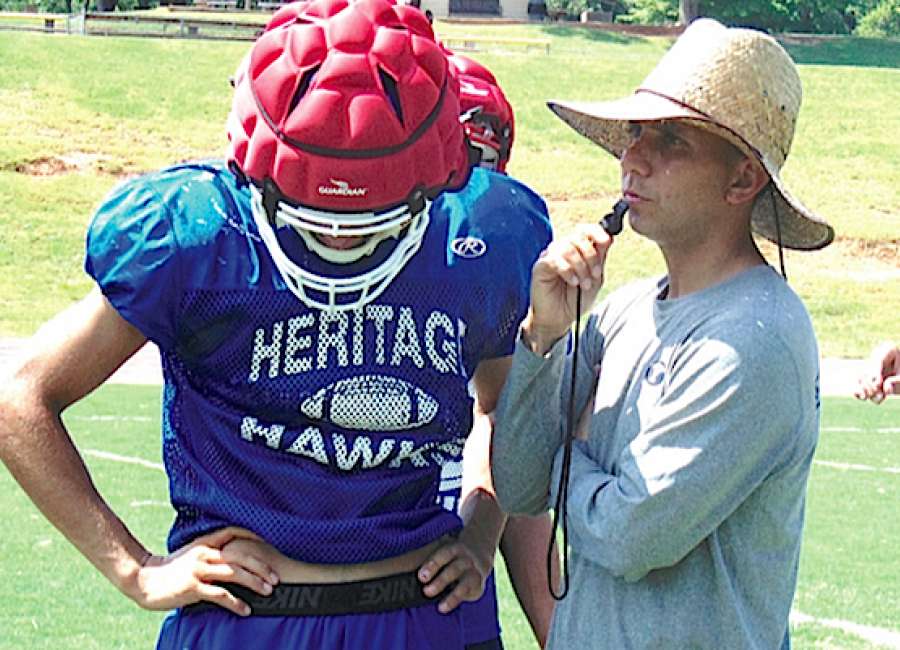 It's that time of the year again – high school football descends upon Coweta County as the area private schools get the 2017 season underway today.
The Trinity Christian School Lions will compete in a home preseason scrimmage against Towns County School while The Heritage School Hawks will participate in a controlled practice at their stadium with Our Lady of Mercy Catholic High School.
The Lions begin the Kenny Dallas era at with a scrimmage against Towns County, with game time scheduled for 7:30 p.m. at TCS. The "brotherhood" Dallas has stressed with the Lions will be tested against the Indians of Towns County, and the first-year coach said he's looking forward to seeing his team compete.
"We're extremely excited to be playing Towns County. We put the boys through a tough camp and practices leading up to it," Dallas said. "It should be fun."
It will definitely be fun for Dallas, who hasn't been a head coach since 2011, his last season at Landmark Christian School in Fairburn. He was an assistant coach at Eagle's Landing Christian Academy for the last three years.
Dallas left Landmark and took an administrative job in the state of Tennessee before heading back to Georgia and arriving at ELCA. The coaching bug never left him, and he felt that when he ventured out of state.
"I truly missed coaching high school football when I was in Tennessee. When the opportunity arose at ELCA, I jumped on it and came back to Georgia. ELCA knew that I would take a head coaching position if one opened up," Dallas said. "When I got the chance to come to Trinity Christian, I took it and here I am."
The Lions will have 59 players on the field today to go against Towns County, a north Georgia school located in Hiawassee.
Meanwhile, Heritage has already played its official scrimmage game – a 28-28 tie against John Milledge Academy on the road Wednesday evening. Tonight's action at Heritage will be a controlled practice between the Hawks – who had 37 players come out this summer – and the Bobcats of Our Lady of Mercy, beginning at 7 p.m. There will be no referees. No score will be recorded, and fans will not be charged admission.
First-year Hawks head coach Micah Alba said the scrimmage against John Milledge was a bit uneven, as is usually the case with the first preseason game of the year.
"We started out a bit slow and tentative, but we got in gear later and tied John Milledge," Alba said. "There were some good things and some not-so-good things that I saw, but we will work on those things and try to get better each and every day."
The Lions of Trinity are coming off a 3-8 season, a year in which they qualified for the GISA state playoffs as the third seed from Region 1-AAA. The Heritage Hawks won GISA Region 1-AAA with a 9-0 record and won their first-round state-playoff game before falling in the second round to finish the year 10-1.