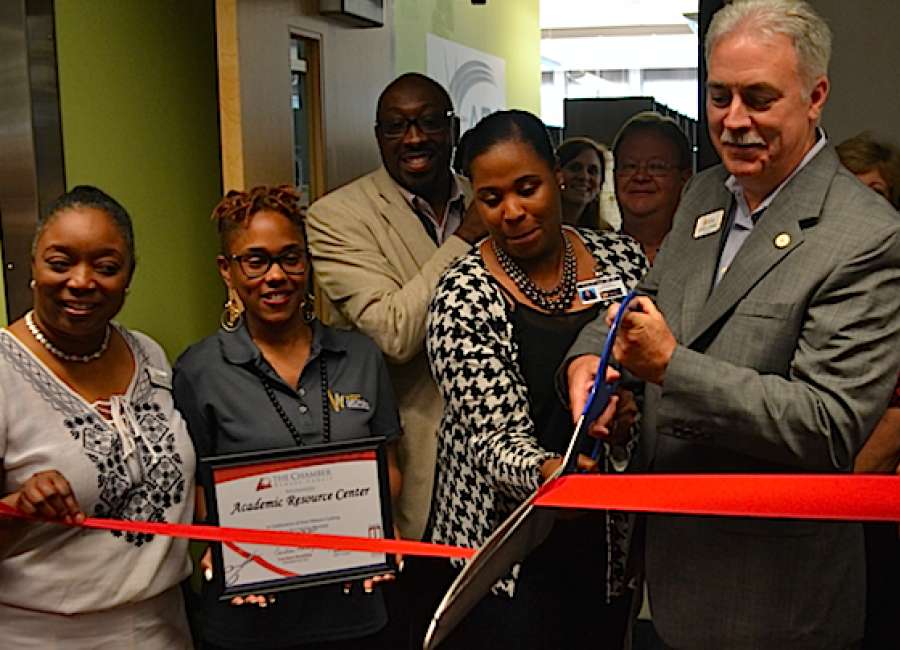 West Georgia Technical College has opened its second Academic Resource Center in as many years, cutting the ribbon on the Coweta Campus ARC recently.
The center provides new meeting, lab and supplemental instructional areas with up-to-date technology for individual and group student usage on the Coweta Campus.
West Georgia Tech opened its first ARC on the Murphy Campus in Waco in March 2016.
"This center will help our students succeed, and it's always exciting when we can provide resources to help them along," said West Georgia Technical College President Steve G. Daniel at the ribbon-cutting ceremony. "Each time we make changes, we try to gather as much data as possible from our students so we can serve their needs better, and I think we've achieved that here."
Through focus groups, West Georgia Tech students indicated a need for information on programs and services provided by the college. Students also voiced their concern over having to visit multiple offices, sometimes on multiple campuses, to receive help or accomplish tasks and expressed a preference for more personalized advisement and financial aid counseling.
To meet these needs, West Georgia Tech implemented the ARC, a consolidated hub of support services for students, facilitating student engagement and networking, as well as providing individualized support according to each student's program requirements and needs.
The ARC provides meeting rooms for student organizations, study rooms equipped with SmartBoards for individuals or groups, and offices for a rotation of representatives from financial aid, admissions, disabilities services, veterans' services, and student life.
The Advising Center is also located inside the ARC, allowing students to meet with advisers and plan their progressions through courses.
Implementation began on the Murphy Campus last year, with representatives from different college divisions planning to equip the remainder of the campuses over the next three years.
"This is a resource that will only achieve greatness if it's used to its full potential," Daniel said. "We challenge students to find new and unique ways to use this center to further improve their performance."
Dr. Kristen Douglas, Vice President of Academic Affairs at West Georgia Tech, said the idea for the initial ARC came from a desire to enhance the library experience on the college's five campuses.
"The purpose of these centers is to better engage with students and to provide a place where students can go to find the answers they need," Douglas said. "We've found success with the Murphy Campus ARC, and we're excited to open this on the Coweta Campus to provide a greater opportunity for our students to succeed."