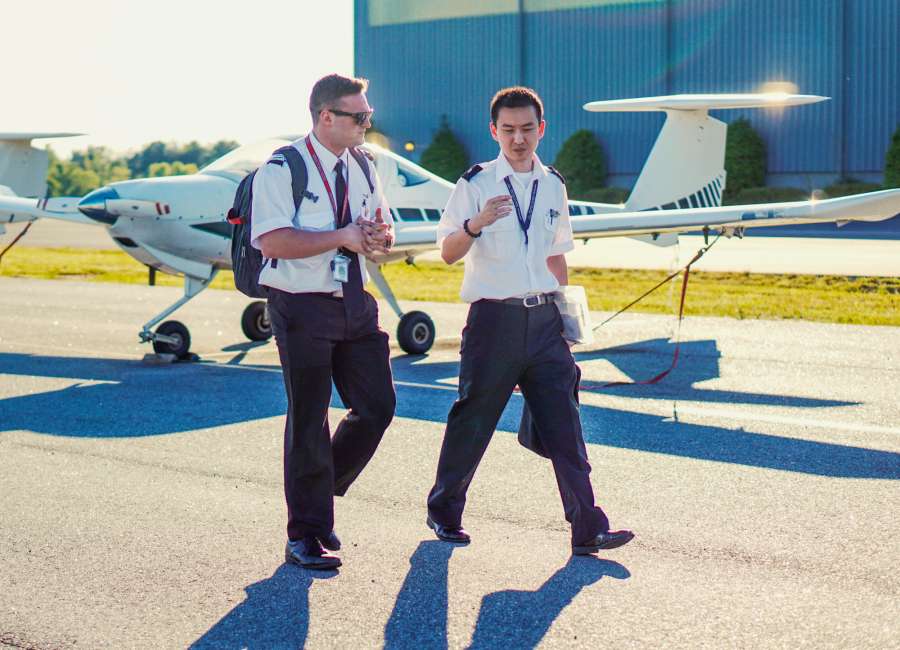 This Saturday, local flight school Falcon Aviation Academy will formalize an agreement with a regional airline to begin a coordinated program to train pilots at the same time it is moving its growing group of foreign students into customized housing.

The two initiatives are part of a response to the burgeoning international demand for personnel in the aviation industry.
According to the Boeing Company's 2016 Pilot & Technician Outlook, there is a need for 617,000 new pilots worldwide over the next two decades, with Asia Pacific requiring the most — 248,000.
Falcon Aviation Academy's ongoing partnership with China is helping meet that demand.
Falcon is one of about 3,000 flight schools certified by the Federal Aviation Administration, but only 10 percent are also certified by the Transportation Security Administration's Student and Exchange Visitor Information System to train foreigners. 
Out of those, there are only 10 that are certified by the Civil Aviation Administration of China. Falcon is the only one in Georgia.
In 2006, Falcon become an international flight school and received its first students from India. Once Falcon acquired its Chinese certification in December 2008, the first students arrived almost a year later, the following November.
While China's demand for pilots remains high, training there is problematic for the students. Since the Chinese military controls the airspace, students can expect less than one hour of training per day, per plane.
And there aren't a lot of good flying days because of the air pollution, according to Aaron Hollewell, Falcon's manager of sales and marketing.
There are four certified flying schools in China and only 20 approved flight schools outside of China. The majority of training is done in places like the United States, Canada, Australia, Spain, France and New Zealand.
Since 2014, Falcon has seen its enrollment double. The academy currently hosts 220 international students and 180 domestic. It has 250 employees and is responsible for more than 5,000 flight hours a month, according to Hollewell.
With strong enrollment numbers that show no sign of waning, Falcon executives decided last fall to purchase the former Economy Inn located near Interstate 85 Exit 41, about a mile from the Newnan-Coweta County Airport.
The one-time motel is being transformed into a residential facility for Falcon's international students. In the past, students were housed in multi-room apartments at the Columns at White Oak.
"We were at the point of renting 30 apartments and needed a cost-effective way to house students and keep them close to the facilities to reduce transportation costs," Hollewell said. "The hotel made a great fit."
Construction is underway to create a larger living and common area for the students. Last week, 37 students moved into the facility, and once construction is finished, the remainder will fill the rooms.
"It's a great way to offer a community environment and will save us lot of money in the long run," Hollewell said.
The demand for pilots here in the United States is also high. Hollowell said as baby boomer pilots reach the mandatory retirement age of 65, their absence is expected to create a shortage continuing into 2024.
"I think aviation is something people have a passion for," he said. "But they also see the amount of money involved to make it a career. But when regional airlines are offering up to $70,000 as a sign-on bonus, it makes the cost of lessons much less of a burden."
The company has also partnered with regional carrier ExpressJet whose "Cleared Career Pathway Program" will allow domestic students to go from zero flight time to a first officer in training in just two years.
Jason Brown, assistant manager of flight operations hiring and recruitment with ExpressJet, said the partnership with Falcon is one way the airline is addressing the need for pilots. Brown said along with pilots, the demand is also high for mechanics and even flight attendants.
"There are 17 regional airlines who are all vying for a small pool of talent, but people just aren't into being pilots or the cost involved," he said. "Few flight schools can touch (Falcon's) volume of flight training and get them qualified to ... where people build their time and credentials to become a pilot. They turn out good pilots and good cultured employees."
The challenge of financing the cost of becoming a pilot is also a major hurdle that Falcon has managed to tackle, Brown said. Those who sign up for the program will receive flight-training financing, similar to student loans.
"Companies are more likely to lend money when the student has a guaranteed job at the end of training," Brown said.
Being so close to the academy is also a major advantage for College Park-based ExpressJet, according to Brown. With the ability to maintain close, personal contact with students, the company is available to help answer questions and provide guidance to the pilots in training.
"We don't have training contracts and aren't trying to lock people into a job," Brown said. "But by being there and culturing them to feel part of our family, when it comes time to choose between us and our competition, we feel that they'll understand our culture and know we're a great fit for a career."
Saturday, the partnership becomes official as ExpressJet will fly into Coweta for a public celebration from 11 a.m. to 3 p.m. at Whitlock Field featuring food, treats and a bounce house for kids.
****
Clay Neely: clay@newnan.com, @clayneely