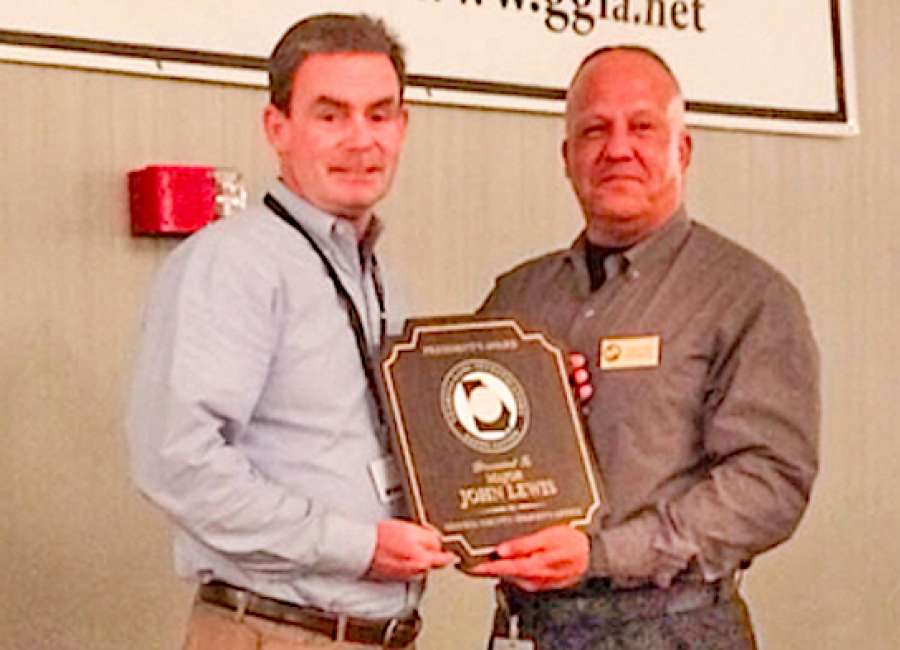 Major John Lewis with the Coweta County Sheriff's Office was recently recognized for his efforts in helping combat street gang terrorism in the community. 
Last week, Lewis was the recipient of the President's Award, presented by Georgia Gang Investigators Association at its summer conference.
Founded in 1998, The Georgia Gang Investigators Association was organized to combat the uprising of gang violence in Georgia. It assists with training law enforcement personnel, schools, students, prosecutors and local citizens. 
Lewis said he was honored and humbled to receive the accolades, but stated his accomplishments are the byproduct of being surrounded by outstanding individuals who all contribute in the daily fight against gangs in the community. 
"Anything I've been able to do in the county isn't just me," he said. "We were doing this long before it was accepted that we had a gang issue in the community."
Lewis started his career in law enforcement in 1995 as a detention officer, then moved his way up to become a deputy sheriff in the patrol division and eventually ended up in the Criminal Investigation Division as an investigator. 
During his tenure as investigator, he was responsible for the first recorded conviction under the Georgia Street Gang Terrorism and Prevention Act in Coweta County. 
On September 25, 2000, suspected gang member Scott Lee Bennett pleaded guilty to gang participation and received a 10-year sentence, thus making history in the Coweta judicial circuit. 
Bennett, an alleged Gangster disciple, was arrested for sexting a 12-year-old girl. The act was a way of boosting his notoriety in the gang, Lewis said.
However, it wasn't easy bringing the first gang charges against Bennett. 
"To successfully prove gang association, you have to have a predicate crime and prove it was used in furtherance of the gang," Lewis said. "But the charge was new to me, Judge Stripling and the (district attorney's) office."
Working along with Assistant District Attorney Ray Mayer and Wally Marchant with the Georgia Public Safety Training Center, Lewis said he was determined to bring the gang charge against Bennett.
"It was all a matter of wording, and the law has changed since then," Lewis recalled. "Once we got the wording right, Judge Stripling signed it and brought about new ways in how we can deal with gang members in our community."
Lewis said gangs have always been violent groups but were mostly contained to fights between other gangs and robberies. But as time progressed, so did the gang-related crimes.
"Things got more violent, including armed robberies and shootings," he said. "But no one wanted to acknowledge we had a problem in Newnan."
During his time as lieutenant in the Criminal Investigation Division, Lewis expanded his influence in prosecuting criminal street gangs by supervising the birth of the Newnan-Coweta Intelligence Committee in 2014. 
At its inception, this network was compiled of law enforcement officers from three agencies, eight divisions and had approximately 30 members. 
As a byproduct of his guidance, this intelligence group has been responsible for the identification of over 800 gang members in the past three years, according to Sgt. Ryan Foles. 
"Because of his commitment to combating criminal street gangs, those under his direct leadership have been able to assist in the prosecution of 60 criminal street gang members, all who received lengthy prison sentences in that same time period," Foles said.
As Western Region vice president of the Georgia Gang Investigators Association, Foles nominated Lewis for the award.
"He's the pioneer of combating criminal street gangs here in our community," Foles said. "Without him, I don't know if we'd even have an effort against them here in Coweta."
In the last available federal statistics for street gangs in 2011, there were reportedly over 1.3 million gang members in the United States and over 33,000 different gangs. 
According to the Federal Bureau of Investigation, there are more than 40,000 gang members in the metro-Atlanta area. Since 2014, over 1,000 street gang members have come through the detention center at the Coweta County Jail. 
In late 2015, Lewis was promoted to commander of the Coweta County Detention Center. Since that time, he has supervised the implantation of the Coweta County Sheriff's Office's first Security Threat Group Unit. 
This unit is being modeled throughout the State of Georgia as a primary weapon against gang members who find themselves incarcerated in county jails, according to Foles.
For Lewis, the award paled in comparison to the person who presented it – the Georgia Gang Investigators Association President Jose E. Diaz, who sadly passed away unexpectedly on Monday.
"It means so much more to me now," Lewis said. "It's great to be honored, but I didn't do any of this by myself. No investigator can ever be successful strictly on his own." 
****
Clay Neely: clay@newnan.com, @clayneely