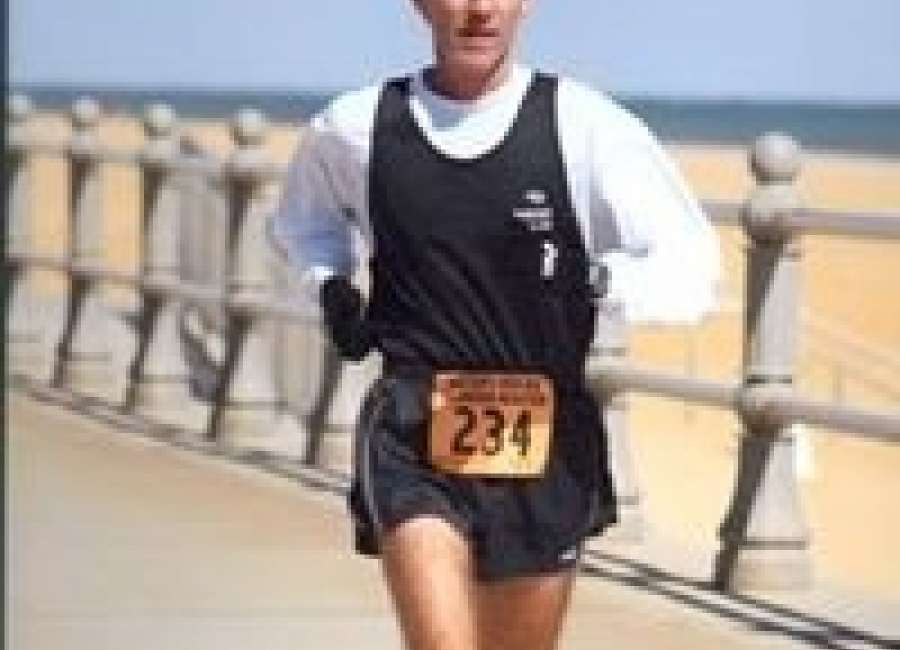 About a week before this year's Peachtree Road Race, Justin, a sports reporter for the local affiliate of the Fox Broadcasting Company sent me this:
Hope you're doing well! I'm with FOX 5 Sports – we're looking at some Peachtree Road Race preview stories, and I had a friend tell me about the Streak Runners Association. Are you still involved in that, and are you running in the Peachtree this year? If so, maybe could be an interesting Peachtree preview story to come out and talk to you sometime this week if you have time.
Never one to turn down the opportunity to promote the sport of running, I accepted the offer.  The very next day Justin showed up at my office – video camera and tripod in hand – and interviewed me for the better part of an hour.  Justin discovered I ran my first Peachtree in 1979, making this year my 39th.
I've run every day since November of 1978 – 'when Jimmy Carter was President,' as was reported later – and asked me how I run when I have a sprained ankle: 'I don't get sprained ankles,' I replied.  I like to think of it as my one superpower. Justin thanked me for my time and said a film crew would be in touch to get video of me running to accompany his story.
That afternoon Chip from the Fox sports department asked when I ran. I told him 3:30 every day during the week, as in 3:30 in the morning. Chip said he'd see what he could do to line up a crew. I offered to run after work if that would help, because I know if you're not used to waking up before the roosters it's not the best way to start the day. We ultimately agreed on the next day around 5 p.m. at my home.  
The next afternoon Blaine and Miles were in my driveway when I got home with enough equipment to film a major motion picture. The three of us talked for a while, and Blaine asked me how the Peachtree Road Race has changed since 1979. I mentioned back then I parked 100 yards from the starting line, and now I park at the finish line and run six miles to the starting line because it's impossible to park anywhere near the start.  I added that for a 10-year stretch I ran competitively for the Atlanta Track Club Masters team and was 'running shoulder-to-shoulder with the Kenyans.' I paused before adding, 'during warm-ups,' believing my incredible wit was going to land me a gig hosting a variety show on Fox (not yet).     
Blaine asked me to change into my running clothes, and soon we were at the bottom of my driveway at which point he asked me to run to the top of the hill, 1/10th of a mile that I ordinarily walk to loosen up before heading out for my run simply because it is straight uphill.   
I (oomph) ran to the top and rounded the corner out of the view of the camera because there was no way I was going to risk being caught on film walking for a story about my running. I jogged back to the bottom only for Blaine to ask me to 'do it again, but run on the other side of the street this time.'   
I honored his request, making sure to round the corner once again. I jogged back to the bottom and found out he wanted more footage of me running on the country roads of Senoia, where I put in another couple of miles for good measure. It was all I could do to not let him know he was wearing me out. Quickly.   
I have to be honest and admit that running twice a day – something I did regularly as recently as 15 years ago – ain't as easy as it used to be.  Imagine if you will running with a slight dose of rigor mortis coursing through your body. That's what my second run of the day feels like these days. At that time of the day I am the Tin Man from The Wizard of Oz. I only hoped it wouldn't be noticeable on film.  
The next night the local Fox affiliate aired my story. The old adage is everyone has 15 seconds of fame. Somehow I was blessed with 10 times that. The feature turned out as good as I could have hoped for and some how, some way the running gods made sure I didn't look like the Tin Man.
I noticed that footage of me running up the incline-from-hell was used at the very end of the story. If they only knew how exhausting it was running up and over the hill not once but twice had been, the producer may have put a different spin on my story:  
Both literally and figuratively, I knew I was over the hill.    
Scott Ludwig writes an occasional column for The Newnan Times-Herald and is the author of nearly a dozen books on running.