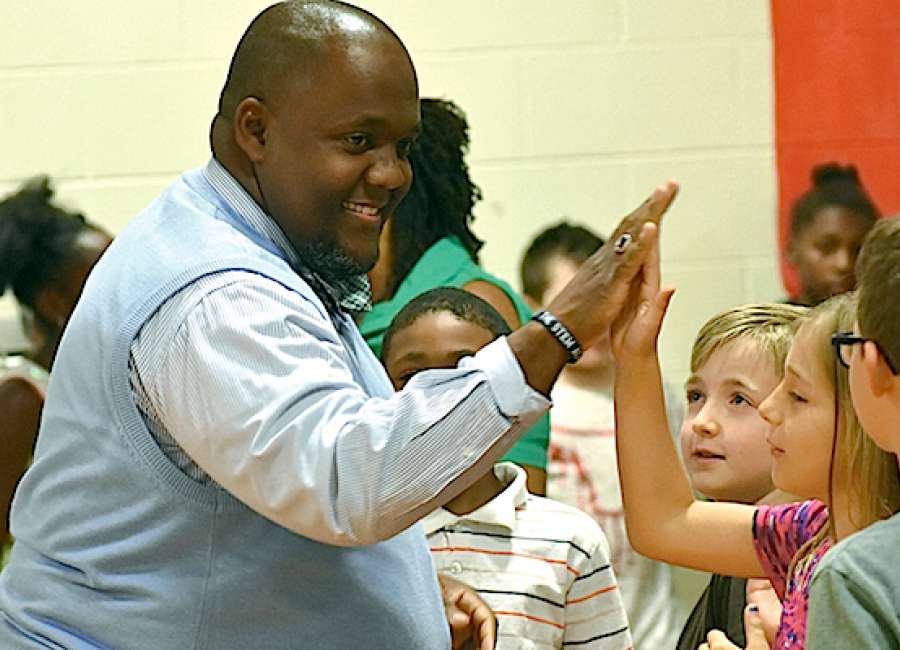 Last January, Ruth Hill Elementary School was classified as "chronically failing" by the state of Georgia after three consecutive years of scoring less than 60 on the soon-to-be-revamped College and Career Ready Performance Index.

The local community – and supporters from beyond Coweta County – have rallied around the Newnan school, which is in the midst of a long-term improvement plan. The school system has provided extra resources for the teachers, students and families at the school. And based on the results of Ruth Hill's Georgia Milestones tests, Principal Aaron Corley has some homework for Governor Nathan Deal. 
"Looks like the governor will have to spend some time finding new adjectives to describe Ruth Hill Elementary," Corley said at a recent "pep rally" celebrating student success.
Ruth Hill Elementary students made gains in every area covered by Milestones. Achievement highlights included: 
• Reading grew 20 percent from last school year, and Ruth Hill made the most gains of any school in the school system. Third-graders outperformed 14 of 19 schools in the system in reading and grew by almost 30 percentage points from last year. Students in fourth and fifth grades grew by 15 percent over last school year.
• In math, third-grade scores improved 26 percent and fifth-grade scores improved 42 percent over last year. Third-graders outperformed 15 other schools in the system, putting Ruth Hill in the top five schools in the system. Scores were 13 points higher than the system average. Ruth Hill's fifth-graders outperformed those at eight other schools in the system, and the third and fifth grades had the highest growth of any elementary school in the system. 
• In social studies, Ruth Hill students grew 21 percent from last school year and had the highest gains of any school in the system. 
• In science, Ruth Hill grew by almost 30 percent from last school year, outperforming seven other elementary schools in the system.
Corley said he is proud of the scores, but prouder of what they represent.
"They represent the acknowledgement of hard work, they show that we can succeed and grow no matter what anyone around us may say or believe," he said. "The scores show that when we work smarter, are open to new ideas, and believe in ourselves, nothing is impossible. Our scores show that we are not defined by our circumstance and are not bound by our past."
Ruth Hill, identified as Coweta's most struggling school, has received extra personnel and support. The school system has provided a second instructional coach and additional teachers to lower class sizes. Communities in Schools was established there last year. School officials have employed a variety of improvement tactics from retired educators mentoring students to home visits by school representatives in an effort to prepare students for testing.
"This community saw its school in need and didn't come to us pointing a critical finger, but rather came to us with open hands asking how they could help," Corley said. "For that I am eternally grateful."
The school offers tutoring before and after school each day as well as on Saturdays, additional paraprofessionals, academic parent-teacher teams, built-in flexible instructional time not only for struggling students but for advanced and REACH students, and innovative hands-on activities in both the school's media center and its computer/STEM lab.
Corley said the pressure of underperforming students has united the staff and faculty of Ruth Hill.
"None of us wants this label to be associated with this school," he said. "The kids work too hard and make too much progress. So we rallied around the school to see what we can do as a group. We're constantly adjusting things if they're not working."
Ruth Hill found a special ally in Casey Bethel, the 2017 Georgia Teacher of the Year. Bethel, a science teacher at New Manchester High School in Douglasville, paid a visit to the school and helped get students excited for testing. He promised to return for their celebratory assembly, where he congratulated the students on their stellar efforts before cartwheeled and toe-touched his way around the gym and high-fived his way through the crowd of students.
Corley said it's just the beginning for Ruth Hill, which along with the rest of the schools in the Coweta County School System will begin the 2017-18 school year on Friday, Aug. 4.
"We will continue to baffle our critics, frustrate and confuse those who have low expectations for Ruth Hill, and gladly aggravate those who dare to put limitations on our kids and our school," he said.