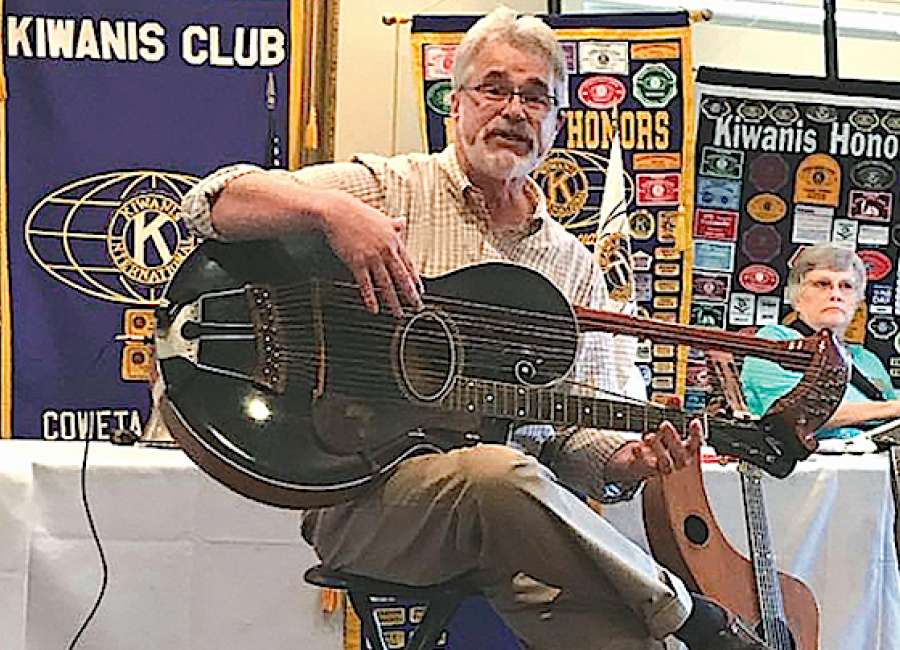 Coweta County has grown and changed during the past 20 years, and Macedonia Baptist Church – and Dr. John Riley, the church's pastor – have seen changes during those two decades, as well.

Riley is celebrating 20 years as the pastor of Macedonia, one of the county's oldest congregations. A covered dish dinner is being held in the activities building at Macedonia on July 29 at 5 p.m. to mark the milestone.
Statistics vary, but they generally show pastors have an average tenure of four to eight years at a church. Riley arrived at Macedonia – with his wife Dana and children Abe, T.J. and Christina – in 1997. 
He gave his first sermon on May 3 of that year. Soon, he was "embraced by the congregation," church member Peggy Holloway said.
He quickly got involved in the community. 
"John has assisted with the Newnan High Senior Play and other productions for 20 years," noted Matthew Myers, Macedonia's associate pastor. "As he sets up the audio and lighting needs of the play, he also forms friendships with the students, giving many of them their first encounter with a Christian minister."
For more than 10 years, Riley has led a weekly Bible study for residents at Wesley Woods of Newnan/Peachtree City. "The residents appreciate his faithfulness and the loving attention he shows to them," Myers said.
In 2014, Macedonia began hosting a Classical Conversations home-schooling community.  The Classical Conversations community has grown from that first year and now has groups extending from preschool through ninth grade.  
"John had previous experience with home schooling, for when his two sons were little, John and Dana home schooled them," Myers said.
Dr. Wayne Jenkins, associational missionary for Western Baptist Association, a group of area Southern Baptist congregation, reflected on Riley's contributions to Baptist life in the past 20 years.
"Macedonia Baptist Church, under the leadership of Dr. John Riley, is one of our most faithful and supportive churches in the Western Baptist Association," he said. Riley has served in many key association positions, teams and committees and has led other Macedonia members to be active in associational life, as well.
"He has led Macedonia to consistently be one of the leading churches in the association in giving to local, state, national and international missions," Jenkins said. "He is also a very effective teacher of missions."
His work at Macedonia has taken the church in new directions.
"Sensing a need for children to have a worship experience tailored to their unique needs, John worked with several church leaders to launch a children's worship service known as W.O.W. – Wide Open Worship," Myers said.
W.O.W. was aimed at elementary children initially and now offers a preschool and elementary worship time for children.  
Riley also helped church leaders sponsor and launch a Good News Club at Brooks Elementary School. "The Good News Club is an after-school Christian program for elementary-aged children that incorporates a Bible lesson, songs, memory verses and games," Myers said.
Riley's love of music shines in his life and his ministry.
He "uses his amazing musical talent as a fun, unique and effective witness for our Lord Jesus Christ," Jenkins said.
Holloway agreed that Macedonia's musical influence is unique and "fully attributed to its leader."
Over the years, Macedonia has hosted dinner and concert events for the community, which has featured gospel groups such as the Mark Trammell Quartet, By Grace, Hope's Journey and Crosby Lane.
Macedonia has sponsored larger concerts – bringing Pat Terry, Phil Keaggy and Randy Stonehill to Coweta County.
The Macedonia Pickers, a gospel-bluegrass ensemble of church members, was featured in the July 4 parade in downtown Newnan.
"John is also a collector and restorer of harp guitars. He has given many presentations, in and around the Atlanta area, on the harp guitar," Holloway said.
When Macedonia needed to build a sanctuary to accommodate its growing membership, Riley took the lead role. Following 10 years of fundraising and planning, construction is now underway.
To take on a project of this size, you need a good leader, and we have one at Macedonia," Holloway said.
"It is a joy serving Christ with Dr. John Riley and the wonderful folks at Macedonia Baptist Church," Jenkins said.