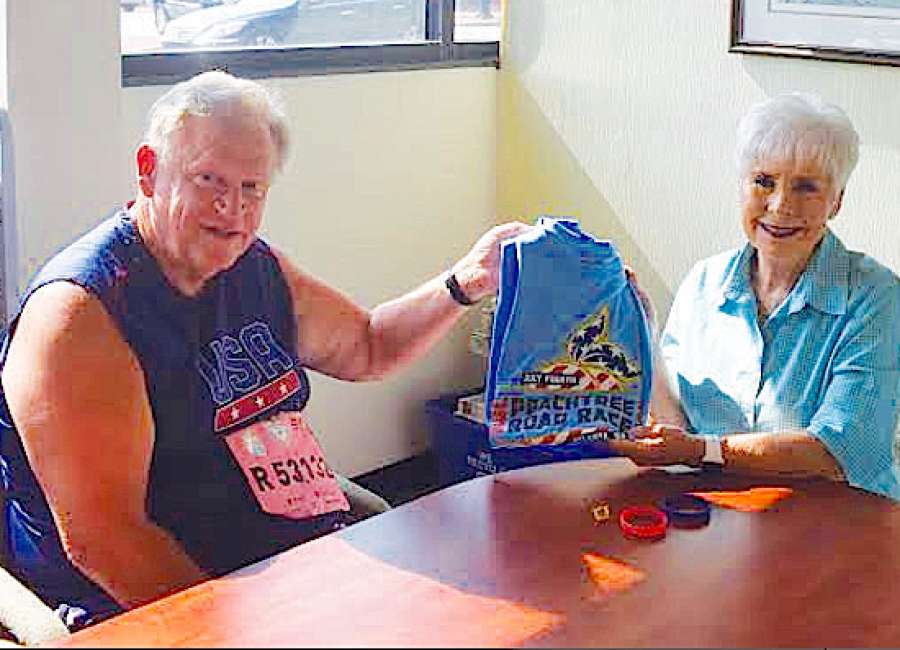 Running the 10-kilometer Peachtree Road Race is nothing new for Coweta County native Ricky Marchman.
He has conquered the infamous Cardiac Hill, which takes runners over a 3/4 -mile slope near Piedmont Hospital in midtown Atlanta, 29 times since competing in his first race in 1980.
"I can't think of a better way to celebrate the Fourth of July than running the Peachtree Road Race," Marchman said. 
However, there was something different about last week's race for Marchman. This time, he ran it in memory of his friend and mentor, Jerry Walker.
Walker was a minister at First Baptist Church of Newnan for 32 years, serving the church and community in variety of ways, including most recently working with ministries connected to senior citizens.
"All that I was trying to do by running the Peachtree in memory of Jerry was to remember and honor a great man. He was always very kind and very humble," Marchman said.
Tuesday morning Marchman presented his Peachtree Road Race T-Shirt to Walker's widow, Susie, who was overwhelmed by his gift.
"He was loved by any and all who had the privilege of knowing him, and he loved them back just as much. I looked up to him, and I am glad that I got the opportunity to know him for as long as I did," Marchman said.
To help Marchman find inspiration for this year's race, Susie loaned him her late husband's First Baptist church pin and two wristbands – one band stated "God's got this" and the other said, "No one fights alone"– to wear during the race.
Those simple phrases stamped on the two wristbands served Walker well during his longtime career in ministry and spoke to how he lived his life.
"My husband was the most selfless and caring man I knew, he was always putting others before himself," Susie said.
Marchman echoes Walker's thoughts about her husband. "I looked up to him, and I am glad that I got the opportunity to know him for as long as I did," Marchman said. "He was a minister in the truest sense of the word."
As was stated in Walker's obituary which ran in The Newnan Times-Herald last year, Walker's marriage to Susie was a match made in heaven, and Jerry and Susie made a love connection.
Susie was a young church secretary who caught the eye of Jerry Walker, and after they were married, together they embarked on a life giving back to others and raising children and grandchildren.
Walker's career path could have gone down a different road.
Because of a love of music, his early college studies could have taken him in that direction. Walker also worked a short time in educational administration before answering God's call to serve others as a minister.
So to put God's plan into action, he attended Southwestern Baptist Theological Seminary in Fort Worth, earning his degree in religious education and administration. His first stop was as a pastor was at Second Baptist Church in Rome, Ga., before moving on for a stint at East Hill Baptist Church in Tallahassee, Fla.
From there, all roads took the couple to First Baptist Church of Newnan where he inspired members like Marchman, starting in 1984.
"We talked a little bit about retirement, but his thoughts were, 'Why should I stop when I love what I am doing?'" Susie said.
From the time Marchman collected his first Peachtree Road Race in 1980 to 2006, he never missed running in the famous holiday race.
However. a severe bout with depression, about which he talks openly, took him away from the things his loved doing, like competing in the road race for several years.
Leaning on faith, family and friends, like his relationship with Walker, got Marchman through those tough times, and today, he is much better.
"It was really a hard time for me," Marchman said.
These days, he is back to running the Peachtree Road Race with the same passion he had when he rose early on Independence Day back in 1980 to participate in his first race.
When not preparing for the yearly Peachtree Road Race, Marchman loves to spend time with wife Deborah, his three children Kendall, Katy and Abigail, and grandchildren Teegen and Sosebee.
Susie stays busy working in real estate and spending time with family, including children Jill Wright and Holli Jones.
She is also is a devoted grandmother to Josh and Jessica Rainey, Logan and Catelyn Price, as well as stepgrandchildren Gibb and Aaron Jones.
In addition to dealing with the death of her husband, she is mourning the loss of her teenage granddaughter Lindsey Price. "It's been a tough year," Walker said.
But she is getting through it with the support and love of family and friends.
Marchman admits his days of participating in the Peachtree Road race could numbered.
"I know I am going to have to stop eventually, but I want to run at least two more," he said. One will be next year when he competes for the first time with his children.
He also wants to run the following year to help the Peachtree Road Race celebrate its 50th year.
"That would be a great way to go out," he said.
After that, he plans on watching the road race and cheering others to the finish line.