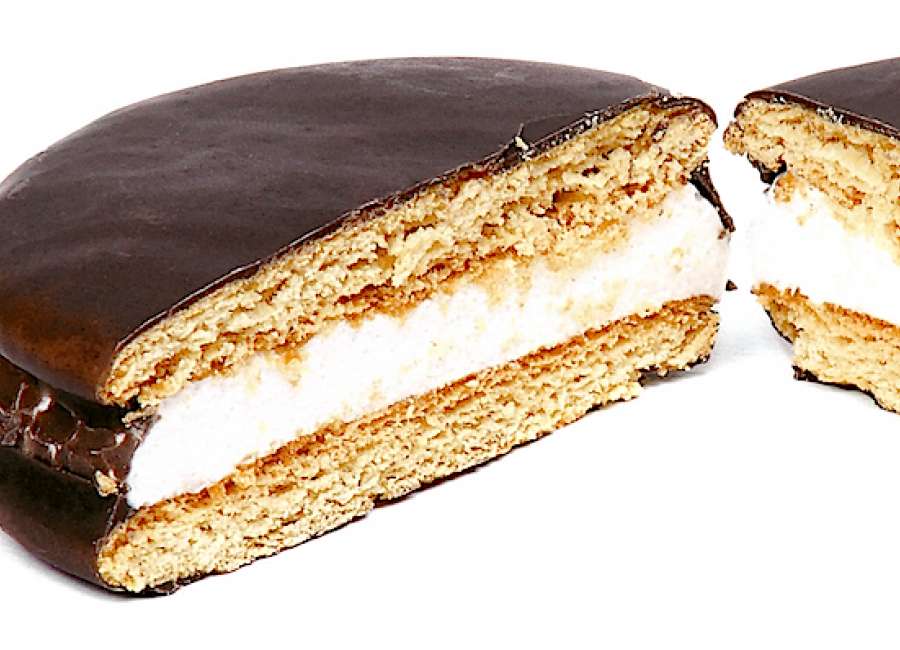 The Moon Pie, the creamy marshmallow treat, is 100 years old this year.

The Chattanooga Bakery, the family-owned business that has been churning out Moon Pies since 1917, is celebrating the iconic Southern snack. Two area churches have also chimed in – holding services with the Moon Pie's birthday as their backdrop.
Luthersville United Methodist Church and Allen-Lee Memorial United Methodist Church in Lone Oak both celebrated the Moon Pie's legacy this past Sunday. The sermon, hymns and Bible readings all followed the theme of "sweetness," and each person attending both services received a Moon Pie Mini.
Luthersville and Lone Oak both proclaimed July 9 as Moon Pie's 100th Birthday with the town's respective mayors, Ginger Hancock of Luthersville and Brian Ferrell of Lone Oak, reading the proclamations during the worship services.
The Moon Pie got its start in 1917 when a Kentucky coal miner asked a Chattanooga Bakery salesman for a snack "as big as the moon." Within a few years, workers at the Tennessee factory were boxing hundreds of the round snacks every day.
Chattanooga Bakery now produces about a million Moon Pies in various sizes and flavors each day. In 2014, the University of Tennessee served up the World's Largest Moon Pie during a homecoming event. That Moon Pie weighed more than 50 pounds, and the recipe called for 14 pounds of marshmallow and six pounds of chocolate. There has also been a Moon Pie eating contest at Talladega Superspeedway in Alabama.
Chattanooga Bakery held a centennial celebration for the Moon Pie in April in Chattanooga. The company is also sponsoring a contest, which runs through June 2018, asking people to share a favorite Moon Pie memory. The contest rules can be accessed at: moonpie.com/templates/moonpie_site/assets/pdfs/MoonPie_Memories_Centennial_Contest_Rules_10-20-16.pdf 
Moon Pie Banana Pudding
From the Kitchen of Deep South Dish, www.deepsouthdish.com
Ingredients
For the Filling:
1 (8 ounce) package cream cheese, softened at room temperature
1 (14 ounce) can sweetened condensed milk (not evaporated milk)
2 cups milk
1 (5.1 ounce) box instant vanilla pudding
For the Banana Pudding:
6 Original or Double-Decker Moon Pies, cut into squares or wedges
6 bananas, sliced
1 (8 ounce) tub of whipped topping, thawed or equal amount of whipped cream
Instructions
For the filling, cream the cream cheese until smooth; add the sweetened condensed milk and stir until blended. In a separate bowl, whisk the pudding mix with the milk until blended. Combine the two and mix well.
To assemble the banana pudding, cut three of the Moon Pies in half and then into three slices, for a total of 6 pieces, reserving any crumbles and storing them until needed for garnish. In the bottom of a 2-quart bowl, add about 1 cup of the pudding mixture, the 3 chopped Moon Pies and slice three of the bananas on top. Repeat layers with about half of the remaining pudding mixture, 3 more chopped Moon Pies, 3 more sliced bananas, and top with all of the remaining pudding mixture. Spread the pudding across the top, add the whipped cream or whipped topping on top, and carefully spread it evenly on top. Cover and refrigerate several hours or overnight.
Scatter the Moon Pie crumbs all over the top as a garnish, and add extra wedges of Moon Pie, if desired.
Moon Pie Cake
From Christy Jordan's Southern Plate
www.southernplate.com
Ingredients
8 regular-sized Moon Pies in flavor of your choice*
16-ounce tub whipped topping
Large box cook and serve vanilla pudding, prepared according to package directions
4-5 bananas
1 bottle caramel syrup
Instructions
Cut 7 Moon Pies into four strips. Place the strips, cut side up, in the bottom of a 9x13 baking dish or cake pan.
Prepare pudding according to package directions and pour over moon pies while still warm. Cover dish with foil and refrigerate until cold.
Top moon pies with a generous drizzling of caramel. Slice bananas on top of that. Spread whipped topping over all and top with another generous drizzling of caramel.
Chop up remaining moon pie into bite-sized pieces and scatter pieces on top. Cover again and refrigerate until ready to serve (can serve immediately, but gets better after an hour in the fridge).
Notes
*I used banana-flavored Moon Pies but any flavor will work. Just make sure you get the regular size. If you aren't familiar with them, they have minis, double deckers, and I think even triple deckers. You could use the double and triple deckers if you like and it will take fewer to make this, but if you go with minis it is gonna take a whole lotta moon pies.
BROWN BUTTER MOON PIE ICE CREAM
Susannah Brinkley of Feast & West
www.feastandwest.com
INGREDIENTS
2 sticks butter
1/2 cup milk
2 cups heavy cream
6 egg yolks
3/4 cup granulated sugar
1/4 teaspoon salt
3 regular-size chocolate Moon Pies, cut into 1-inch pieces
INSTRUCTIONS
Brown the butter. In a medium pan, melt the 2 sticks butter on medium heat. Increase to medium-high heat. Stirring constantly, simmer the butter until browned and dark brown flecks remain. It should smell fragrant, like hazelnuts. Set aside.
In a medium saucepan, heat milk and cream on medium-high heat until just boiling, stirring occasionally. Remove from heat.
While milk cooks, whisk together egg yolks, sugar and salt. Slowly, whisk in half of the milk mixture until smooth. Return saucepan to heat, then whisk in the egg mixture. Stir until the mixture thickens and coats the back of a spoon.
Prepare an ice bath. Add ice to a large mixing bowl, then set a medium mixing bowl on top of the ice. Through a fine mesh sieve, pour ice cream mix the smaller bowl in the ice bath. Stir in the browned butter. (Pour the butter through a sieve if you prefer a smoother ice cream.) Refrigerate for 1 hour.
Prepare ice cream according to your ice cream maker's instructions. Near the end, add cookie pieces. Freeze in a freezer-safe container several hours or overnight before serving.