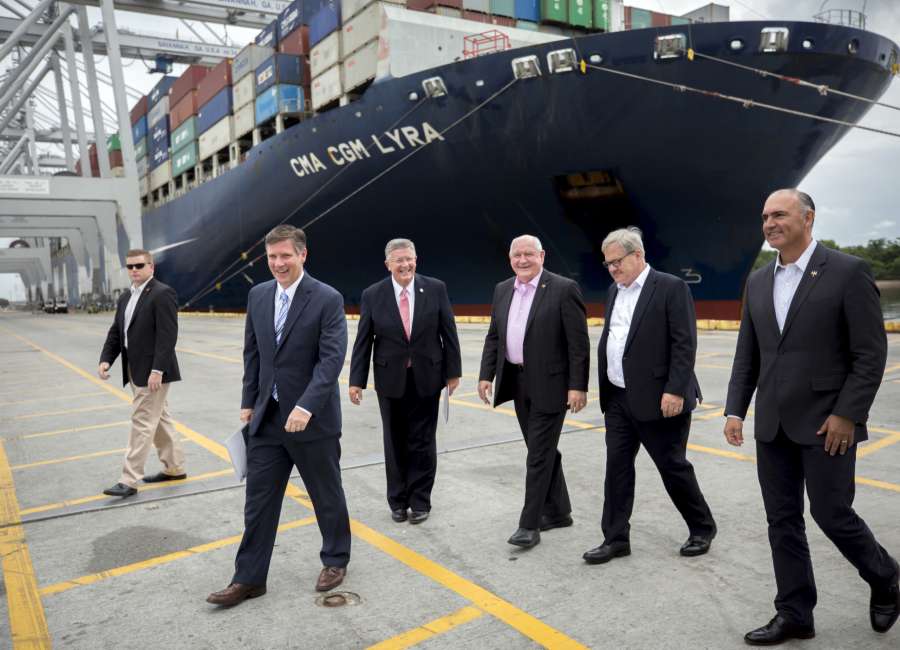 The international facet of the Port of Savannah is clear to people who look at the dollars-and-sense value of transportation facilities in Georgia.
Many Coweta County businesses depend on raw materials coming from abroad for manufacturing, and some of those same companies ship their finished goods from Savannah to points around the world. Local retailers' shelves are often stocked with goods that passed through the Savannah port before arriving in Coweta County.
Agriculture ministers for the United States, Canada and Mexico recently visited the Savannah harbor and toured the port facilities.
U.S. Secretary of Agriculture Sonny Perdue, a former Georgia governor who has been to Coweta County several times over the years, was the host for the June 20 visit. His guests were Canadian Minister of Agriculture and Agri-Food Lawrence MacAulay and Mexican Secretary of Agriculture, Livestock, Rural Development, Fisheries and Food Jose Calzada.
At the conclusion of their first trilateral meetings, the three issued a joint statement:
"Our three nations are connected not only geographically, but through our deeply integrated agricultural markets. Our trading relationship is vital to the economies – and the people – of our respective countries. We are working together to support and create good jobs in all three countries. We share a commitment to keeping our markets open and transparent so that trade can continue to grow. That mutual commitment was reaffirmed in our discussions this week.
"The North American Free Trade Agreement has greatly helped our respective agricultural sectors as well as our consumers who have benefitted from an ever-growing variety of safe, affordable food products all year around. While even the best trading partnerships face challenges from time to time, our agricultural differences are relatively few in the context of the $85 billion in agricultural trade that flows between our three nations each year.
"Over the years, the United States, Mexico, and Canada have also worked collaboratively to protect plant and animal health, conduct joint research, and share best practices. These efforts have helped to eradicate several pests and diseases from the region, differentiating us from the rest of the world. Our three countries remain committed to continued collaboration to ensure a safe and reliable regional supply chain that makes the North American agriculture sector more competitive."
In the statement, the three leaders indicted the visit had "fostered the mutual understanding and personal relationships that will help North American agriculture thrive" with an eye toward strengthening trade among the three nations and improving regional partnerships.