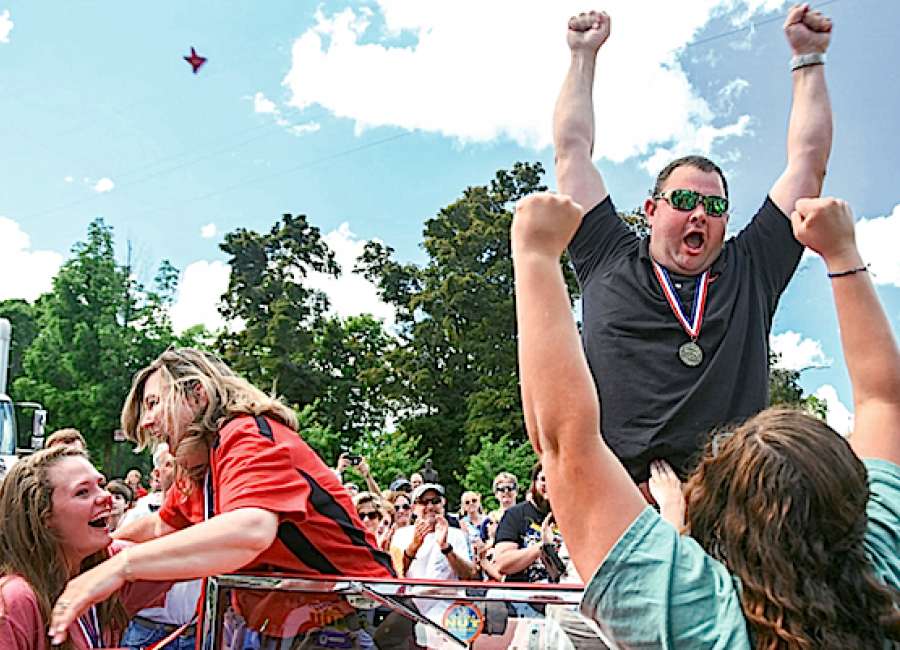 – By JUSTON LEWIS, juston@newnan.com
It was a great finish. 
After years of competing in the Great Race, Beth Gentry and her family are bringing not one, not two, but three first place trophies back to Newnan. 
The Great Race is an annual, week-long, car expedition that winds across the continental United States. This year the race was held from Jacksonville, Fla. to Traverse City, Mich., and featured more than 100 cars, all manufactured before 1972.
The course is plotted out by a computer, which makes precise calculations to determine when the racers should meet the checkpoints. In addition, all laws of the road apply to this race. The race rewards excellent navigational skills rather than speed.
Gentry has been competing in the race for more than 20 years. She had never won the event, until now. She and her nephew, Jody Knowles, clocked in with the most accurate times and won first place in the Expert Division as well as first place overall. 
"It's surreal at the moment," Gentry said. "It has been a long time coming. It took a lot of hard work and passion." 
Gentry was introduced to the event by her father, the late Joe Knowles. She competed in his 1932 Ford Cabriolet with Knowles, with the team name, "Pop's Passion." 
"I feel on top of the world," Gentry said. "This is like the Super Bowl of football, the Daytona 500 of NASCAR." 
This year was special for Beth because her two daughters, Genna and Olivia, entered the competition for the first time. The daughters had been on the Great Race trail as support but never as actual competitors. 
They had an impressive debut, bringing home the first place rookie title in their first year, in their 1963 Dodge Dart convertible. They beat out their competitors by about 20 seconds, which is blowing away the competition in Great Race terms. With the two being only 14 and 16 respectively, they could have a run of as many years as they choose. 
"I knew we were all capable," Beth said of her daughters' win in their first official year. 
Beth's husband, Oliver, worked on the cars every night and kept them running during the race. Spanning nine days, many things could've gone wrong along the way. 
According to Beth, they will return home and work on any repairs that need to be made before preparing for a competition in September, which will serve as a warmup of sorts for the family to compete in the 2018 Great Race.