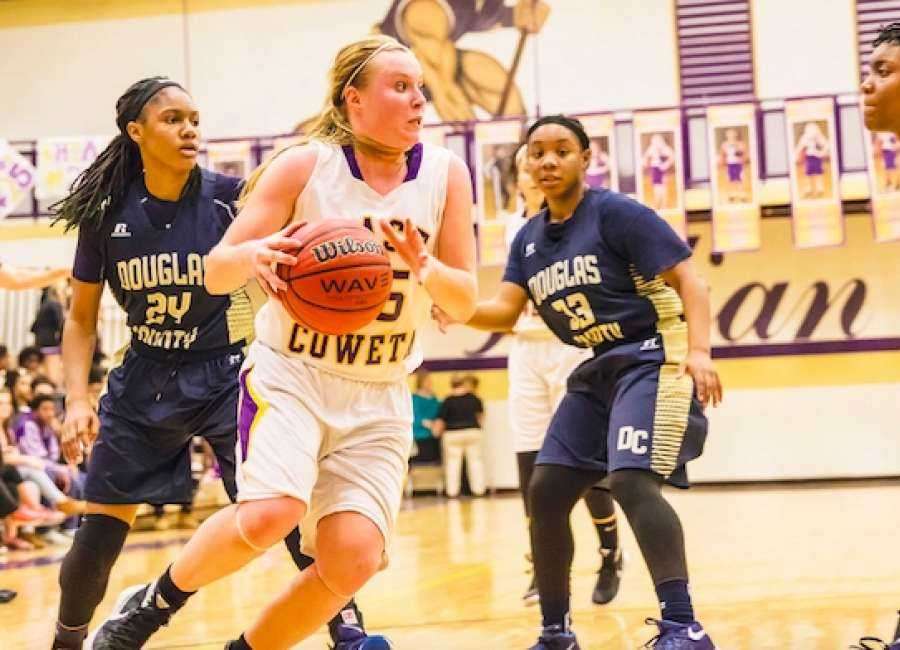 Karen Frady, the new girls varsity basketball coach at East Coweta High, watched from the stands last year as her former high school team sank to one of its worst records in school history at 5-19.
Frady, a Sharpsburg native who played varsity basketball at EC herself, saw a lot of disappointed faces, low energy and zero confidence from the girls last season. When first-year head coach Lee Heaberlin decided to step down as the team's leader to pursue other academic opportunities, EC principal Steve Allen called Frady immediately.
"Mr. Allen and I coached together at East Coweta Middle School. He was the boys basketball coach and I coached the girls," Frady said. "He asked me to come here and take over the reins of the team once Lee stepped down."
Frady, a kindergarten teacher at Moreland Elementary School, hadn't coached girls basketball since a seven-year stint at Landmark Christian School in Fairburn. She said she had to do some soul searching once Allen gave her the offer.
While she knew it would be a tough job, coaching at her high school alma mater would give her the chance to be around her son Logan, a rising sophomore baseball and basketball player at EC. (Her other son, Mason, a standout pitcher on the EC baseball team, graduated this past May.)
"I told Mr. Allen I had to pray on it. I saw how the girls looked last season, and it wasn't pretty. I'm a very competitive person, and I like to win," she said. "But after I prayed and I thought about it, I accepted the job, and I'm glad I did. I'm looking forward to coaching these girls and building a program here."
And the returning varsity players seem to look forward to playing for Frady. Many came out for the new coach's team workouts.
"I was nervous when I was starting workouts and practices for the girls – I didn't know how many of them would show up," Frady said. "To my surprise, 24 girls came out and were ready for workouts. And 15 of them came out every day to help me with our recent youth basketball camp. I was extremely pleased."
Frady talked about one of her varsity players, rising junior London Fowler, lamenting about the girls coaching situation at EC.
"London did tell me that I was her third coach in her three years here," said Frady, a University of West Georgia graduate. "I told her I understood her frustration, but if she and the other players work with me, we can begin to get this program off the ground. She and the other players said they were on board."
Frady said her first goal will be building a relationship with the girls, letting them know they are appreciated, loved and valued. That's pretty much how she approaches teaching her kindergarten students. And it starts with the little things, like eating a meal before a scrimmage game EC had against McIntosh a few weeks ago.
"The girls were shocked when I brought them food before the McIntosh scrimmage. They hadn't eaten a pre-game meal before," she said. "I told them that's going to be the standard around here now."
Frady also said she's been selling banners and doing other fundraisers, which will allow the Lady Indians to have new uniforms for next season. She also wants to start a freshman girls team next year, even if that particular group doesn't play many games. The EC boys have a freshman team (her son Logan was a member), and they were pretty good last season.
"Having a freshman team gives the middle school girls something to aspire to when they get to high school. Sometimes it's a big step to be a freshman trying to make the junior varsity or varsity team," Frady said. "A freshman team also allows the girls to get better skill-wise and that will only help the JV and varsity programs get better. Good teams always start with the rise of the young ones."
Another goal for the Lady Indians under Frady will be for the players to respect each other and treat each other like family.
"I'd like for us to do things as a team, that may or may not be basketball-related. We might eat out every now and then as a group or go to the movies or things like that," she said.
All the love, food and camaraderie is great, but there's still the matter of trying to improve on the 5-19 season EC's girls suffered through last year. And they still are in a tough region with powerful girls teams like Westlake, Wheeler and Pebblebrook and a good team in county rival Newnan. The EC girls were swept by all five region teams last season, going 0-10.
Frady said she has a goal for team improvement on the court.
"It's all about learning the fundamentals of basketball. We need to stress fundamentals all day, every day," she said. "We will set some small goals for the season and try to achieve those first. Honestly, I'm not that concerned about wins and losses — my main thing is I want the girls to be better than they were at the start of the season, and it begins with getting the fundamentals down."
Frady said learning fundamentals begins with everyone knowing their roles on the team. She started her first team workouts by asking how many of the girls were point guards. She cringed as five players raised their hands.
"That wasn't the answer I wanted. Some of the post players told me they did dribble the ball up the court in the past," Frady said. "I said from now on, you get the rebounds and look for your guards. That's the habit I want from you post players."
Frady also said EC will not play "butt on fire basketball" any more, meaning they will have a game plan and stick to it as best they can. She established a team motto – Faith over Fear – and wrote down inspirational sentences on her office blackboard for the players to read.
"I want the girls to feel great about playing basketball here. I want them to love EC and each other," she said. "I want them to love basketball again."