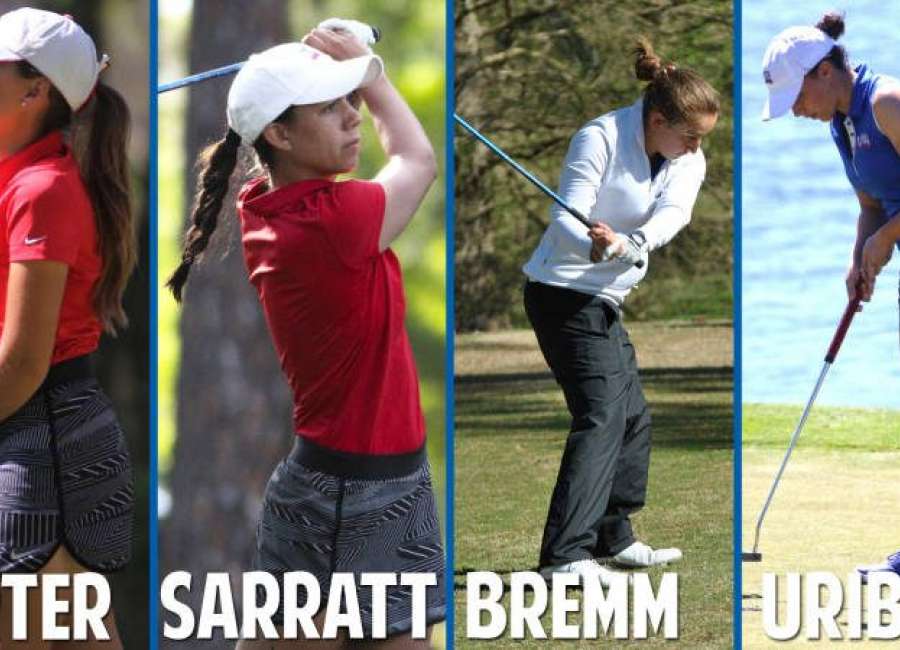 Courtesy of West Georgia athletics
For the fourth consecutive year, the University of West Georgia women's golf team has landed at least one player on the Women's Golf Coaches Association's list of All-American Scholars, as the Wolves had four honorees named to the list this season. Lola Uribe earns the distinction for the fourth straight year, while Taylor Sarratt earns her third honor while Franziska Bremm and Layne Carter earned All-American Scholar honors for the first time in their career.
Uribe has been a mainstay on the course and in the classroom for the Wolves in her four years in Carrollton, being named All-Gulf South Conference twice, being named to the GSC Academic Honor Roll all four years and is now a four-time WGCA All-American Scholar.
Statesboro native Sarratt has been named WGCA All-American Scholar all three seasons she was a member of the Wolves' golf team, and is a three-time member of the GSC Honor Roll and has been named to the GSC All-Academic Team for the past two seasons.
Bremm was named a WGCA All-American for her performance on the course earlier this summer, and now adds an academic honor to her résumé. Bremm is a two-time GSC Player of the Year and was also named to the GSC's All-Academic Team this spring.
In her first season in Carrollton, Carter was named WGCA All-American Scholar, joining Uribe as the last freshman to earn that honor. Carter played in eight events as a freshman in the 2016-17 season.
"It has always been our goal to earn academic honors while competing here at UWG, and this season we were able to accomplish both as the women's team won the GSC Championship, and we had a record number of girls earn All-American Scholar designations," said Barry Harwell, who coached the team this year and stepped down. "I appreciate all of the hard work everyone put into their studies and represented our team as true student-athletes."
There were a total of 952 women's collegiate golfers recognized with this honor. The criteria for selection to the All-American Scholar Team are some of the most stringent in all of college athletics. The minimum cumulative GPA is 3.50.