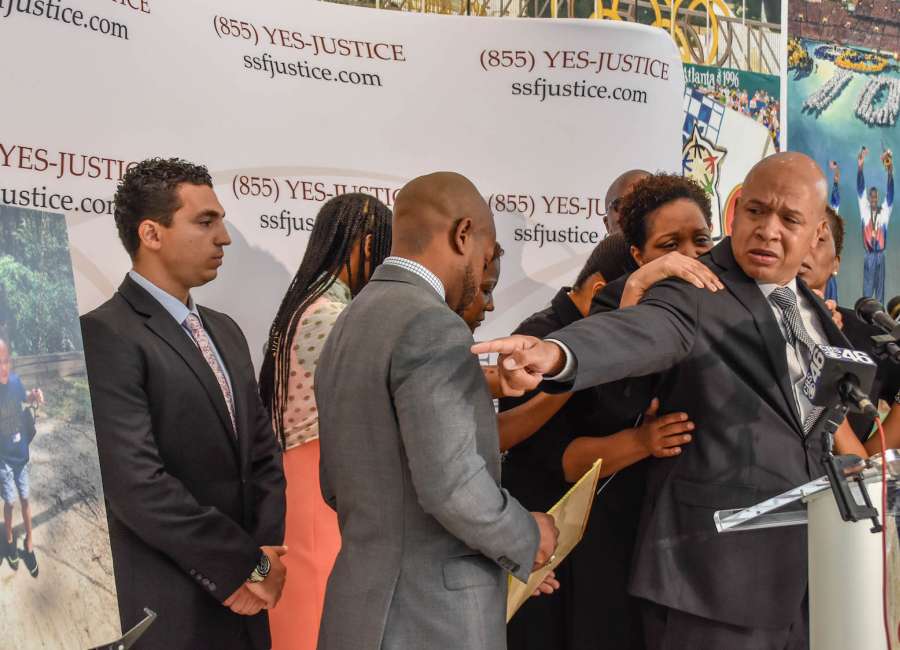 The family of a 5-year-old Newnan boy who drowned at a local day camp are demanding answers after their son was allowed to play near water even though he couldn't swim.

Benjamin 'Kamau' Hosch, III, drowned Friday while attending Camp Cricket, a day camp held at Cochran Mill Nature Center in Chattahoochee Hills in south Fulton County.  
The summer day camp was ordered to close on Monday after state officials confirmed it was unlicensed and not registered with the state's Department of Early Care and Learning.
In a press conference held Monday morning, attorney L. Chris Stewart told reporters that Hosch was one of 13 children who were taken for lunch near a waterfall and rock ledge and were allowed, without prior parental consent, to slide on the waterfall and swim.  
It was an activity that was allegedly never officially scheduled.
Cochran Mill Nature Center staffers didn't even realize he was missing until it was time to hike back to the nature center facility, according to Stewart who stated Kamau went missing for up to 45 minutes.
Fire Department personnel allegedly informed the family that Kamau was underwater for up to 20 minutes.   
Monday afternoon, the nature center released a statement.
Volunteer board member Steve Hurwitz said the board, staff and volunteers of the nature center are heartbroken and distraught over the tragedy.
According to Hurwitz, the group of 13 children were supervised by four adults when they walked down a nearby trail for a lunch outing.  
Following lunch, the children were allowed to splash in a shallow adjacent creek.  When the group gathered to leave the creek, the adults realized that one child was missing, Hurwitz said.  
"The child was found a short distance away in a pool of water in an area that had not been visited by the group," the statement read.
Stewart questioned why the facility would deviate from its planned itinerary without informing parents or getting their permission.  
"Kamau's parents would not have allowed him to slide on a waterfall or swim without his life jacket," he said. "He can't swim. The parents chose this particular day camp because of the lack of swimming activities."
The only water-related activities that parents were told about were fishing and a water fight with the local fire department which were both scheduled for Friday, Stewart said.
When the family visited the scene on Friday, Stewart said they found 4-foot-long water snakes on the rocks and in the water.  
"That's where 5-year-olds were taken without permission from any of the parents," he said.
Friday was Hosch's last day of a two-week summer camp held at the nature center.
The family said they intend to file a lawsuit against all responsible parties in the hopes that no other parent suffers such an avoidable tragedy.
Stewart raised issues with the safety of day camps across the state of Georgia, and wants parents to be informed in advance about activities in which their children will participate and demand that there be proper supervision for children at the camps.
Camp Cricket Summer Day Camp at Cochran Mill Park is an unlicensed program that was unknown to the state of Georgia until Monday, Georgia Department of Early Care and Learning spokesman Reg Griffin said.
"Our investigation has confirmed that Camp Cricket Summer Day Camp at Cochran Mill Park was operating without a license or exemption from licensing," Griffin said in an emailed statement.
"Our agency is issuing a cease and desist order for the program. Our investigation into how the incident occurred is continuing."
Day camp programs such as the camps offered at the nature center are eligible for exemption from the state's licensing requirements for child care centers, but programs must apply for an exemption, and the state does not list the Cochran Mill Nature Center camps as exempted summer camp programs.
Exempt programs must meet certain requirements, including having parents sign a form stating they are aware that the program is exempt from state licensing.
Camp Cricket is one of three summer day camps offered on weekdays at the center, according to the center's Facebook page.
Camp Cricket is for students entering kindergarten or first grade. A junior naturalist camp for those grades 2 through 5 and an adventure camp for middle schoolers are also offered, according to the nature center's website.
When Hosch was reported missing, police, fire and city staff responded to the area to search for him. A volunteer discovered the child in a small pool of water near the waterfall, according to City Manager Robert Rokovitz.
Emergency personnel administered CPR and transported him to the intersection of Cochran Mill and South Fulton Parkway where he was taken by ambulance to Hughes Spaulding Children's Hospital in Atlanta.
Rokovitz said the city of Chattahoochee Hills cannot comment on behalf of the Cochran Mill Nature Center and stated the investigation is ongoing.
"We salute the EMT's and police who responded and helped search for Kamau," Stewart said. "They were in tears and prayed with the family, but no one from the camp ever contacted the family for the first 30 hours after he was found."
The victim's mother, Ayisat Idris Hosch, said she never imagined living through a scenario like this, and feels robbed of their son's life.
"What happened to my son should never have happened, and no one should ever have to go through this," she said. "They killed my son, they didn't tell me what they were doing. I gave them money to kill my son – I paid them to kill my son."
Staff writer Sarah Fay Campbell also contributed to this story.
****
Clay Neely: clay@newnan.com, @clayneely