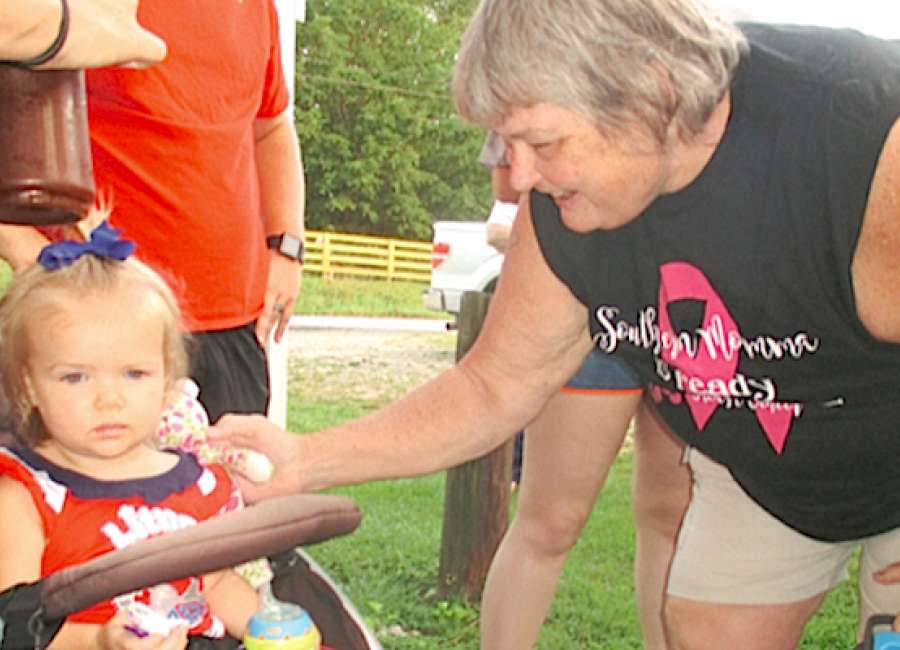 "People are crazy," Deborah Smith quipped. "It's 7 a.m."

Smith was at the Moreland Cultural Arts Alliance Tourist Stop on Highway 29 early on the morning of July 4. The folks lining up there on Independence Day were there to honor Smith, a community leader who has come through cancer surgery and continues to be active in the community.
"Deborah Smith is an irreplaceable member of our community. She contributes untold hours of volunteer service to her church, people in need, area schools, and programs which assist youth," said Carol Chancey of MCAA, which sponsored Deb's Walk.
"I am humbled by the outpouring of love from my friends and family. I wish I could have walked the entire walk to be among everyone," Smith said. "There were friends walking I had not seen in 20 years who came out to support me."
Some of those people are folks who have been helped by Smith in the past. Some participants came despite their own health issues.
"There are people out here walking who shouldn't be out here," Smith commented as she watched the walk begin.
"It was overwhelming to experience such a loving event," she said.
Deb's Walk was a leisurely stroll through the south Coweta town. Walker went from the Tourist Stop past the Moreland Mill to the God's Little Acre demonstration garden and back to the mill. The route was approximately a mile, Chancey said.
Smith is vice president of MCAA and – with Chancey – has planned and coordinated the Puckett Station Arts and Crafts Festival for several years on July 4.
Smith also is "an exceptional artist," Chancey said. MCAA sponsored a show and sale of Smith's work at the Moreland Mill on July 4. The art exhibition included photography, paintings and stained glass.
Smith said she has been touched by the outpouring of concern from MCAA and the entire community. She said her fellow members at Moreland United Methodist Church have also been extremely supportive.
"My treatment leaves me wiped out, tired," Smith said. "While the spirit is willing, the body is not – yet."
Her husband, Smitty, has been unable to work since October 2016 when a virus attacked his heart and left him with heart failure.
"I will have to continue to take chemo pills for several months to come. I am also going to have to have surgery on my left arm in the very near future. The pills leave me nauseous, with little energy, and the hair is thinning," she said.
Smith, who is known for her unassuming air and great sense of humor, said she hopes she doesn't lose all her hair. "My nephew has bought colored Sharpies for my great-nieces to use to create works of art on my bald head," she said.
MCAA also has set up a GoFundMe page to help Smith and her family with medical expenses. The address for the page is: www.gofundme.com/help-deborah-...