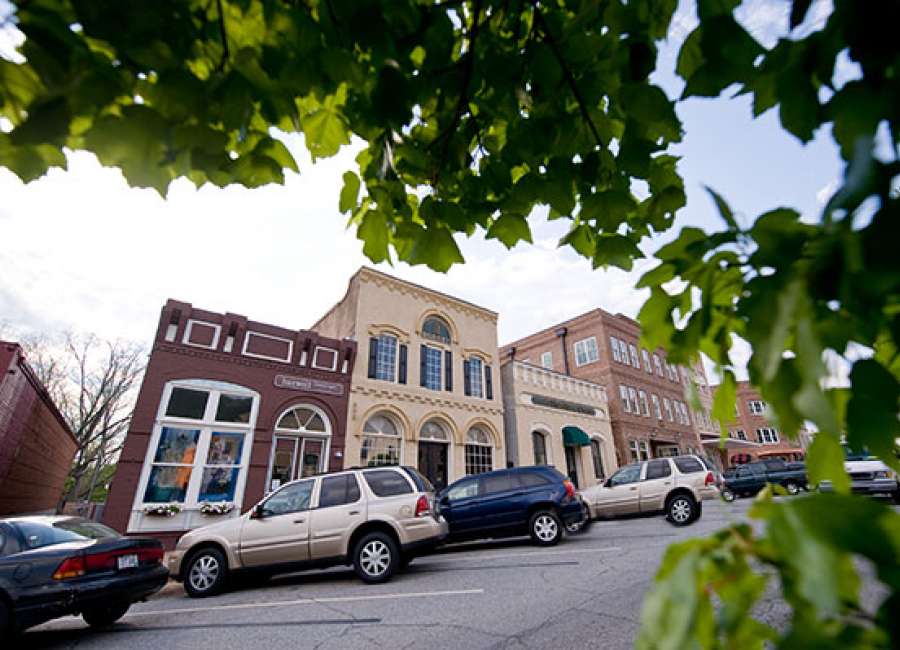 Over the past few years, Senoia residents have expressed frustration with tourists who block roads, walk down the middle of roads, stop on the road to take pictures or step out in front of cars to take pictures.
Seniors have complained about the actions of "walker stalkers" at city council meetings and on social media.
Because of the complaints, the Senoia Police Department has stepped up enforcement for such things.
On Tuesday, two fans of "The Walking Dead" who stopped in town to sightsee had an encounter with Senoia Police because they were walking down the middle of Gin Street.
The man was given a ticket for "pedestrian in roadway," while his girlfriend was given a warning.
The man took to Facebook to complain about rude treatment at the hands of the officer, Lt. Michelle Worden. He also filed a formal complaint with the police department.
The post was made on the "Senoia, Ga" Facebook group. It is a public group made up primarily of area residents, as well as several tourists and fans to "The Walking Dead."
"Today I was treated the rudest by officer Woden of the senioa police dept. Me and my girlfriend was heading home from Atlanta and thought we would stop in senoia cause we are huge walking dead fans. We ate at Nic to Norms, which was fabulous. Afterwards we thought we would walk down by where they tape Alexandria.. we  started walking down a road we thought was not an actually traffic road. We were walking in middle road which we never denied and we saw a cop car with their light on sitting on the side," the post, which has since been removed, read,  according to an Atlanta TV station.
Police Chief Jason Eden is also a member of the group. After reading the post, he checked out the video from Worden's body-worn camera. He didn't see anything rude about her behavior, and posted the body camera video – and an extensive explanation, on the department's Facebook page.
Edens is a frequent commenter on social media discussions involving the police department.
He said he's never been a social media fan and didn't even have a Facebook profile until the department started its own page, and he had to have a profile to be a moderator. But social media is a good way to get information quickly to a large group of people. And it's a great way to find out information he might never hear about otherwise.
"Simply put, the allegations of rude conduct are simply unfounded," Edens said in the post. He also stated that he is around and available to meet with residents about issues and concerns.
"To all of you making social media allegations, I am here approximately 60 hours a week from Monday through Friday and yet not one of your have been to my office to give me the information that i need to address the extreme corruption, misconduct and harassment that you all have suffered at the hands of the officers of the Senoia Police Department. I assure you that if my current schedule isn't feasible for us to meet, I will make time. I assure you, if you truly wish to foster change commenting on social media is not going to get you there."
Edens said he responds to the posts because perception, if unchallenged, becomes reality.
"People get on social media, on Facebook, and they start putting all of this negative stuff about my officers, my department, our city or whatever the case may be," he said. "When we are wrong, I'll say we are wrong, but when we are right I'll tell you that."
Edens  said he feels that responding is the only option if he wants to truly support his officer. 
"They are out there doing the job that I asked them to do. As long as they are doing it with the policies and professionalism I set forth we won't have any issues and I'm going to have their backs," Edens said.
He said he can't watch people talk about his officers and department negatively and turn a blind eye.
In this particular case, "I felt like it was important that we get something out as quick as we could," he said.
As for the citations issued, "they are a necessary evil," Edens said. "Nobody likes them and I understand that," he said. But he wants to be visible to the public.
"I want to be out there and visible so that people know – if you have a problem or some issue with an officer, come see me. "