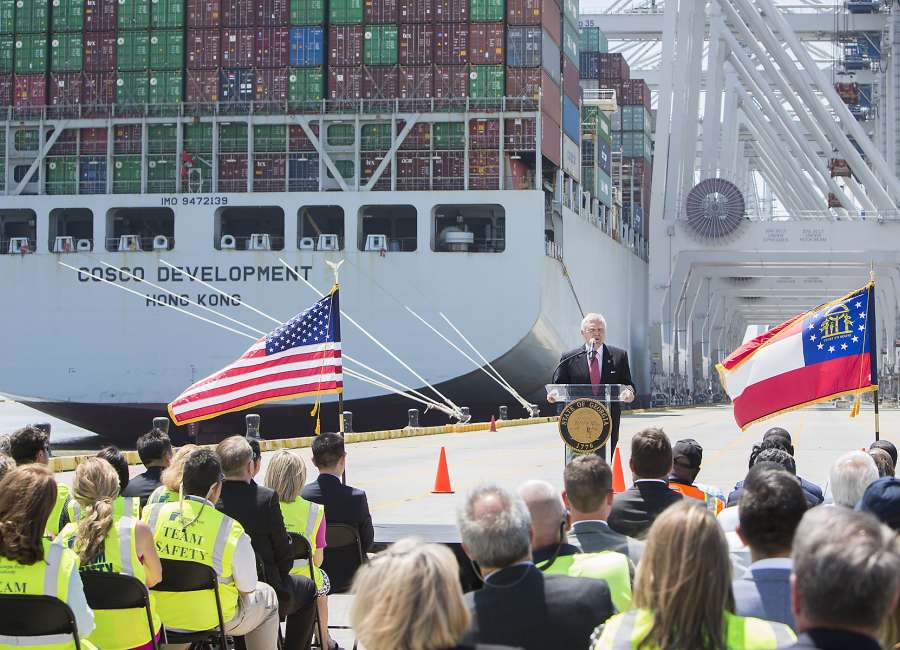 The dredging and expansion at the Port of Savannah is aimed at bringing larger ships into the port.
The expansion of the Panama Canal means larger ships can pass through its locks, but those larger ships can only dock at a few locations on the eastern coast of the United States. Business leaders eager to keep Savannah a vital port pushed to get the Georgia harbor deepened in preparation for larger ships.
The expansion of Savannah's port has economic impact in Coweta County because of the raw materials and products that come from the port to Coweta businesses and the finished products manufactured locally that are shipped around the world through the port.
Gov. Nathan Deal traveled to Savannah recently to welcome a record-sized ship. The COSCO Development, the largest containership to ever call on the U.S. East Coast, handled 5,500 containers, a record for Georgia's ports.
"This is another example of how the Port of Savannah is the gateway, not just for the U.S. Southeast, but for America's East Coast," Deal said. "The numbers are impressive. Our customers have spoken, and the Port of Savannah is clearly the must-call port."
During the ship's 30 hours at dock on May 12, up to six cranes moved 10,000 20-foot-equivalent container units on and off the vessel, which translated into more than 50 percent of the vessel's entire volume for its maiden voyage to the U.S. East Coast.
With a capacity of 13,092 20-foot-equivalent container units, the Development measures 1,201 feet long and 158 feet wide.
"With their shift to larger, more cost-effective vessels, the shipping lines are gravitating toward gateway ports. The Port of Savannah is perfectly suited to handle the larger exchanges of Neo-Panamax vessels," said Griff Lynch, executive director of the Georgia Ports Authority.
Crews working the COSCO Development were able to complete more than 220 container moves per hour during a period in which the Ports Authority and International Longshoremen also worked a total of nine vessels, moving more than 12,000 total containers. The 1,200-acre Garden City Terminal features 26 ship-to-shore cranes and 146 rubber-tired gantry cranes - more than any other U.S. terminal.
 "Savannah is already the load center for trade in the U.S. Southeast, but deepening our harbor to better accommodate vessels such as the Development will make Savannah even more attractive to cargo owners," Lynch said.
A study by the U.S. Army Corps of Engineers showed that U.S. companies moving goods through Garden City Terminal will save $282 million per year once the harbor deepening is complete in 2021.