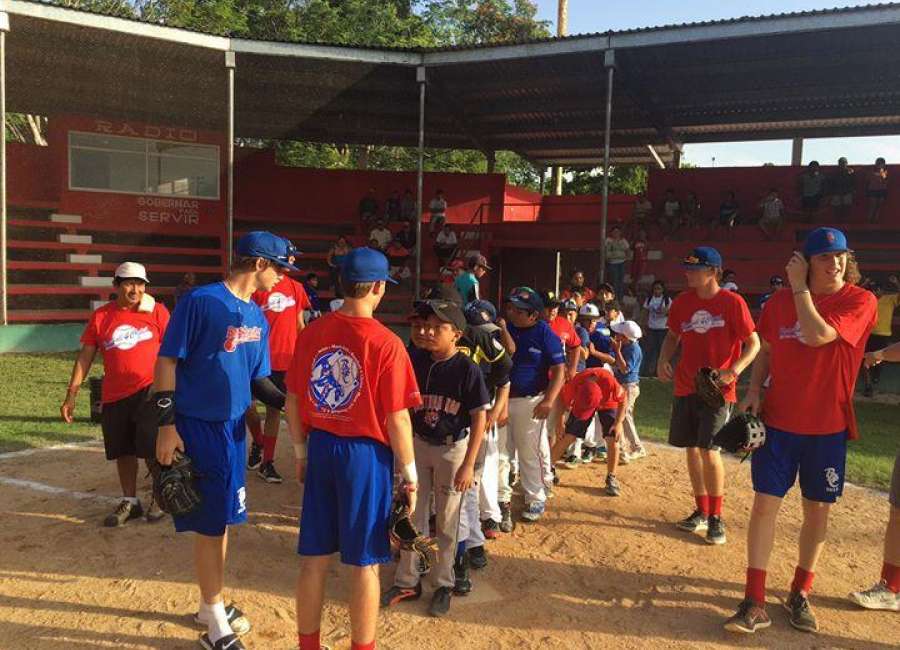 When this year's eighth edition of Baseball4Christ landed in Cancun, Mexico, for its annual mission trip last week, the team learned a valuable lesson— even rain can't spoil a good time or ruin the real reason for the journey.

So despite heavy showers that limited the team to just two full games of baseball action, Baseball4Christ's goal of helping in the poverty-ravaged part of Mexico was accomplished.
Baseball4Christ founders Mike Winslett and Brian Morgan agree this year's trip was again life-changing as the team helped with painting, cleaning up around the beach and road repair.
"I think we had more rain this time than any other trip, but we always found something to do," Winslett said.
The team spent time with children at a private school and also conducted vacation Bible schools.
Music was also a big part of the trip.
"It was fun to see these big baseball players getting up, singing and acting out these vacation Bible school songs," Morgan said.
Although the Baseball4Christ team has access to Spanish interpreters, there has never been a language barrier.
"We always find a way to communicate," Winslett said.
Each year, Jesse and Nathan MacDonal set up the Baseball4Christ schedule through Great Commission Ministries.
This time, every high school in Coweta County was represented on the trip.
Zack Bruce, Ryan Dyal, Mason Meyer, Devonte Brown and Coleman Wood represented East Coweta.
Parker Baxter, Patrick Ragan and Patrick Pitzer represented Northgate.
Andrew Lewis, Jacob Blair, Ellijah Boone and Bennett Rowan were selected from Newnan.
Trinity's Matt Holloway and Jake Elrod were also part of the Baseball4Christ mission.
Jay Macke made the trip for Heritage as well.
"There were no rivalries on display during the trip," Winslett said. "You didn't see any school colors. It was about Baseball4Christ."
Tim Lowery served as the head coach and Rhodes Skinner the pastor.
Former Baseball4Christ players Carson Balliew, Thomas Leone, Dalton Byrom and Sam Sowerbrower served as graduate assistants.
Jamie Holloway is also part of the mission trip's staff.
According to both Winslett and Morgan, one of the most rewarding parts of the trip was working with a local pastor, Fermin Catzin Che, who started a church on a small budget.
However, members of the Baseball4Christ Team have now pledged monthly financial contributions to help with expenses.
Although members of the Baseball4Christ team already had a deep-rooted faith, six were baptized on the beach while they were there.
Baptisms have happened every year since the team started going to Mexico.
"That's an amazing part of the trip," Morgan said.
After eight years, Morgan and Winslett are overwhelmed with the way the trip has grown.
"That first year, we really didn't know what we had," Winslett said.
"We really didn't know what we were doing," Morgan added.
Neither could see the trip going this far into the future.
"We thought maybe we could do it for two years," Morgan said.
Now they're already planning for their 10th annual trip in 2019.
"We would like to go twice and give any former members of the mission team a chance to go back with an alumni group," Winslett said.