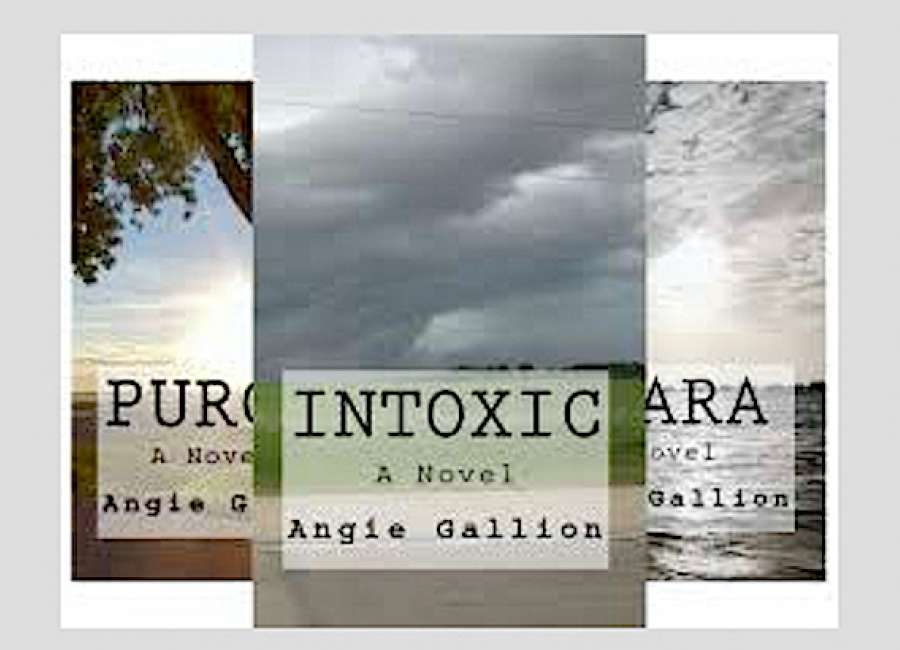 The American science-fiction writer Walter Jon Williams once said, "Being a writer was never a choice, it was an irresistible compulsion."
Local writer Angie Gallion describes her own passion for writing in much the same way, though the author admits to suppressing the urge to pen her first novel for several years.
Gallion, a Newnan resident, novelist and self-publisher, discovered her creative writing ability in the third grade when her teacher challenged the class with using each week's vocabulary words in a short story in order to learn both the meaning and usage of the new terms.
"She was consistently impressed with mine, and I adored the praise," Gallion said. "It would be the first time I was ever called 'a writer,' and it stuck with me."
The same instructor would often ask her students to read the short stories aloud to the class, another task Gallion enjoyed thoroughly.
From there, Gallion continued writing as a hobby; it was something she enjoyed and felt compelled to do. In high school, the author honed her skills by writing short stories and unpublished novels in a partnership with a close friend. Gallion explained that she would write a bit, then her friend would contribute, and the two would go back and forth creating collaborative stories together.
"My first published novel, 'Intoxic,' is actually 25 years in the making," Gallion said. "It was a college assignment for a creative writing class."
While studying English at Eastern Illinois University, Gallion penned a novella involving a young male who is diagnosed with leukemia and his female friend who is faced with coming to terms with the possibility of losing him. The story was well-received by her professors who later asked Gallion to return to the book and expand it during the pursuit of a master's degree in writing.
The writer did expand her work, changing the premise and even the characters, but felt unable to submit the novel as her thesis.
"I just couldn't," Gallion admitted. "Just the thought of having this first, raw, piece of work critiqued by a panel of judges was more than I could handle."
The author walked away from "Intoxic" — and away from the pursuit of a master's degree.
Fast-forward more than 10 years and the aspiring college novelist found herself a happily married mother of two little girls, then aged 5 and 6, living in Newnan. Gallion's daughters had begun school, leaving her a space of free time in which to pursue some of the goals she had put to rest after college. It was a house that led her back to "Intoxic" and two subsequent novels that would be published back-to-back in the course of one year.
"My husband and I enjoyed looking at homes. We weren't really planning to buy a new home," Gallion explained, "But, we liked to look and imagine ourselves possibly living there."
With the help of a local real estate agent and friend, the couple wandered about the county dreaming of the possibilities of the future, when they stumbled upon a house overlooking a lake and simply "knew it was meant for us."
"We visited one house in which the homeowner just happened to be outside," Gallion explained. "She agreed to let us walk around the property and then invited us inside. We both knew that the house truly was perfect for us."
Later, when the couple toured the home on an official walk-through, Gallion said she could envision herself living in the home – so much so that it gave her chills. They made an offer on the home and would move in less than a month later.
"Something about the space made me feel rooted, like the home I grew up in. Then, I just felt compelled to start writing again," Gallion said.
She began by rediscovering "Intoxic."
Gallion explained that she wanted to know that she could finish something. It was as though the book was the one thing left in her life at the time that simply needed to be tied up in order to feel complete. The author said once she found and reread the novel, she realized it was finished – and she could finally let it go.
"From there I hired an editor who had come to me by referral. She read the book, made edits and suggestions, some of which I accepted and some I declined," Gallion said.
One the manuscript was completed, the author considered finding an agent and, eventually, a publisher. She decided instead that "it was really just a project I needed to complete," and maybe not something that would "be a huge success." Gallion made the decision to take the somewhat stigmatized route of self-publication, naming her possibly one-time publishing business Beech House Press, after her own street name where she now lives in the house that called her to write again.  
Alison Hayes, the main character in her debut novel "Intoxic," is not Gallion herself, but is a amalgamation of people the author has met throughout her life, particularly while growing up in Illinois. The story begins on Alison's 16th birthday where the teen accepts the lack of celebration as part of her somewhat disappointing and often difficult young life.
"It wasn't long before friends and family began to share the book and I ended up with a group of readers who wanted to know what Alison would do next," Gallion said. "I wrote a sequel in just three months, then another in 30 days."
Links to the three novels, "Intoxic," "Purgus," and "Icara," can be found on Gallion's website at www.angiegallion.com.
Alison's adventures aren't over, Gallion said, but she needs some time to mature. The author plans to allow the series to rest awhile, while she begins work on a new series still to be titled.
"I'm 40,000 words into my new novel, which features a new character, Stacie Evans," Gallion said. "She is a wife and mother whose mother passed away unexpectedly, and she is left to sort through her mother's belongings along with her brother. Along the way she learns a lot about the woman she had a tenuous relationship with."
The author said the life and developments of the new character will likely be written in a series of books similar to that of Alison. Writing, Gallion admitted, was clearly her path all along, and one her family wholeheartedly supports.