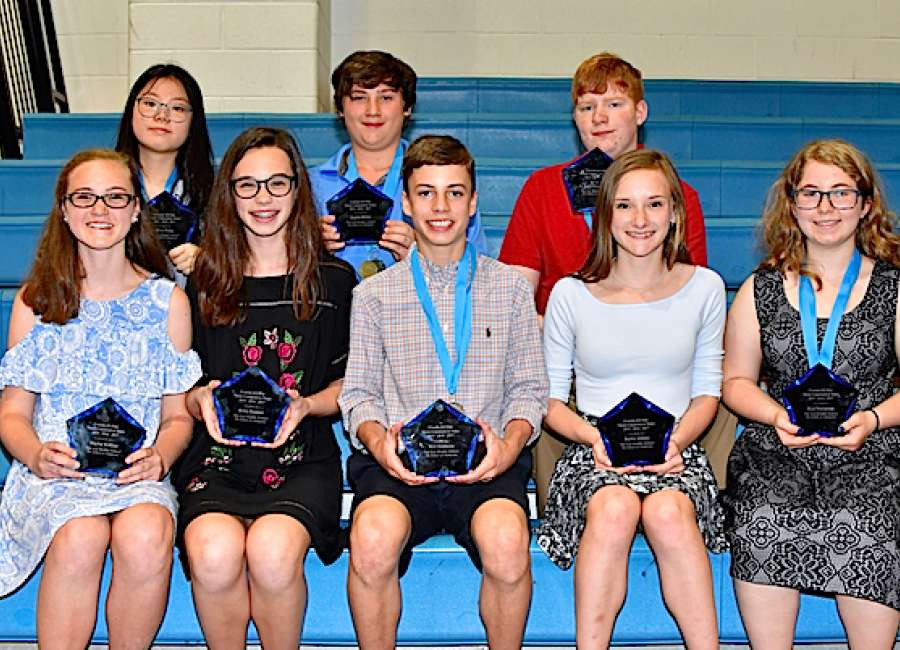 Lee Middle School recently honored students and athletes for outstanding achievement throughout the 2016-17 school year.

 
Carl McKnight Timberwolf Athletes of the Year
 
Each year Lee athletic coaches select an eighth-grade male and female athlete of the year. The award is named in honor of Carl McKnight, director of the Coweta County Recreation Department, who has contributed much to the success of student athletes in Coweta County over the years, school officials say. 
 
Natalie Heath was named female athlete of the year and Hayden Schulz was male athlete of the year.
 
Dr. Robert E. Lee Award 
 
The Dr. Robert E. Lee Award is named in honor of the late former Coweta County School Superintendent for whom Lee Middle School is named. The award is presented to the student with the top academic average for the year in each of the grades 6-8. The 2017 recipients are Will Stephens (Grade 8), Bailey Olive (Grade 7) and Andrew Brown (Grade 6).
 
Lee Timberwolves Outstanding Athlete Awards Recipients 
 
The Lee Timberwolves Outstanding Athlete Awards honor outstanding athletes in each sport at Lee Middle School. Winners were Ryley Jarvis (pep squad); Ryan Barber, Jeden Watson and Chase Lewis (football); Alex Nowell (volleyball); Shannon Ferry (girls soccer); Michael Alrutz and Michael Haase (boys soccer); Ashleigh Griffin (girls basketball); Joshua Harris and Charlie Paige (boys basketball); Olivia Cook and Eliza Kuhne (girls track); and Jordan Crosby (boys track).
 
Lee Middle School Principal's Top 10 Academic Awards 
 
The following students received the Principal's Award for being ranked in the top 10 academically in their grades:
 
Sixth grade: Arlene Adams, Luke Beam, Andrew Brown, Alexandra Carlton, Sara Carner, Cate Ferry, Jamison Hirsh, Ben Hollenbeck, Amber McGill, Megan Pitt and Troy Steward; seventh grade: Ji Bae, Rachel Bonner, Dylan Colvin, Callie Creel, Do-kyong McDonald, Lyong-kyong McDonald, Matthew Nix, Bailey Olive, Abigail Williamson and Aleena Yap Maxwell; eighth grade: Bailey Adams, Shannon Ferry, Hyungjoon Jun, Minji Kang, Mary Miller, Sun Moon, Samantha Olvey, Hayden Schulz, Will Stephens and Camille Terwilliger.
 
Coweta County All Stars – LMS Three-Year Award Recipients 
 
Six Lee Middle School eighth-grade students were awarded the three-year Coweta County All Star Award. These students maintained perfect attendance and all A's and B's for three consecutive years.
 
Recipients were Bailey Adams, Eli Corley, Riley Doonan, Minji Kang, Haylee Kirkley, Austin Miller, Will Stephens and Kya Stutzmann.
 
Kiwanis Club Most Improved Students
 
The Kiwanis Club of Newnan and Coweta County presents an award to the most improved students in each of the county's six middle schools. Lee Middle School recipients were: Sixth grade, Travis Elder; seventh grade, Crystal Garcia; and eighth grade, Alex Stegall.
 
Dr. Bob Heaberlin Beacon of Excellence Award 
 
The Beacon of Excellence Award is presented to students with All A's in every subject for three consecutive years at Lee Middle School. They included Will Stephens, Mingi Kang, Bailey Adams, Shannon Ferry, Camille Terwilliger, Samantha Olvey, Mary Miller, Hayden Schulz, Anthony Jones, Eli Corley, Haylee Krikley, Erica Lee, Lauren Carlin, Riley Doonan, Claire Wathen, Kya Stutzmann, Lillyan Anders, Kylie Ferguson, Jackson Brooks, Kenadie Cooper, Jacob Tarleton, Skylar Reifschneider, Cooper Milam, Julie Steed, Corbin Smith, Cade Bennett, Warren Robison and Gus Heatherman.
 
Leadership Award
 
The Leadership Award is presented to one male and one female student on each team for exemplary middle school character, attitude and academics. Recipients were: Sixth grade: Matthew Erickson, Hannah Lee, Luke Beam, Daniela Garcia-Texidor, Om Patel, Olivia Landivar, Kai Matsushita and Cate Ferry; seventh grade: Denver Watson, Lauren O'Bryan, Dylan Colvin, Victoria Estrada, Jacob Rutherford and Loren Lewis; eighth grade: Michael Haase, Samantha Olvey, Austin Miller, Roslyn Brown, Will Stephens and Sharese Williams.
 
 All Smiles Award 
 
This award, sponsored by Mahaffey Orthodontics, is presented to one student in each grade who has an exceptional attitude and inspires those around them to smile. This year's recipients are Audrey Rush (Grade 6), Heidi Teagle (Grade 7) and Myracle Mateen (Grade 8). Each recipient also was given a $100 Amazon gift card.