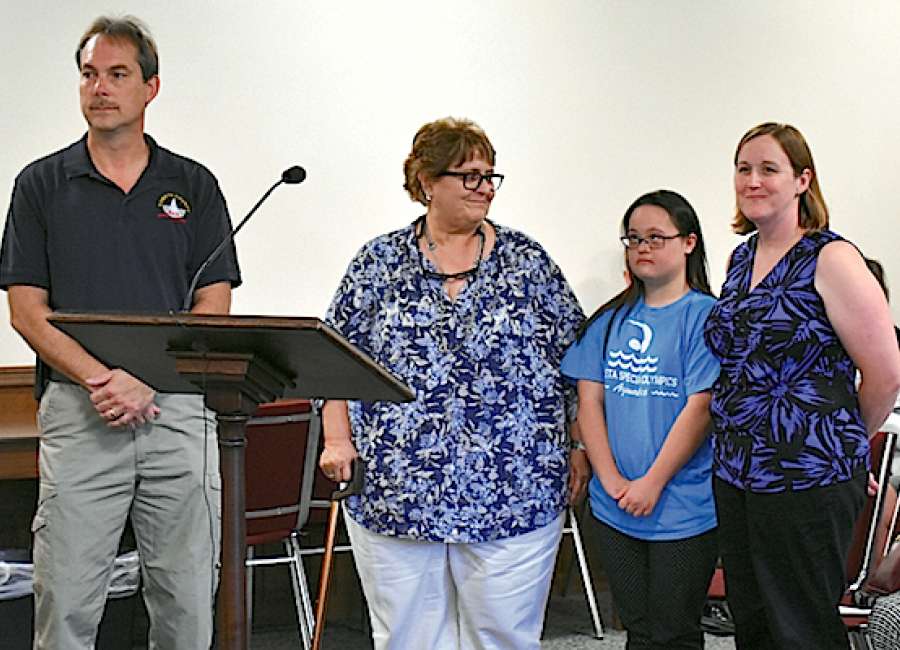 Three Cowetans were honored by Georgia Special Olympics recently, and all three were recognized by the Coweta County Board of Education at its June meeting.

The board also voted to increase the price of school lunches 6 percent.
Jay Jones, chairman of the Coweta County Special Olympics board, introduced the honorees: Kelly Abercrombie, who retired after 30-plus years as coordinator of the Coweta program and was named Outstanding Local Coordinator of the Year; Colleen Davis, who was named Outstanding Female Athlete of the Year; and Jenna Shaner, who was named Outstanding Coach of the Year.
During her tenure as Coweta County Special Olympics coordinator and recreational therapist for Coweta schools, Abercrombie – who retired in December – headed a program that expanded to include hundreds of athletes representing virtually every Coweta County school. She added teams in sports ranging from cheerleading to swimming to cycling which became capable of competing on the state and national level.
Davis, a student at East Coweta High School, began participating in Coweta County Special Olympics in elementary school. She has trained and competed in bowling, aquatics, basketball, softball, bocce, cheerleading, track and field, equestrian, cycling and gymnastics. Shaner, a special education teacher at Arnall Middle School, coaches the Coweta Special Olympics swim team. In addition to being a wife, mother, teacher and coach, Shaner – who heads the Coweta Special Olympics aquatics program – is an accomplished runner, competing in road races and half-marathons.
After introducing the trio, Jones thanked the board for its support of the local program, which now includes more than 500 athletes.
"We are thankful and privileged have a board like this one that supports those programs and athletes," Jones said.
In other business, the board approved:
School lunch price increases. Elementary lunches will increase from $2.60 to $2.75; middle and high school lunches will increase from $2.85 to $3.

Beck Janitorial's bid proposal to provide custodial services at Smokey Road Middle School.

A change order request for floor covering moisture remediation at Eastside and Willis Road elementary schools and Central Educational Center, at a cost of $112,341.

Renewal of the Georgia School Boards Association's eBOARDsolutions modules and maintenance service for a total cost of $20,570.

Renewal of the Georgia School Boards Association membership at a cost of $15,325.