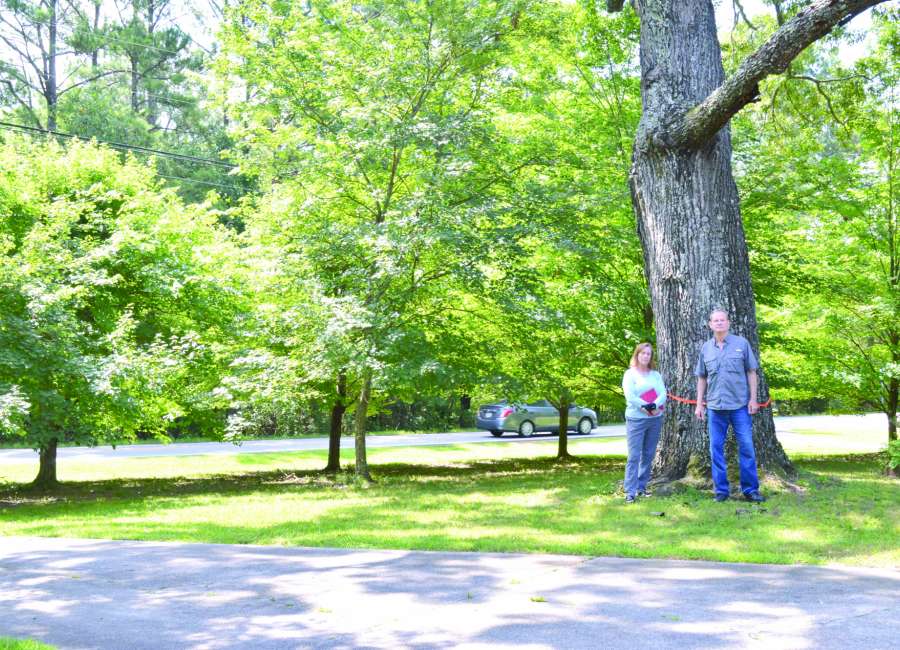 In early 2014, an electronic message sign appeared near the intersection of Belk, Smokey and Old Corinth Roads. 
Some of the residents around the area didn't pay it much attention.
 Chuck Bryan and his wife, Karen, who live on Old Corinth, remembered seeing it, but they couldn't tell what it was about. 
"As a person driving by this sign, you cannot read what is going on," he told the Coweta County Board of Commissioners. The flashing sign, similar to what is set up for road closures and the like, only flashes a few words at a time, according to Mr. Bryan.
They saw "Smokey Road" and "Newnan High School" and figured the sign was talking about something to do with the high school. 
Three years later, the Bryans found out what the sign was really for when they received a letter. It informed them of Coweta County's plans for a major intersection improvement and road realignment, which would put Old Corinth Road through their front yard. 
Others on Old Corinth, Smokey, Belk and Meadowsweet who would lose property also received letters. A total of 23 parcels are needed for the project, according to Tod Handley, Coweta's director of development and engineering.
The Bryans and other nearby residents appeared before the commissioners to ask for the plans to be altered.
Engineering plans for the project are complete and Coweta County is now in the right-of-way acquisition phase.
The plan calls for separating the intersections of Old Corinth Road and Smokey Road and Belk Road and Smokey Road by moving Old Corinth to the west.
Old Corinth will head behind the bar and grill building next to CBS store, cutting through Bryan's yard to intersect with Smokey. Belk Road will be moved slightly east, and Meadowsweet will be moved slightly west, so that the two roads will come into Smokey at a four-point intersection. Traffic lights are proposed for both intersections.
The two traffic lights will be synchronized so that traffic won't back up between them, according to county officials. 
"I'm literally hat in hand asking you guys to listen to me and maybe take some mercy on us," Mr. Bryan told the commissioners. The road will swing through his front yard in an arc. The new right-of-way ranges from 10 feet wide on one side to 20 feet in the middle and 40 feet on the other side.
Due diligence? 
The sign the Bryans saw in 2014 was informing residents of a public information open house on the proposal. At the open house, which was attended by just a handful of people, conceptual plans for the proposed project were shown, as well as an alternate project that would add a traffic light at Belk but wouldn't relocate Meadowsweet Lane, which serves a small subdivision.
There were also computer animation videos showing how the two intersections would function with traffic lights and with roundabouts. The traffic lights performed significantly better with the traffic volumes expected in 2036. By then, traffic volumes are expected to increase by 175 percent, Handley said.
The open houses, which are held for most of the county's major projects, as well as state projects, are a chance for those affected to see options and submit comments. It's an opportunity for residents to get involved, albeit in a small way, in determining what will happen with a particular project.
The sign and stories in The Newnan Times-Herald about the open house weren't enough, according to the Bryans and other residents. They just found out about the project a few months ago.
"I received a letter on Feb. 13 – the first notification that I received of this improvement," said Lothar Deiss, who lives on Smokey Road and will lose a 10-foot strip of his front yard. That may not be a lot, but Deiss' home is already very close to the road. Several trees that form a buffer between his home and the road will be taken down.
 "My question is why? Why is this being done or considered?" Deiss asked. "I don't know the answer."
Deiss said he never saw the sign about the open house.
Chuck Bryan said he thinks everyone affected should have been sent a letter notifying them about the open house so they could have been assured of knowing about it. And the sign should have been a standard size that is used for rezonings, where all the words can be seen at once, he said.
All four of the options discussed in 2014 had the road cutting through Bryan's front yard. "They knew what properties they were damaging," Bryan said Friday.
"They definitely did not use due diligence in contacting all of the people involved in this," he continued. "They should have sent letters."
Tree loss a major concern
Diane Origer, also on Smokey Road, expressed concerns about being able to get her long trailers out of her driveway into the road when the project is done and the potential loss of her trees.
"They're going to take all my trees. One is my favorite tree," she told the commissioners. "I've spent a lot of time landscaping my front yard and I'm not real happy, either."
The potential loss of trees and landscaping was a major concern to all the landowners who spoke.
"The right-of-way will be moved 40 feet closer to my retirement home. They're going to destroy every tree I have in the front yard except maybe three or four," Chuck Bryan said. "It is heartbreaking to see my beautiful front yard destroyed."
"My wife cried for three days," he said.
Insult to injury?
Residents decried the small amounts of money that the county has offered for their land, which adds insult to injury. 
Chuck Bryan said he was offered $2,462.
"That's not happening," said Karen Bryan. "Not to destroy my trees and my yard."
Deiss said he hasn't received an offer yet, but, "I assure you that whatever offer will be presented to me will be an insult to my intelligence," he told the commissioners. "It's a disgrace what these people have been offered."
Commissioner Al Smith asked county staff to look into making some changes to soften the blow, including possible design changes as well as higher offers for the land people will lose.
Minor changes in the works
County staff has already been working on some changes to the plan, and had been before the residents spoke to the commissioners, Handley said Thursday.
The project was designed as rural road sections with drainage ditches. The proposed changes would use curb-and-gutter in portions of it to eliminate the need for ditches and take up less space.
Current road design standards call for a wide shoulder and a "recoverable" slope in drainage ditches. Older roads don't have these features, but, "If we are building a new road, we've got to make that road comply with the design guidelines that are in place today," said Handley.
The modern designs are all about safety for motorists. "It's not about trying to take people's property or cut down their trees," Handley said. Some of the trees the residents are concerned about are actually growing on the current county right-of-way, he said 
For the Bryans, the changes won't move the right-of-way, but they will reduce the temporary construction easement from approximately 25 feet to around 10 feet.
In front of Deiss' home, there won't be curb-and-gutter, but the county is planning on narrowing the shoulder and reducing the width of the ditch a bit, Handley said.
There was some discussion at the commission meeting about bringing all the roads together in one intersection with a roundabout or traffic light.
Pulling all five roads together like that would have meant the loss of three houses, and a very sharp curve, Handley said. In addition to that, one house was once a store and might have underground storage tanks. 
The county tries not to acquire any property that might have underground fuel storage tanks. Disturbing tanks can require extensive environmental cleanup and the county would be responsible for it. 
With the bar and grill, "We had to make sure we bypassed the septic tank," Handley said.
Karen Bryan remembers when the house was a store. There were no gas pumps, she said.
For the Bryans, the proposed changes are not enough – they will still lose a significant amount of trees and yard, though they have been told it will be less intrusive. He said he was told some trees that will be in the right-of-way can stay, but he doesn't feel like he can trust the county.
Across Old Corinth from their home is a tract of vacant land. The Bryans feel like the county could use some of that land and take less of theirs.