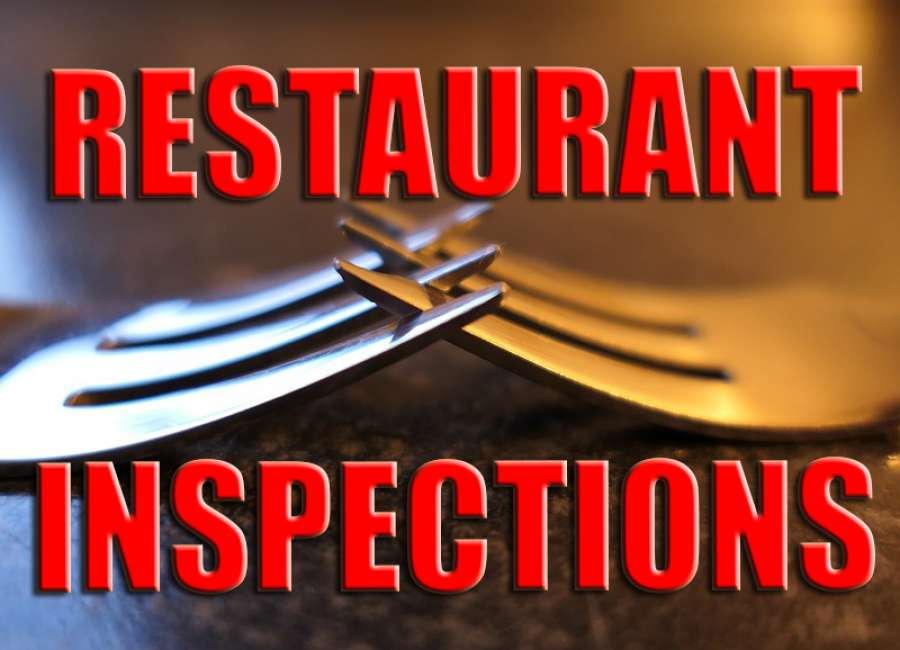 The Coweta Board of Environmental Health inspects all Coweta restaurants, schools and businesses that serve food several times each year.

Food inspections can be conducted during any hours of operation or whenever food is being prepped in the permitted establishment. Inspections are made at varying times to ensure that the food service rules and regulations are being followed. Some establishments have hours after 5 p.m., therefore inspections will be conducted when risk factors can be observed for compliance. Inspectors wear hair nets during checks to protect the food, which is also a requirement for those working around open food.
Using a 41-category checklist, an environmental health specialist checks compliance in safe handling of food, proper disposal of garbage, and other areas.
CC Wings & Things, 23 Franklin Road, Newnan - was inspected on June 7 and received a score of 82-B. Inspector's comments: Observed slaw prepared on Saturday not dated marked. Observed single-service plastic containers being reused. Buildup in hard-to-reach areas and grease dripping from hood. Observed leak at prep sink drain pipe. Observed mops not hung to dry and brooms not store properly. Observed damaged wall by hand sink. Canned Brunswick stew not labeled. Person in charge states that both jars belong to employees, but not stored away from food for sale to consumers. Foil-wrapped raw meat for personal use removed from cooler during inspection.
Fat Boys, 485 Highway 16 W., Newnan - was inspected on June 7 and received a score of 84-B. Inspector's comments: Observed dishes at end of dish machine cycle without sanitizer present. Observed leaks at three-compartment sink. Observed food broom and mop properly stored. Foods held in two-door cooler and lift-top cooler over 41 degrees. Leaks present in sink. Buildup on grease receptacles. Cleanup needed to eliminate standing water and old brooms and mops need to be discarded. Light shield in need of cleaning.
Newnan Country Club Food Service,1356 N. Highway 29, Newnan - was inspected on May 30 and received score of 80-B. Inspector's comments: Observed raw chicken next to partially cooked chicken in walk-in cooler. Observed shell eggs in top-lift cooler, across from grill next to ready-to-eat foods. No records of temperature, so food had to be discarded.
Insignia/Savannah Court of Newnan, 27 Belt Road, Newnan - was inspected on May 30 and received a score of 87-B. Inspector's comments: Observed shell eggs stored above pasteurized eggs and lettuce in two-door cooler. Observed dishwasher operating without dispensing sanitizer onto dishes 
Star Deli, 165 Temple Avenue, Newnan was inspected June 7 and received a score of 64-U. Inspector's comments: Observed numerous risk factors out of control. Observed two CFSM (Certified Food Safety Manager) inspection certificates on wall, both expired. Health authority not notified within 30 days of lacking CFSM with corrective action. Sauces added to wings by employer in kitchen chewing gum. Hand wash sink with food strainer in basin, paper towels located to right of hand wash sink over lift-top cooler. Observed hands not washed prior to donning a single-use glove. Wash hands upon entering food-prep area and gloves required when long nails are present on food-prep employees. Raw Philly cheese meat stored over sliced mushrooms, tomatoes and cheese etc. in lift-top prep cooler. Observed raw chicken by bottled water and gallon of water on bottom shelf of two-door cooler. Temperature control for safe foods above 41 degrees. Multiple containers of home-use pesticide in dishwashing/food storage/prep area. Pesticides must be applied by a certified pest control operator in a food service establishment. Medicine and teeth flosser stored on rack beside manual dish sink. Observed food boxes stored on floor. Empty French fry bags used to line shelves, cover pans and scoop French fries. Observed long nails on food prep employee. No hair restraint on food prep employee. Clothing on food shelving posts. Wet wiping cloth on cardboard on wire shelf. Split gasket on some cooling units. Glass mugs for scooping ingredients. Shelving and equipment in need of cleaning. Keep refrigerated salad dressing packets held at room temperature. Mop well blocked with shelving and sofa. Sofa is not a cleanable surface in food-prep area. Mushrooms being sliced on table in front of sofa.  
The Frigid Frog of West Georgia, 207 Rustica Drive, Newnan - was inspected on June 6 and received a score of 100-A.