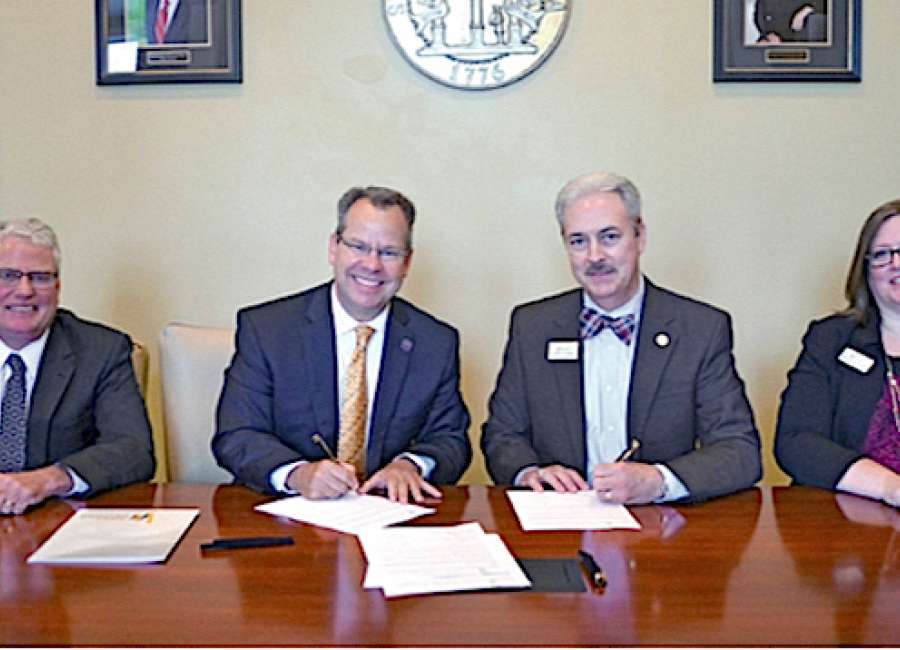 West Georgia Technical College and the University of West Georgia have signed a new articulation agreement that will allow students to transfer credits from one institution to the other in pursuit of a bachelor's degree in psychology from UWG.
This is the fourth transfer program established by the two institutions, joining general business, criminal justice and nursing. Students will be able to take advantage of the psychology agreement beginning this fall.
 
"This is our fourth articulation agreement with the University of West Georgia, and as a transfer pathway that leads our students straight from our classrooms to those at UWG, we are proud to offer this valuable and important opportunity to our students," WGTC President Steve Daniel said. "This particular type of articulation agreement is the first of its kind in the state of Georgia between a unit of the Technical College System of Georgia and a school in the University System of Georgia. We're proud to be breaking new ground with UWG."
 
UWG President Kyle Marrero said the agreement will go a long way in ensuring student success by making a college education more accessible and more affordable.
 
"Our two institutions have a special and unique partnership built on a strong, mutual desire to see students succeed," Marrero said. "We look forward to building more bridges with West Georgia Technical College by which we can share the transformative power of a college education."
 
According to the agreement, any WGTC student who completes the Associate of Science in Psychology degree will be able to transfer to UWG. Eligible students must be in good standing at WGTC and meet the appropriate admissions requirements to attend UWG.
 
Once a student is admitted to UWG, the university will accept up to 60 hours of pre-determined courses the student earned at WGTC toward UWG's bachelor's degree in psychology.
 
The transfer articulation agreement aligns with the Complete College Georgia Initiative's goal of improving retention, progression and graduation among Georgia college students.
 
"We feel strongly that this new effort will further our efforts toward the goal of Complete College Georgia to increase significantly the number of Georgians with a post-secondary degree," UWG Provost Micheal Crafton said. "We are very proud to work with our partner institution West Georgia Technical College in order to help the students in our area gain greater access to a higher education in general and a bachelor's degree in psychology in particular."
 
For more information about WGTC's transfer pathways with UWG, visit www.westgatech.edu/Academics/U...