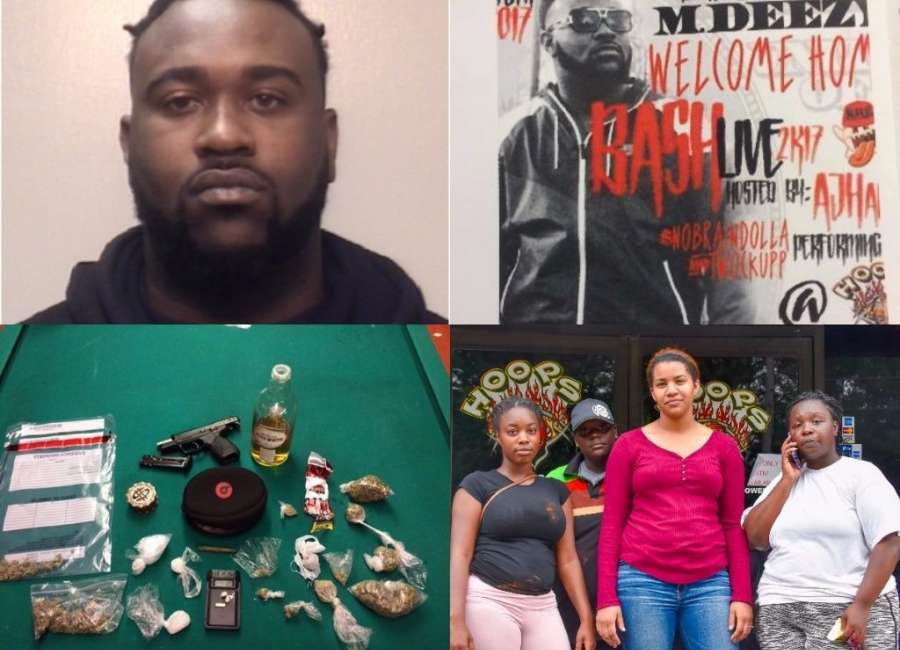 Over 25 men were taken into custody after local authorities executed a search warrant on a local business Saturday morning.

Just after 1 a.m., around 30 members of law enforcement arrived at "Hoops" Bar and Grill on Old Corinth Road. After receiving multiple complaints about marijuana allegedly being openly smoked and sold inside the business, warrants were filed to investigate, according to Maj. John Lewis with the Coweta County Sheriff's Office.
However, an aspiring rapper on probation was also performing that evening, Lewis said. Mondel Whitaker, also known as M.Deezy, was performing a "welcome home" concert from prison – an event that was heavily promoted through Facebook.
"We had a list of people we knew would be there, including known gang members," Lewis said. "So if you advertise that you'll be violating your probation, don't be surprised if we show up."
When authorities entered the business, they officially declared the establishment closed. Men and women were separated and told to occupy opposite sides of the room, according to several bystanders.
In the end, approximately 27 men were taken into custody for violation of their probation, Lewis said, and noted five were later released upon their arrival at jail.
Whitaker remains in jail for felony violation of probation.
In their search of the bar, authorities allegedly discovered a variety of drugs left behind including marijuana, cocaine, Xanax and methamphetamine. An abandoned handgun was also discovered, Lewis said.
"We didn't harass anyone and did not have any use-of-force incidents," Lewis said. "Our main priority was to be polite."
Kahlia Hill was one of the many in attendance on Saturday. She and her husband, Grady Hill, were enjoying a night out when the party came to an abrupt ending and Grady was taken off to jail for a violation of probation.
"My husband doesn't smoke or drink. We have three kids, and I work nights, and this was our first time out as a couple in almost a year," she said. "But now he's sitting in jail on Father's Day."
She acknowledged that those taken away were in violation of their probation, but said it all seemed like a backup plan for locking up those doing drugs inside.
"They came for drugs, but couldn't find them on anymore, so they used probation violation as a way to round them up," she said.
Sheriff Mike Yeager said the operation was not uncommon, saying the same practice is often used at house parties when known offenders are believed to be in attendance. However, he was quick to address the venue as a primary source of aggravation.
"Less than a year ago, this place was brought up on violation of alcohol license, and here are again," he said. "It's the responsibility of the license holder to ensure that patrons adhere to the ordinances and laws. When you have open marijuana smoking going on inside, that's just not going to cut it."
"This establishment has shown no regard to laws and ordinances," he continued. "And I want to see what charges can be brought."
Jasmine Arnold has been the owner of Hoops for a little over a year. She would not comment on the incident or remarks by the sheriff, but mentioned that the incident wouldn't affect her day-to-day operations. 
Both the business and alcohol license for the establishment were current at the time of the raid. A new state law requires local officials to notify the state Department of Revenue about incidents at businesses with alcohol-beverage licenses. The county and the state each of the authority to revoke the license.
Delia Smith was also in attendance Saturday and questions the timing and location of the raid. She felt it was a case of law enforcement bullying an African-American owned business.
"You know, I'm pretty sure people are violating probation over at The Brickhouse and The Alamo, but I sure don't see the police hauling anyone out of there," she said. "They didn't arrest a single woman and came for a whole group who missed Father's Day because they had to sit in jail. "
Sheriff Yeager said the ratio of male to female arrests was due to the transport vehicles being same-sex only, but said any further issue regarding the arrests would need to be addressed by the Georgia Department of Community Supervision, formally Pardons and Paroles.
"The arrests were based on the people they identified as known offenders who were on probation or parole," Yeager said. "By law, they can be searched or checked at any time by any law enforcement agency.  If a business is flaunting the law, we're going to come check it out, I don't care who you are."
****
Clay Neely: clay@newnan.com, @clayneely