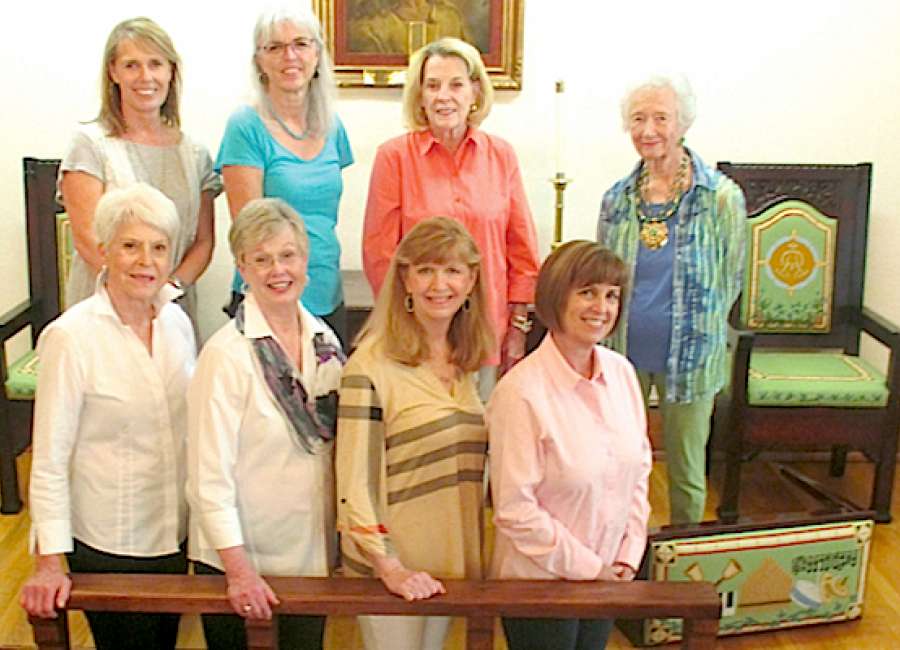 Church members have used their artistry and skill to create needlepoint kneelers and cushions that add beauty to the chapel at First United Methodist Church in downtown Newnan. 
The chapel is a small meeting room that is used for a variety of church meetings, including a chapel service with communion. Overflow crowds on Easter and Christmas find a place to worship there.
 
The room has stained glass, pews and a peaceful ambience.
 
In December 2012, the church's needlepoint committee met with Linda Mote, a needlepoint designer from Lexington, S.C. "She came and studied the colors in the windows and the architecture" to come up with designs for the chapel, said stitcher Marsha Goodrum.
 
In October 2014, the canvases and yarn kits were delivered for two altar chairs – backs and bottoms, two kneeling cushions for a free-standing kneeling bench and the cover of the piano bench. 
 
The piano bench cover was donated and stitched completely by Charlotte Harvey in honor of Bob McKoon for his many contributions to the church.
 
The work on these pieces was completed in August 2016. Trinity Furniture then worked
several months on the finishing and upholstery.
 
"This has been years," stitcher Carol Tamplin reflected.
 
Members worked in a variety of ways to complete the projects. At times, one person would work on the design on a cushion while someone else stitched the background.
 
McKoon, who has been active in many aspects of church life over the years, and his mother each stitched a few stitches on one of the cushions. Alice Miller had her grandchildren stitch a bit, so that when they are worshipping at First Methodist in years to come, they will remember that they helped create the beauty in the chapel.
 
"I'd really like to know," Tamplin said, "how many millions of stitches there are in these."
 
In addition to Goodrum, Harvey, Miller and Tamplin, stitchers who worked on the project were Linda Arnall, Carol Hamlin, Marion George, Michele Long, Harriett Palmer and Terri Sprayberry.