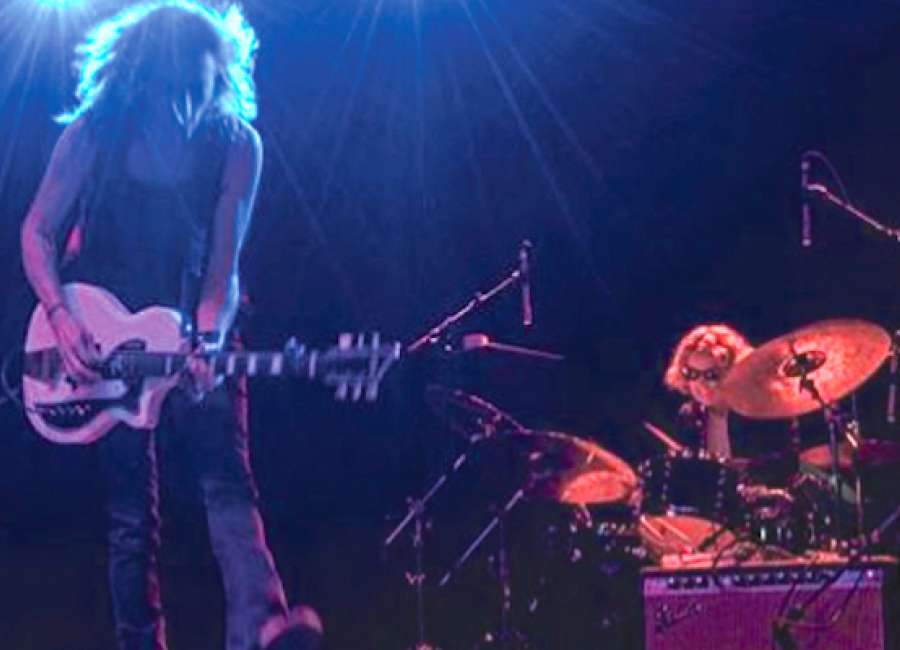 Singer-songwriter Michelle Malone is no stranger to travel, having toured extensively during her 20-year music career.  
But the Atlanta-born rocker maintains that when it comes to the music scene in her native state, there is no place like home.  
 
"Georgia has not gotten the credit it deserves in the area of music," Malone said of her home state. "Part of it is because we are a hub for so many types of music."
 
Malone began her career performing professionally in and around Atlanta, where she was born and raised. The artist and band, Drag the River, played many of the city's most popular hot spots in the early 1990s, eventually landing a record deal with Arista Records. 
 
Band members Jonny Daly, Joey Huffman, Billy Pitts, Phil Skipper, and Malone toured throughout the U.S. following the release of Drag the River's first album, "Relentless." The group gained popularity in Georgia and beyond, often opening for big-name bands like the Indigo Girls and ZZ Top. 
 
Though no follow-up album was released, Malone continued to perform solo, even creating her own record label, SBS Records, a feat the artist said was becoming "fashionable" at the time. 
 
"My first label was called Aluminum Jane Records. That was in 1987, back when creating your own was a stepping stone to a bigger label," Malone explained. The initial endeavor was a success, as the group signed with Arista to produce an album in 1990. It was following Drag the River, however, that Malone decided to once again take matters into her own hands.
 
"In the late 1990s, it just became easier to release your own records," Malone said. "It was fashionable at the time and was no longer an anomaly." 
 
SBS, Malone said, stands for "Strange Bird Songs," a somewhat self-descriptive original title she noted has had "a lot of chatter" as to its meaning. 
 
In the years that followed, Malone enjoyed a successful music career, releasing 14 separate albums, several of which were produced under the SBS label. She has been honored with numerous awards and shared the stage and recording studio with a host of famed musicians. 
 
Recently the former Drag the River lead vocalist returned to Georgia, the home she said she'd be happy to be a poster child for, if needed.
 
"I didn't realize how much it meant to me to be here until I had been gone," Malone said. "I am always telling people how great it is here, how great the arts are here, the music."
 
Despite remaining in one place, Malone's work in music remains as demanding as ever. A typical day for the artist may include anything from public appearances to music instruction — all while still allowing the time to work on a new album she plans to produce under SBS Records later this year. 
 
"My typical day could be anything. Yesterday, I played a benefit for a wonderful group of children in a hospital battling illness," Malone said. "I may teach songwriting classes at a local high school, or I may spend the day writing, or finding someone to design a new poster." 
 
The musician "thrives on the energy of doing all of these things," and noted that she is fortunate to be able to participate so thoroughly in all aspects of her own career.
 
"I wear a lot of hats, and listen, it gets crazy sometimes," Malone commented. "But I enjoy it all."
 
Malone's latest project has brought the singer even closer to home, or, more precisely, to her roots —  a Drag the River reunion. 
 
Malone and former band members Huffman, Skipper, and Pitts came together with the addition of an old friend, Doug Kees, to recreate the familiar rock sound. The first reunion show, held at The Vista Room, an Atlanta venue, was such a huge success, the band added a few more performances, including one in Newnan.
 
"There is something to be said for that sweet little historic town," Malone said of Newnan. The city is home to guitarist Kees, a longtime friend of the singer. 
 
"I met Doug when I was in college at Agnes Scott. His band was playing there," Malone said. "Believe it or not, we met in the library. I was studying, he was trying to pick up girls."
 
Malone said the now-locally well-known music instructor Kees left an indelible impression on her and the two bonded again a few years later when Kees turned up in a band with Malone's part-time drummer. 
 
On the schedule for Michelle Malone and Drag the River was a performance last night at Newnan's popular downtown bar and live music venue, The Alamo.  
 
"The proximity to Atlanta draws people (to Newnan)," Malone noted, adding, "But it's the beauty of the square downtown and the historical significance — and the people, it's always about the people" that will keep visitors coming.