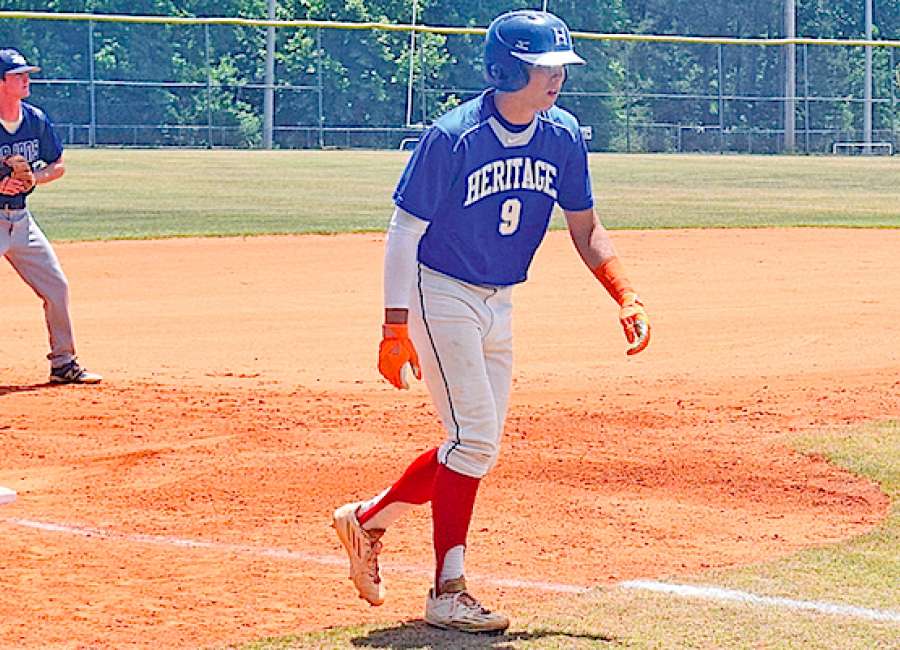 The five baseball-playing local prep teams in Coweta County performed pretty well in 2017.

The three public school teams – East Coweta, Newnan, Northgate – clinched playoff berths despite playing in new regions this year, while Trinity Christian School and The Heritage School stayed in the GISA and both made it far into their state playoffs. East Coweta and Heritage won region championships in 2017.
Heritage clinched consecutive GISA Region 1-AAA titles and advanced to the state Final Four thanks in part to the special season of senior third baseman Jay Macke. Macke, who was also stellar on the football field and the basketball court for the Hawks this past school year, had an outstanding year at the plate and was a quiet leader for the Hawks in 2017.
For all of his brilliant baseball accomplishments this season, Macke was selected as the 2017 Newnan Times-Herald Baseball Player of the Year.
Also nabbing a major award from the NTH Sports Department was East Coweta senior Mason Frady, who was selected as the 2017 Newnan Times-Herald Pitcher of the Year.
Macke definitely was the linchpin of the Hawks' success in 2017, leading Heritage with a .492 batting average and a .611 on-base percentage. He also led the Hawks in RBIs (21), runs scored (35) and home runs (5) en route to being named to the GISA Class AAA All-State and All-Region teams. Macke also finished second on the Hawks in triples (2) and doubles (10) this season.
And Macke did this as an encore to his stellar 2016 season, when he hit several key home runs, batted .444 and was selected to the 2016 AAA All-State and All-Region teams.
Frady helped lead the East Coweta Indians to another stellar season as the team's No. 1 starting pitcher. Frady pitched 56.2 innings in 2017, sporting a 7-0 record with one save and a sparkling 0.61 earned run average as the Indians went 26-7 overall and won the inaugural Region 2-AAAAAAA championship.
When Frady was on the mound, the Indians were bound to keep the winning streak intact or stop a rare losing skid.
Seven more of Frady's East Coweta teammates made the All-County First Team while two of Macke's teammates made the first team. Newnan and Northgate wound up with three first-teamers each, while Trinity had three players who received first-team honors.
Northgate had five players selected for the All-County Second Team, while Trinity and Newnan had four second-teamers, Heritage had three and East Coweta had one.
          2017 Newnan Times-Herald All-County Baseball Team
             PLAYER OF THE YEAR:
Jay Macke, Heritage, Sr
PITCHER OF THE YEAR:
Mason Frady, East Coweta, Sr
First Team:
C Parker Baxter, Northgate, Sr
OF Devonte Brown, East Coweta, Sr
P/INF Jacob Bryant, Heritage, Sr
P Hunter Campbell, Trinity, Sr
INF Ethan Darrow, East Coweta, Sr
C Ryan Dyal, East Coweta, Soph
C Chase Evans, Heritage, Sr
OF Nate Gick, East Coweta, Sr
P Nicholas Kempf, Northgate, Sr
P Mason Meyer, East Coweta, Sr
OF Emilio Morales, East Coweta, Sr
OF KD Satterwhite, Newnan, Sr
OF Calin Smith, Trinity, Soph
OF Caleb Upshaw, Northgate, Sr
OF Will Wilbanks, Newnan, Jr
P/UT Coleman Wood, East Coweta, Sr
P Michael Young, Trinity, Sr
Second Team:
INF Kirby Arnall, Heritage, Sr
DH/OF Brennan Burks, Trinity, Soph
P Corbitt Cimadevilla, Northgate, Jr
INF Jake Elrod, Trinity, Sr
P/INF Jake Estes, Trinity, Jr
OF Connor Fortner, Northgate, Jr
P David Gardner, Northgate, Sr
INF Matt Holloway, Trinity, Sr
INF Ben Matistic, Newnan, Sr
OF Noah Ratliff, Northgate, Sr
P Cody Rodgers, East Coweta, Sr
INF Bennett Rowan, Newnan, Sr
INF Eric Russell, Newnan, Sr
INF Jake Smith, Heritage, Sr
P Jacob Snellgrove, Newnan, Sr
P Cole Stephens, Heritage, Jr
P Ryder Willard, Northgate, Fr
Honorable Mention:
Zack Bruce, Trevor Gaddy — East Coweta
Henry Arnall, Jake Barberio, Jacob Rochester, Brandon Scruggs, David White — Heritage
Shawn Abercrombie, Seth Rainey, Hamilton Schubert, Mekhi Winkles — Newnan
Charles Barrera, Chase Bevil, Wes Mortimer, Patrick Pitzer, Will Queen — Northgate
Marshall Carson, Alex Williford — Trinity