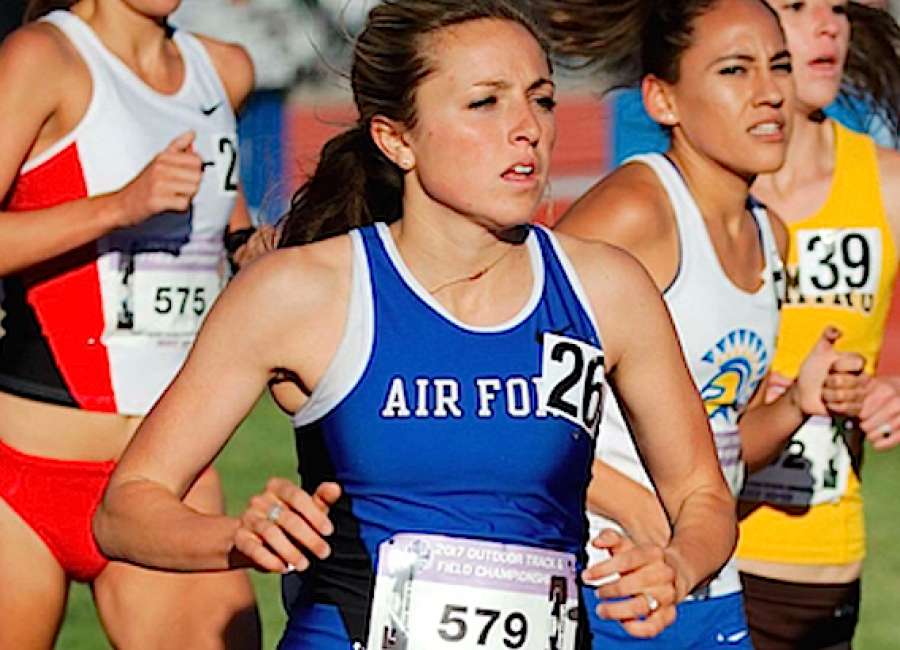 When Newnan resident Lindy Long was growing up, she loved competing in gymnastics.

Then she ran and won her first cross country meet, and the rest is history.
After that meet, her thoughts turned from the balance beam and floor exercises to long-distance running events, and she gave up gymnastics for good.
It turned out to be a wise decision for Long, who had natural ability when it came to running.
At Landmark Christian School, Long was unstoppable, winning just about every race in both the fall cross country season, and again in the spring, when she laced up her running shoes and stepped on the track.
Long first entered into the spotlight after capturing the 2009 state high school cross country championships while competing at the private school in Fairburn, but that was just the start of her many accolades.
She was also recognized by the United States Track and Field Association with High School All-American honors.
During her time at Landmark, she dominated the 3200-meters, winning the state title four years in a row. She also set the state record in that event.
"It was a fun time," she said. "That's where I really got into running."
Her dedication and success in both cross country and track paved the way to the Air Force Academy, where she was a four-year member of both the track and cross country squads.
At the academy, the talented runner from Newnan participated in cross country and in the 5,000 and 10,000 meters.
For Long, there was never an off-season as she ran cross country in the fall, indoor track in the winter and outdoor track in the spring.
Balancing the rigors of academic life and sports at at a place like the Air Force Academy isn't easy, but it was an environment in which Long excelled after arriving on campus with a strong academic background.  
At Landmark, she was a member of both the National Honor Society and Beta Club.
"It takes a lot of time management in order to succeed," Long said. "You have to juggle different things at the same time."
Long got better each year, starting with her freshman season when she competed in all five of the team's meets in the 3,000 meters and won the Baldy Castillo Classic.
As a sophomore, she turned in the school's fifth fastest time in the 10K (36:13.29).
Her junior year was highlighted by earning All-Mountain West honors in the 10K, where she continued to improve her time, running the second fastest time in school history (34:12.05).
However, it was her senior season of cross country last fall that Long might just remember the most.
She and her cross country teammates made history, helping Air Force to its best season of women's cross country ever, including its first top-25 national ranking and a trip to the NCAA meet, where the Falcons finished 20th.
On the track, it was more of the same for Long, who continued to set personal best her senior year.
She was also named the track team's Most Competitive Athlete.
"I think we have laid the groundwork for track and field while I have been here," she said.
Assistant Air Force Academy track and field coach Ryan Cole said Long is exactly what he hopes for in a runner.
"Long was the absolute DNA of the program at Air Force," he said.
Her decision to attend the military academy in Colorado Springs continues a family tradition.
All five of her siblings have graduated from a Service academy. Brother Jim was a pole vaulter at Navy, while Sam played baseball for the Midshipmen. Charlie and John are now officers in the Army after attending West Point.
Long was recently commissioned a Second Lieutenant by her sister, First Lieutenant Lainie Long, who also attended the Air Force Academy and was a member of the school's diving team.
"I certainly have plenty of support," she said. "I am able to call on them for advice."
Long said she is especially proud that her sister issued the oath when she was commissioned a Second Lieutenant.
"That was special," she said.
Long's college career might be over, but she still plans to compete in different races while she moves forward with her military career.
Lindy Long File:
Parents: Dr James and Lisa Long
Nickname: "Linds" and "Long Legs"
High School Career: Four-time state champion and state record holder in the 3200 meters. Named Atlanta Track Club's Women's Runner of the Year (2009-20013).
Siblings: Brothers Jim and and Sam (Naval Academy), Charlie and John (United States Military Academy) and sister Lainie (Air Force Academy).
Cutline 1: Newnan resident and Air Force Academy graduate Lindy Long runs in the 5,000 meters in a meet earlier this year. Long, who graduated from Landmark Christian, also competed in the 10,000 meters and cross country events during her four-year college career.
Cutline 2: Lindy Long receives her first salute after being commissioned a Second Lieutenant in the Air Force
Cutline 3: Lindy Long takes the oath from her sister Lainie, who is also a Air Force Academy graduate and now holds the rank of First Lieutenant.