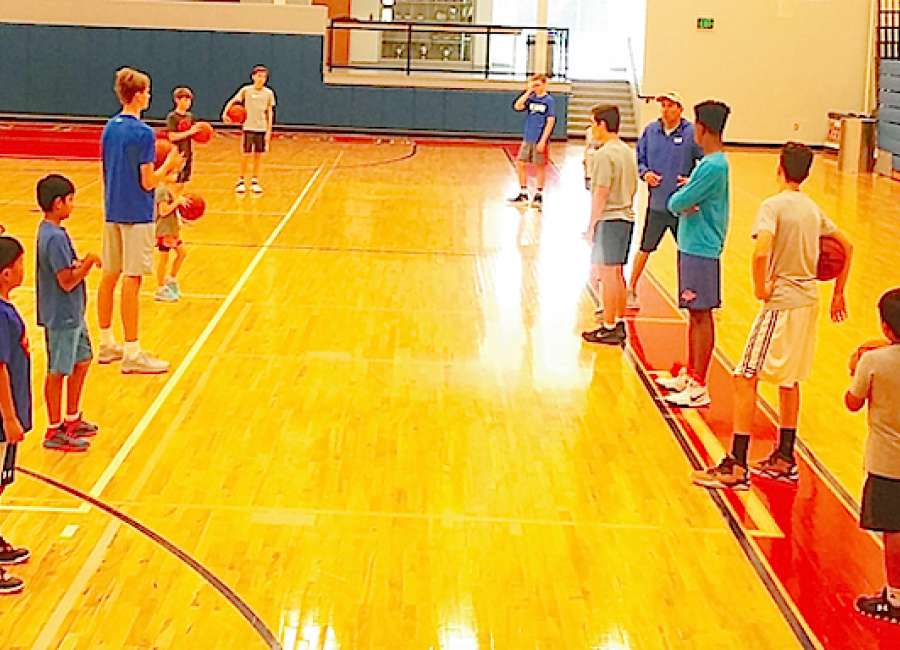 The Mark Lieberman Basketball Camp is underway at The Heritage School in Newnan, and the first week of the event was a huge success, according to Lieberman. 
"We had a great turnout last week. We had all age groups here, and it was fantastic to see," said Lieberman, who coaches boys varsity basketball at Heritage. "The Heritage coaching staff and our basketball players were here helping the campers, and that made this first week turn out well."
 
Lieberman said there were 19 campers total in attendance last week. He expects to see about 25 or so campers to come out for the next two weeks of camp, thanks to word of mouth. 
 
Campers in attendance last week were as young as 5 and as old as 13.
 
"The group we had last week was energetic and fun, especially 5-year-old Lucy Downs," Lieberman said. "She was great to watch all week. I'm hoping the campers we get here for the next two weeks will be as good or better than last week's group."
 
Lieberman said the camp — which is under the direction of Heritage assistant coach Joeb Lam — is one which will help the kids not only learn how to play the game of basketball, but it will also be fun and team-friendly at the same time. 
 
"There's two goals to this basketball camp: The first goal is to develop each camper's skill set through drill stations, and the second goal is for them to learn to become great teammates, which I think is truly undervalued in our sports society today," Lieberman said. "And of course, we want to have a lot of fun while we're working on those things."
 
Lieberman noted that young players are loose with the basketball and many of them try to emulate Golden State Warriors point guard Stephen Curry's outstanding dribbling and shooting techniques.
 
"Oh yes, all the kids want to be like Steph Curry and handle the ball and shoot like he does. But he's a professional and has practiced for years to become one of the best players in the world," Lieberman said. "At this point, these kids need to learn to take care of the ball. We don't need them taking 20 dribbles, then giving the ball up to the other team."
 
Lieberman — a former assistant coach at the University of Louisville — said one thing the camp tries to teach is how to be an efficient player when it pertains to dribbling the basketball.
 
"In one of our stations, we teach the campers to keep the ball tight, or close to your body, and to be effective with only a three-bounce dribble," he said. "We always tell the campers that when you dribble the ball more than three times, you are giving the ball a headache."
 
There's also a defensive station where campers learn the footwork fundamentals which are essential to playing great defense, and there's the ball-handling station where the campers learn how to take care of the basketball. 
 
They also play games and feature basketball contests to maintain the fun element of the camp. The camp ends with awards for the camper of the week, most valuable player and other prizes.
 
But it's the teammate aspect of the camp that is its biggest focus. Lieberman emphasizes campers talking to each other and encouraging each other when they're going through the drills.
 
"I want them to learn the value of being great teammates. I want to hear 'good job,' 'great hustle' and things like that," said Lieberman. "When you do that on a regular basis, guys and girls want to play with you. And when they feel that way, everybody gets along on the court, and that leads to winning basketball."
 
And Lieberman should know about winning basketball. He's taken all the concepts he's learned under successful Louisville head coach Rick Pitino and transferred that to Heritage. The basketball program has been on the rise since he's been at the school, culminating with berths in the GISA Region 1-AAA finals and the GISA Class AAA state finals.
 
Parents can register their kids for the camp at www.heritagesummerprograms.com, and they can also contact Lieberman for registration information at 502-424-9949.
 
The campers will receive a camp T-shirt and a souvenir basketball, and lunch is provided for them as well.