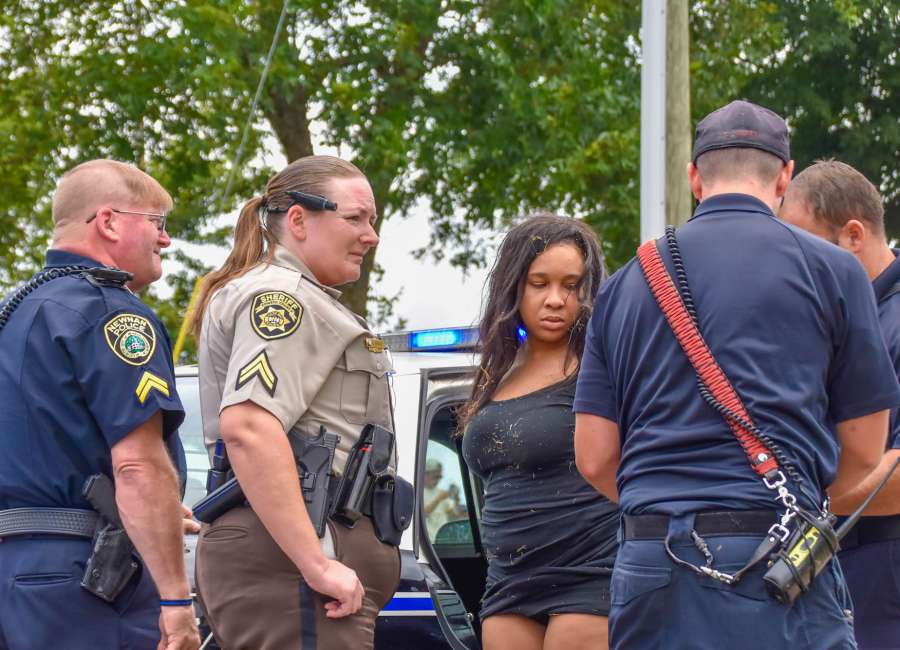 What started as a minor traffic accident on Bullsboro Drive ended as a major accident on Bullsboro Drive.

Just after 1 p.m., the driver of a black Mercedes C 300 was involved in a minor fender bender on Bullsboro and the southbound exit ramp of Interstate 85.
During the investigation, the driver, identified as Breanna Rothwell, allegedly presented the driver of the other car with a fake identification card. After being confronted about the card, the Rothwell got back into her car and fled, according to Deputy Chief Mark Cooper with the Newnan Police Department.
Police spotted Rothwell near Food Depot where she then lead police down Bullsboro Drive and surrounding areas, reaching speeds of 100 mph.
Amy Kelly was driving north on Millard Farmer Bypass when she suddenly saw the Mercedes coming directly toward her in her lane.
"I could see her face, but then she suddenly swerved around me," she said. "She was driving so fast, it shook my car when she passed. I thought someone was going to get killed being so close to the intersection at Bullsboro."
Police then canceled the chase after Rothwell almost struck a fire truck at the intersection of Bullsboro and Torero Trail, Cooper said.
However, police continued to search for Rothwell who was ultimately found nearby on Matador Way where she apparently was using her GPS to get her out of the area.
After seeing police behind her, Rothwell resumed fleeing and was able to circumvent spike strips set out at the intersection of Matador Way and Bullsboro Drive by jumping the curb. However, the maneuver punctured her tire, and she began traveling eastbound on Bullsboro towards the interstate.
At the intersection of Bullsboro and Jefferson Street, authorities intentionally struck her car to remove her from the roadway, Cooper said. Rothwell crashed into an area of grass and attempted to flee on foot before an officer was able to tackle her.
Rothwell did not appear to be injured, but was transported to Piedmont Newnan Hospital to be medically cleared before being taken to jail. No bystanders or law enforcement personnel were hurt during the pursuit and subsequent crash.
Rothwell, 23, is charged with following too closely, leaving the scene of an accident, suspended license, speeding, passing in no passing zone, driving on wrong side or roadway, reckless driving, fleeing and attempting to elude police, obstruction, possession of false ID card, possession of methamphetamine, and possession of cocaine.
****
Clay Neely: clay@newnan.com, @clayneely