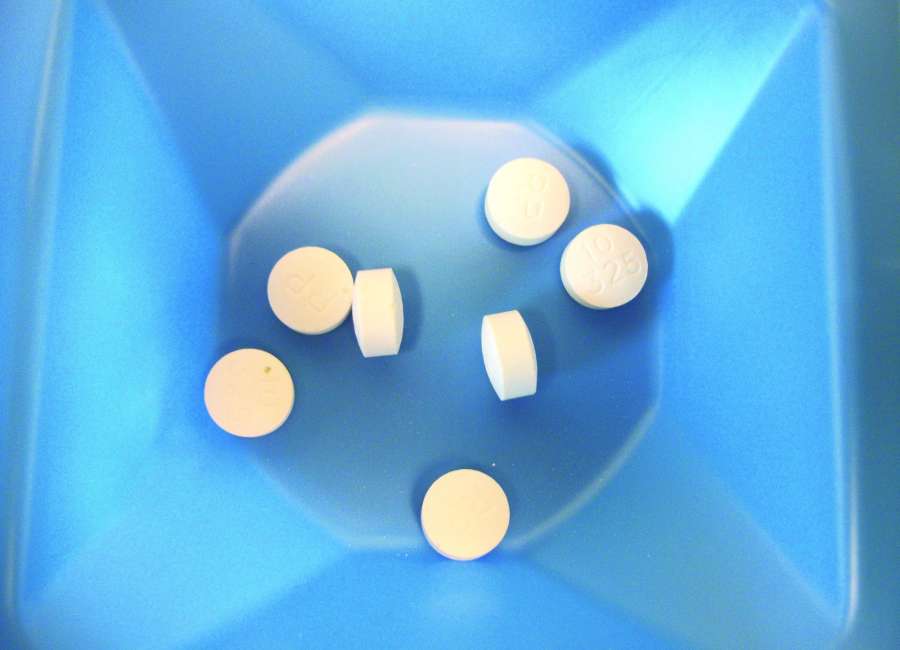 Counterfeit – and potentially deadly – pills that have been found in Georgia look just like the real thing – so much so that even experts can't tell they are fake by looking at them, said a spokeswoman for the Georgia Bureau of Investigation.

The GBI has found pills masquerading as oxycodone that contain the transdermal opioids fentanyl, furanyl fentanyl and U-47700, which can be absorbed through the skin and cause overdoses. Not only can someone get a dose of these drugs by just touching the pill or powder, but the drugs can be toxic in very small doses, according to the GBI. Breathing in the powder can also cause overdose. The pills have also been found to contain heroin or various other dangerous drugs.
The vast majority of fake pills are masquerading as either Oxycontin/oxycodone, a pain pill, and Xanax/alprazolam, an anti-anxiety medication, according to Nelly Miles, director of public affairs for the GBI. The pills have the same markings as legitimate pharmaceuticals.
The problem of counterfeit pills isn't new, but the quality – and toxicity  – are.
Just a few years ago, the counterfeit nature of pills would be very obvious to a trained eye, and usually obvious to an untrained person, according to Miles. The edges might be imperfect, the mixture might not be homogenous.
But now, "the counterfeit pills coming into the lab are looking just as good as legitimate prescriptions or sometimes better," Miles said. Even the GBI's own chemists can't always tell the difference by looking.
Miles said she's gotten calls about cases in which a people have legitimate pain but can't get pain pills from a pharmacy so they have bought them on the street. And they've died from those pills that weren't what they thought they were, according to Miles.
Combinations of fentanyl, heroin, furanyl fentanyl and U-47700, a "research chemical," were dubbed "Gray Death" by the GBI's chemistry supervisor a few months ago. The name has stuck.
When in powdered form, "Gray Death" looks somewhat like concrete. But the drugs can be put into pill form and look white. Or blue. Or whichever color the real pill is supposed to be.
GBI chemists have begun tracking instances of the counterfeit pills and transdermal opioids, and Miles said the agency decided to look back over the last two years to see what had been found.
Since January of 2015, the GBI crime lab has received 454 exhibits of counterfeit pills, and approximately 75 of them contained fentanyl and/or U-47700.
So far in 2017, the crime lab has found eight fentanyl, six furanyl fentanyl and 15 U-47700 pills that were marked as something else, and there have been 10 deaths confirmed to be related to furanyl fentanyl and six related to U-47700, according to a report issued last week. In the last four months, the GBI Crime Lab Drug Identification Unit received approximately 50 cases involving fentanyl, U-47700 or furanyl fentanyl.
The actual numbers are likely much higher.
"I foresee a major issue with underreporting," Miles said.
Many cases of overdose, both fatal and non-fatal, don't make it to the morgue.
"We don't have an idea of the number of overdoses that don't result in death," Miles said.
And even if there is a death, if the death is obviously a drug overdose, the coroner may not consider it suspicious and may not order toxicology studies.
After hearing reports of law enforcement officers in other states having accidental overdoses just from contacting transdermal drugs while arresting suspects, the GBI issued a public safety alert. And on Tuesday, the agency hosted a training session for metro-Atlanta law enforcement.
The agency is urging law enforcement to take precautions with handling anything that could contain transdermal drugs.
"At a minimum, gloves should be worn when handling pills from an unknown source, regardless of markings or indications," the alert states. "As long as prescriptions are obtained from a pharmacy, the pills are safe to take as directed. But if purchased by other means the user is at risk."
"It is extremely scary," Miles said.
The agency is working on a major public service campaign.
"It's such a different concept – that you can handle something, and just accidentally you can be exposed," she said. And if the powder puffs into the air, just breathing it can cause a reaction.
Overdoses of opioid drugs can be reversed by the administration of naloxone, also known as Narcan. In some cases, multiple doses may be required, and the victim should always receive medical care. Naloxone can now be purchased over the counter in Georgia.
According to the alert, U-47700 or furanyl fentanyl may cause symptoms such as shallow breathing, pinpoint pupils, nausea or vomiting, dizziness, lethargy, clammy cold skin, loss of consciousness or heart failure.