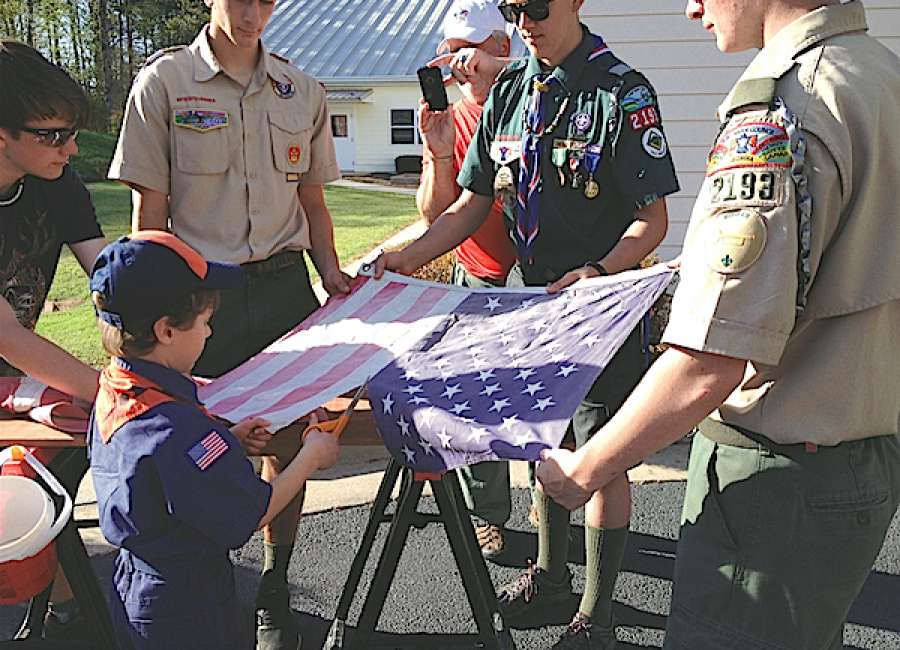 In the past few weeks, two members of Boy Scout Troop 2193 at Cokes Chapel United Methodist Church near Sharpsburg showed what it means to be good citizens.
Life Scout Trey Isham and Life Scout Spencer Paul completed their Eagle Scout Leadership projects. On April 1, Isham retired with respect more than 200 American flags during an all-day ceremony.
The ceremony was a tribute to actor Jimmy Stewart, who also was a Life Scout and a brigadier general.
Scouting has taught these young men and their fellow Scouts – who helped in their two separate Eagle projects – that "Old Glory" needs a place for all to see and when time comes for her to be retired because Mother Nature has taken her toll on her, a proper retirement with respect and honor is given.
On April 1, Isham opened his project with the retiring of the American flag that waves in front of the contemporary worship center at Cokes Chapel. A new flag was raised in its place by the Scout color guard to "The Star Spangled Banner,"
The pledge of allegiance followed.
As the day progressed, more than 200 flags were prepared and were retired by 25-plus Scouts. Patriotic music and readings were part of the experience.
At the sunset ceremony, a first grade Tiger Scout arrived with his mother to retire his father's flag from Operation Iraqi Freedom because his dad told him it was time for it to be properly retired.
Paul's project ended with two flag poles in place, each topped by a gleaming golden eagle. On the ground around the two poles, he led his fellow Scouts in creating a lasting ground paver area for those standing during the raising or lowering the flag.