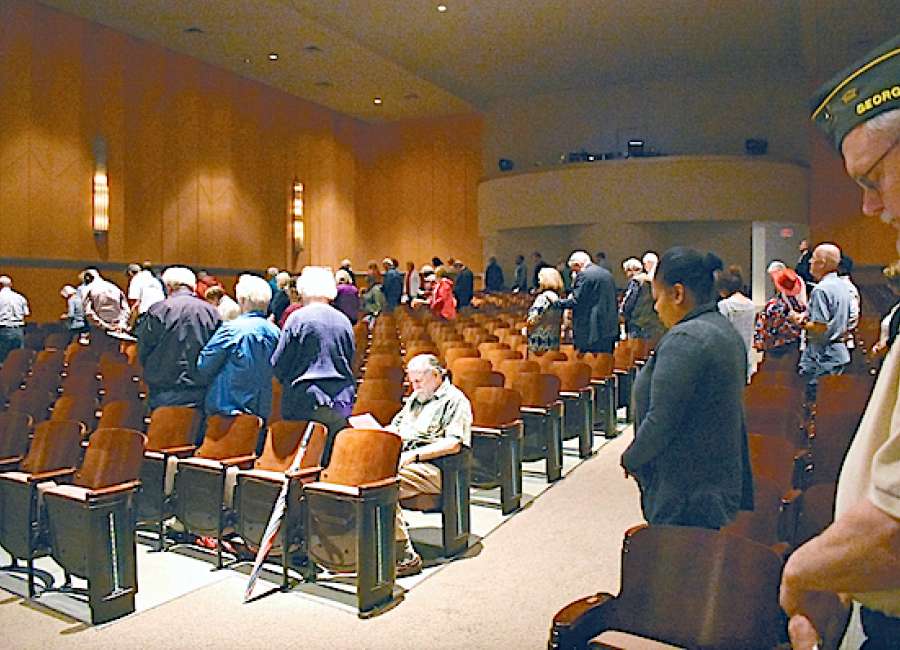 Many Coweta County residents pray regularly – at home, at church and lots of other places.
 
Once each year, Cowetans gather for unified, community prayer. The National Day of Prayer is held each May, and local observances of that day have been ongoing in Newnan and Grantville for several years.
 
Local Kiwanis clubs sponsor a breakfast in Newnan on the morning of the day, and a noon service is held at the Greenville Street Park or, if it is raining, at Wadsworth Auditorium.
 
The Grantville prayer day service is held at Grantville City Hall – on the lawn in good weather or in the council chambers.
 
The breakfast was held in the fellowship hall of First Baptist Church of Newnan with Randy Burgess, executive manager of the local Truett's Chick-fil-A, as the speaker.
 
Burgess talked about the impact of Truett Cathy, founder of the restaurant chain. "We're in the business of loving people. That is one thing Truett has taught us," he said.
 
 "It's impossible to have a relationship without a two-way communication with Christ," Burgess said.
 
Mike Exner, interim worship leader at Palmetto Baptist Church, sang during the breakfast, and Newnan Councilman George Alexander led the pledge to the American flag.
 
Jeremy Hand introduced Burgess. Pastors taking part in the breakfast program were Chris Carlyle, Purified Living Ministries; Danny Hudson, Calvary Worship Center; and Joseph Tillman, Coweta Community Church.
 
The noon program included the reading of proclamations from the city and county. Prayers were offered for national leaders, county commissioners, local public safety personnel, the Coweta County Board of Education and local teachers, the judiciary, the military, the media, businesses, churches and families. 
 
Rain sent the noon program to the auditorium, where attendees sang "A Mighty Fortress is Our God." Veterans of Foreign Wars Post 2667 presented the colors.
 
Pastors participating in the noon program in Newnan were Pete Mullins; Mark Anthony, Trinity Fellowship; Patricia Arnold, Gospel of Jesus Christ; Abi Porat, Shekinah Glory Ministry; Jeff Hines, First Church of the Nazarene; Jimmy Patterson, First Baptist, Newnan; Hector Morall, South Metro Ministries; Alton Midgett, Westside Baptist Church; Allan Mathura, South Metro Ministries; Lee Chitwood, First Baptist, Newnan; Phil Pilgrim, Unity Baptist; and Nathaniel Strickland, True Light Holiness Church.
 
Serving on the committee planning the midday service in Newnan were Paul Schneider, Jonnie Porter, Debbie Grieshaber, Brenda Jessel, Gerry McCoomb, Hollie Mosley, Charlotte Unzicker and Bob and Audrey Wylie.
 
Betty Jean Bowers, a Grantville resident who pastors Midway United Methodist Church near LaGrange and Mt. Zion United Methodist near Franklin, has been planning the Grantville event for several years. Gerry Collins provided music, and Brandon Fletcher, pastor of John Wesley United Methodist Church, spoke.
 
Eleven congregations were represented at the Grantville program. 
 
Bowers talked about the importance of working together. 
 
"The apostle Paul was an incredible evangelist. He was wise enough to know that he could not do it by himself," Bowers said.
 
"There are times when we get so caught upon our own enthusiasm and our own ideas," said Bowers, forgetting the need to connect with others.
 
"As a community, we are to come together in unity," she said.
 
"God is doing great things," Fletcher said. "Prayer can do what we can't do, and prayer can go where we can go, and prayer can heal what we can't heal. … Prayer doesn't always change your situation, but prayer always can change the outcome of your situation."
 
Fletcher concluded, "As we try to pull our country together, as we try to pull our children, our young people together, as we try to pull our city together, let's not forget about prayer."
 
Councilwoman Ruby Hines gave the charge to the community. "Prayer is the open door to the morning and the bolt of the night. Start your day with prayer, and close your day with prayer," she said.
 
If people will pray, "we will have the endurance and patience we need," Hines said.
 
Winston Skinner, a minister who is a member at Allen-Lee Memorial United Methodist Church in Lone Oak, gave the invocation in Grantville. He is also the news editor at The Newnan Times-Herald.