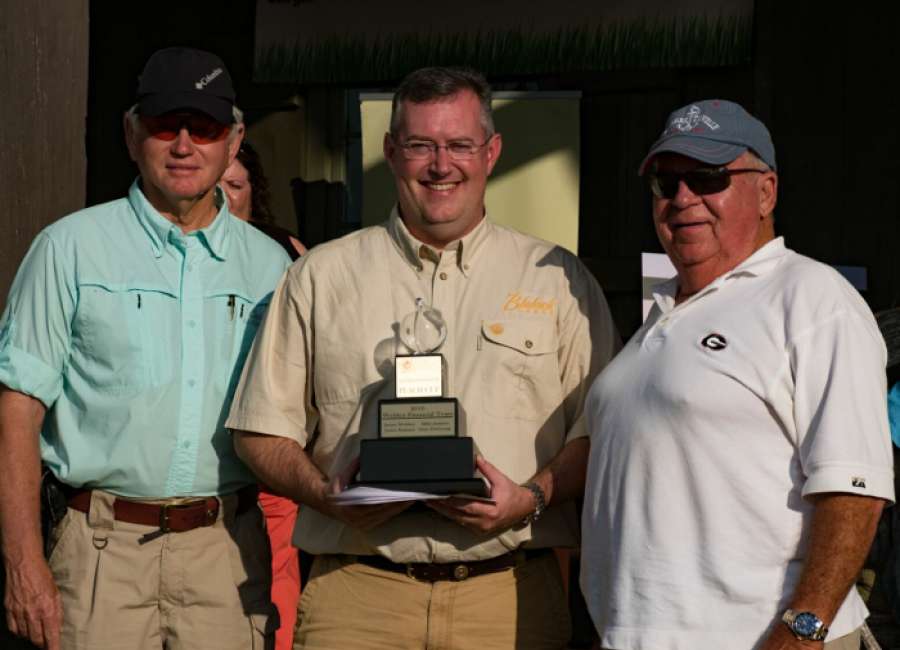 The Coweta Community Foundation (CCF) hosted its second annual Saturday Down
South Sporting Clays and Southern Supper at Blalock Lakes on April 29.
Foundation board chair Ginger Queener said the group couldn't be more pleased with this year's event, which raised $22,500 after expenses.
 "This event grew from our first year," Queener said. "It is our goal to continue to grow this event for many years to come."
Winners of this year's sporting clays competition were Welden Financial in first place and Safehold Special Risk in second place. James Welden, Mike Jackson, Walker Connolly and Matt Lott were tied for Highest Shooter.  The lowest scoring team was Progressive Heating and Air Ladies Team.
Co-chairs for the event were CCF board member Susan Paulk and her husband, John Paulk, and CCF board member Angela Munson and her husband, Brennan Munson.
"Saturday Down South was once again a fun and successful event," Susan Paulk said. "It amazes me how the citizens of Coweta County continuously come together to support our community through the Coweta Community Foundation."
Angela Munson said she and her husband were proud to be a part of the event and that she is so pleased that "the proceeds from Saturday Down South will go toward meeting the current needs right here in Coweta."
Luke Headley of Headley Construction was among those on the winning team this
year.
"Saturday Down South was a blast," he said. "It is a wonderful event with a gamut
of prizes for most any enthusiast. I had a great time with James Welden, Mike Jackson
and James Rutland."
Headley also said that he believes "the foundation helps the community on so many levels" and that he appreciates the work of the Coweta Community Foundation board throughout the year.
Organizers noted that a date of April 14, 2018 has already been set for the third annual Saturday Down South Sporting Clays and Southern Supper at Blalock Lakes.
The Coweta Community Foundation is a publicly supported 501(c)3 organization
that helps focus local philanthropy on the community's changing needs. The Foundation
manages individual gifts and bequests as an endowed pool of assets, distributing grants to a wide variety of organizations that enhance and support the quality of life in Coweta
County, while maintaining the charitable intent of the donors.
For more information about CCF, please call 770-253-1833.