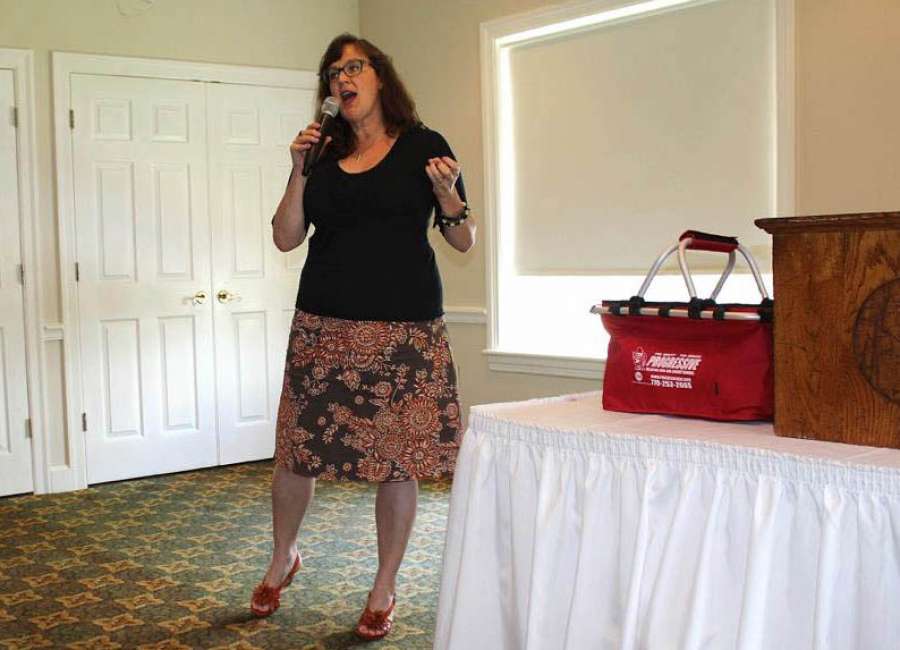 New York Times and USA Today bestselling author Joshilyn Jackson remembers when publishers began calling her. 
"I loved the feeling of being taken seriously," Jackson said at the local Women of Prosperity Luncheon. Jackson, the featured speaker, talked about the joys and travails of writing – and the business aspect of being an author.
 
The luncheon, a networking event for women in Coweta, was held at the Newnan Country Club on Wednesday. 
 
Jackson is the author of seven novels and a novella: "The Opposite of Everyone," "Someone Else's Love Story," "Gods in Alabama," "Between, Georgia," "The Girl Who Stopped Swimming," "Backseat Saints," "A Grown-up Kind of Pretty," and the novella "My Own Miraculous."
 
Her books have been translated into dozens of languages. They have won SIBA's novel of the year, three times been a No. 1 Book Sense Pick, twice won Georgia Author of the Year and three times been shortlisted for the Townsend Prize.
 
A former actress, Jackson reads the audio versions of her novels.
 
Jackson said she works her "dream job."
 
"My writing still works like a small business, but I  still enjoy the 'arts' part of my business," she said. "I still have to pay taxes and make sure everything is in order."
 
Jackson said it took her about seven years to break into the writing industry when she first began to take her writing seriously. She started by writing a "query," which is a letter in which the writer describes themselves, what they write, all while offering samples.  
 
She said she wrote 163 queries "and shot them to New York." 
 
"I had to wait six weeks to get all of these rejection letters," Jackson said.
 
After going through batch of rejections, she got an acceptance from Literary Agent Jacques de Spoelberch for a project, but the project was unsuccessful.  
 
After publishing a short story in a literary journal, Jackson said three agents contacted her. Jackson rekindled her relationship with Spoelberch and wrote her first novel within six months.
 
"In my genre, a novel needs to 80,000 to 100,00 words and this novel was only 75,000 and a half," she said.
 
Jackson said her agent told her the novel wouldn't sell, and it didn't. Despite her expectations, her second novel didn't sell, either. Her next novel, "Gods in Alabama," was highly sought after and helped her break into the industry.
 
Jackson serves on the board of  Reforming Arts, a nonprofit dedicated to providing theatre infused liberal arts education to women who are incarcerated in Georgia. Through their education-in-prison and re-entry programs, Reforming Arts fosters the development of critical and creative thinking skills, encouraging students to build livable lives. Joshilyn volunteers inside Lee Arrendale State Prison, teaching creative writing courses and facilitating a new literary magazine/newsletter that the students are producing. 
 
She also has a weekly GPB radio show, "Writer to Reader."