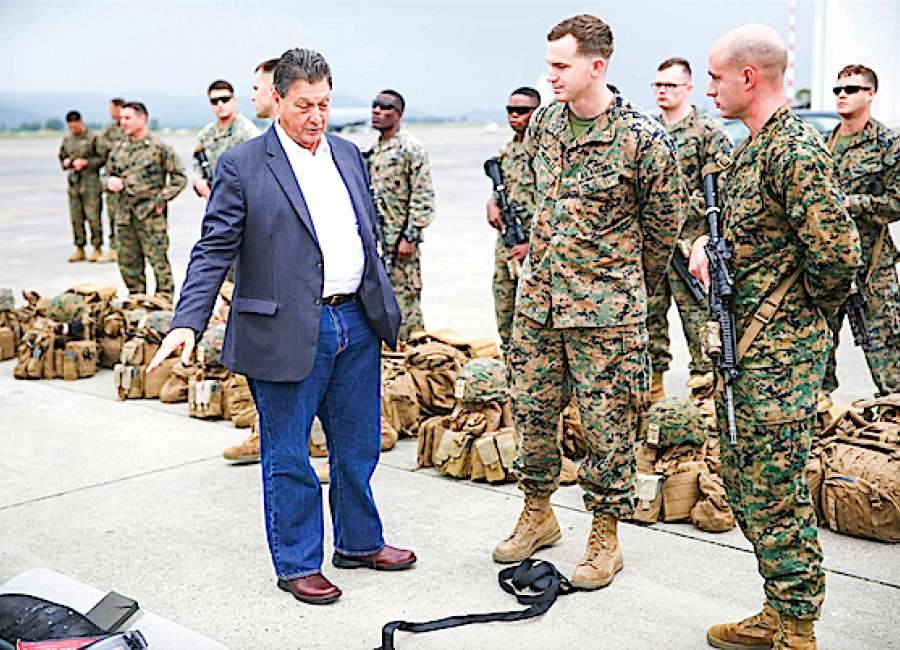 In the five months since he retired from his seat in the U.S. House of Representatives, Cowetan Lynn Westmoreland has been spending time with his children and grandchildren and his wife Joan, playing some golf and working as a political consultant.
After 24 years in politics, retirement has been very pleasant indeed.  
"Why would I want to run for governor other than some type of ego trip?" Westmoreland said Friday, as he and his wife enjoyed an impromptu vacation.
"I've never really considered myself to have a big ego, though I think everybody that is in politics has got to have some type of ego," he said. "I thought, maybe this is your ego wanting you to do it rather than you really wanting to do it."
When Westmoreland was elected to the Georgia House of Representatives back in 1992, he never could have imagined how long he would be in politics, and that it would take him to D.C. for 12 years.
"Politics just wasn't something I ever dreamed myself doing. I love building. I love carpentry and that's what I wanted to do. The next thing I knew, I was in politics."
"I would never take anything for the great people I got to work with and the awesome things that I got to do both in Georgia and around the world," he said. "Getting to spend times with our troops was awesome. It was the opportunity of a lifetime."
An unexpected trajectory
It started one night when Westmoreland was helping his son Trae, who was in middle school, with some social studies homework. Westmoreland was reading the textbook and was struck by how different the characterization of the United States was in his son's book than it had been in his school books.
So he went to a Fayette County Board of Education meeting and expressed his concerns. Before too long, Mrs. Westmoreland was named to the book selection committee.
After that, whenever an issue came up, "I was like: well, one person can make a difference if they are willing to say something. So I started taking the opportunity to be that person at different meetings, for different things," Westmoreland said.
He was surprised at school board meetings. "Nobody would be there. Here is a board that looks after your kids and your money. And they're not very well-attended." Seeing the low level of public participation was an eye-opener.
As he became more and more involved, "I had people come up to me and say 'Hey, you need to run for office, you're not afraid to stand up and say something even if it is against the crowd.'
"I was very reluctant. But eventually, I guess I had a weak moment and said yes. And it went from there."
He ran for state senate against incumbent Democrat Bev Ingram, and lost. "She was a really, really nice lady. I didn't know anything about politics. I didn't have a chance in the world of winning because of the makeup in the district."
Two years later, he ran again, and lost by a slim margin.
After redistricting following the 1990 Census, Fayette County, where Westmoreland lived at the time, was divided into two districts. Westmoreland ran for the northern seat and won.
In the House, he eventually rose to minority leader. In 2001, he sued over the district maps Democrats had drawn, and won.
"If you're new to politics, you may not necessarily know Lynn's legacy," said State Sen. Matt Brass, R-Newnan, who previously served as Westmoreland's chief of staff.
"He is one of the reasons that Republicans have control of both the House and the Senate, and have the governor's office," Brass said. "All that work he did as minority leader shouldn't be forgotten, because the state has come a long way."
Westmoreland stepped back from that leadership position as he geared up to run for Congress following the retirement of Congressman Mac Collins.
The 2002 race went into a runoff, and Westmoreland beat Dylan Glenn to win the Republican nomination and then the congressional seat, which he held onto easily despite frequent challengers.
Westmoreland certainly didn't expect a concern over the tone of his son's textbook to lead to a career in politics.
"Too many times, we've been told, 'Well, your vote doesn't matter.' Or, 'Can one person really make a difference?'" Westmoreland said. "And then all of a sudden you go to a meeting and you're sitting there thinking: this is nuts! Why doesn't anybody say anything? And you stand up and finally say something and then everybody in the room is like, 'Yeah!'
"That encourages you," he said. "I've also stood up and said something and everybody says 'Sit down, you dumbass,'" he said with a laugh. "So it can work either way."
Much prayer and consideration
On Wednesday, Westmoreland put to rest nearly 18 months of speculation on whether he would run for governor in 2018.
He issued a statement saying, in part, "After much prayer and consideration, Joan and I have decided that I will not be a candidate for governor in 2018. While I am humbled by the kind words and encouragement that we have received from so many over the last few months, I think the best contribution that I can make to our state is outside of elected office."
Westmoreland had seriously considered running for governor back in 2010, to replace Sonny Perdue.
"I really had the desire to do it then," he said. But at the time he was busy working on redistricting for the National Republican Congressional Committee. "I had taken that on and I felt like I needed to complete it. And I'm glad I did, because I feel like, in some ways, that's the reason we've kept the majority for the last 10 years in Congress and will be able to continue it."
Westmoreland loves Georgia. He's not particularly fond of Washington, D.C. So the idea of getting to come home and be governor was appealing. "That would be appealing to anybody," he said.
But he wasn't sure he had another run for office in him.
"If you don't have that fire in the belly, that's not good. And I didn't really have that," he said. Over Mother's Day, the whole family sat down and talked about the future.
The kids said they would support him, and Joan was finally on board. Westmoreland had a talk with an old friend and talked with his wife some more.
"I just realized that it was not a good choice for me and the family," Westmoreland said.
On Tuesday, an email blast was sent out from a "Draft Westmoreland" website.
"I know people don't believe this, but I have no earthly idea who did it," Westmoreland said. "If I did, I would call them and tell them to take it down."
He said he became aware of the website and Facebook page in early May. The website is professionally done, and Westmoreland said he called everybody he could think of to see if they knew who it was, with no luck.
Westmoreland said he didn't know about the email blast until he was told about it Friday. The timing was just a coincidence.
Westmoreland has been "a conservative voice for the state for a long, long time," said Brass. "I hate to see it end.
"But he's paid his dues. He's earned the right to kick back and relax and enjoy his family."
Brass, however, said he's certain Westmoreland won't be able to "sit at home and do nothing."
"He's going to be involved in something," Brass said. "He believes in doing what is right, for the greater good, and he's always done that. I think he always will do that. Even if it is not in politics, he will do it in some other venture."